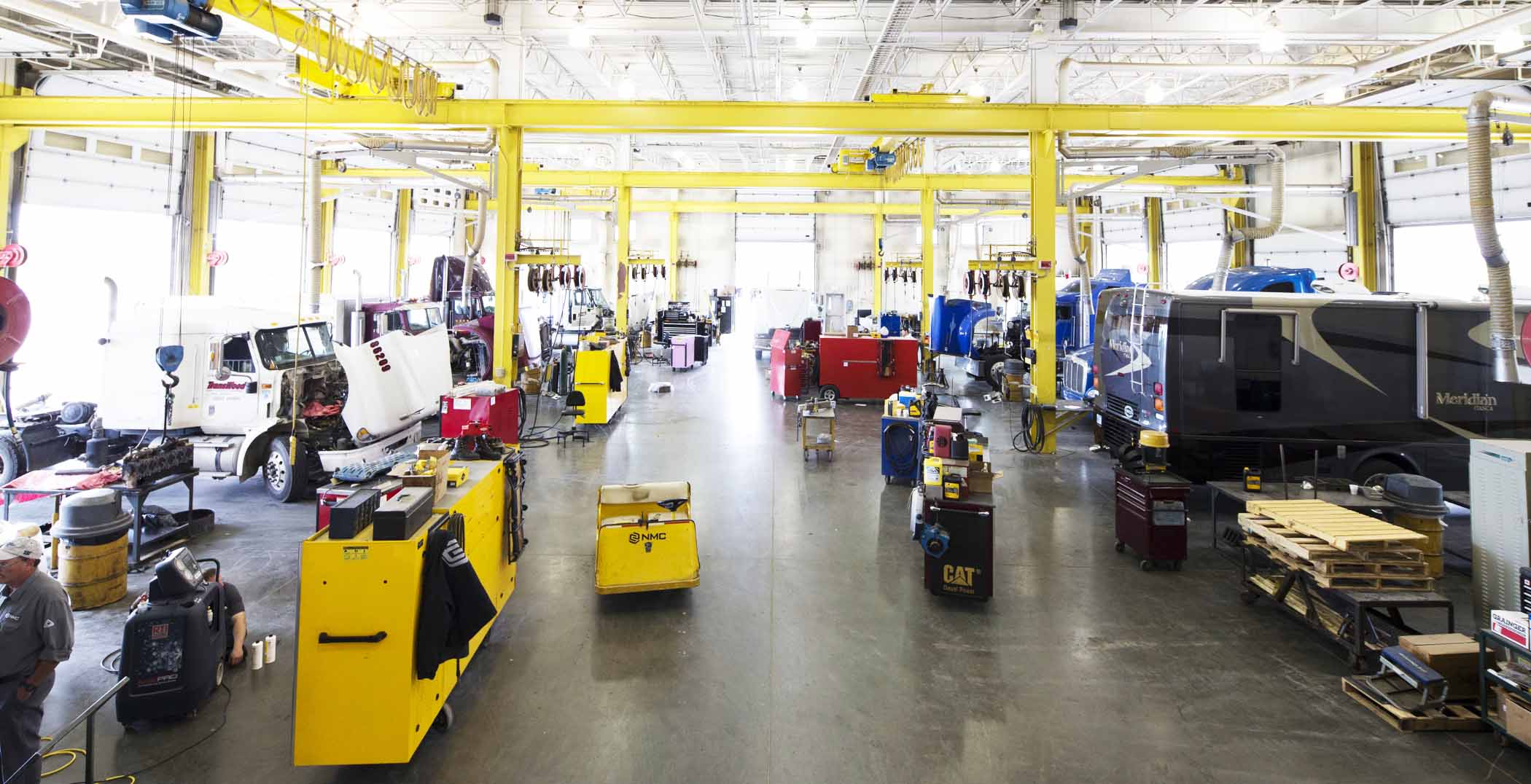 Truck Shop Services
>
>
>
Truck Shop Services
If you're in need of reliable diesel truck repair near Nebraska cities such as Doniphan, Lincoln, Norfolk, North Platte, Scottsbluff or Omaha, look no further than NMC Truck Centers. With fully equipped service centers conveniently located throughout NE, you can count on us to handle all your maintenance and repair needs.
Our capabilities include comprehensive commercial truck servicing for nearly every large-engine vehicle make and model on the market. You'll also experience the attentive customer service that has been a hallmark of the NMC Truck Centers for nearly 80 years.
Get in touch with us today to schedule your shop service needs by calling us at 1-800-628-6025 or filling out our online contact form.
SCHEDULE YOUR SERVICE APPOINTMENT
DIESEL ENGINE REPAIR AND SO MUCH MORE
Our range of commercial truck repair and maintenance and services include everything you need to keep your vehicles on the road and minimize unproductive downtime:
DPF cleaning and testing
Hydraulics
We Also offer…
We can also perform timely routine preventative maintenance such as oil changes and engine tune-ups that can reduce the likelihood of a major — and potentially expensive — repair job down the road. All commercial truck servicing work is performed by our team of expert technicians who have access to the latest tools and technology — we'll do the job right the first time.
COMPLETE DIAGNOSTIC SERVICE FROM THE TOP MANUFACTURERS IN THE INDUSTRY
Our Nebraska service shops feature advanced diagnostic equipment that allows our techs to detect any minor or major mechanical issue. We can provide diagnostic coverage for vehicles by Freightliner, International, Peterbilt, Kenworth and many others, as well as diesel engines produced by leading manufacturers such as Caterpillar®, Detroit, Mercedes and Cummins.
Our rapid, accurate diagnostic capabilities result in your vehicles spending less time in the repair shop and more time delivering productive service to your company.
EXTENDED WARRANTY PROGRAMS CAN KEEP YOUR TRUCK REPAIR COSTS UNDER CONTROL
Commercial truck repair and maintenance can create a major expenditure for any company. NMC Truck Centers offers extended warranty programs that provide additional security against unanticipated repair costs, which can save plenty of money over the long term. You'll have the peace of mind of knowing you're fully prepared for an unexpected vehicle repair.
SIX CONVENIENT TRUCK CENTER LOCATIONS TO SERVE YOU
With full-service NMC Truck Centers in six convenient locations, we make it easy to get commercial truck servicing in Nebraska. You'll find us in the following NE cities:
We also understand the need for a commercial truck repair doesn't always occur during "normal" business hours, so we can provide pre-arranged after-hours service to help you avoid vehicle downtime when possible.
CONTACT US TO LEARN MORE ABOUT OUR EXTENSIVE COMMERCIAL TRUCK SERVICING CAPABILITIES
Don't let the need for a diesel engine repair or other mechanical issue prevent you from keeping your trucks on the road. Contact the pros at NMC Truck Centers to learn more about our shop services or to schedule an appointment today.