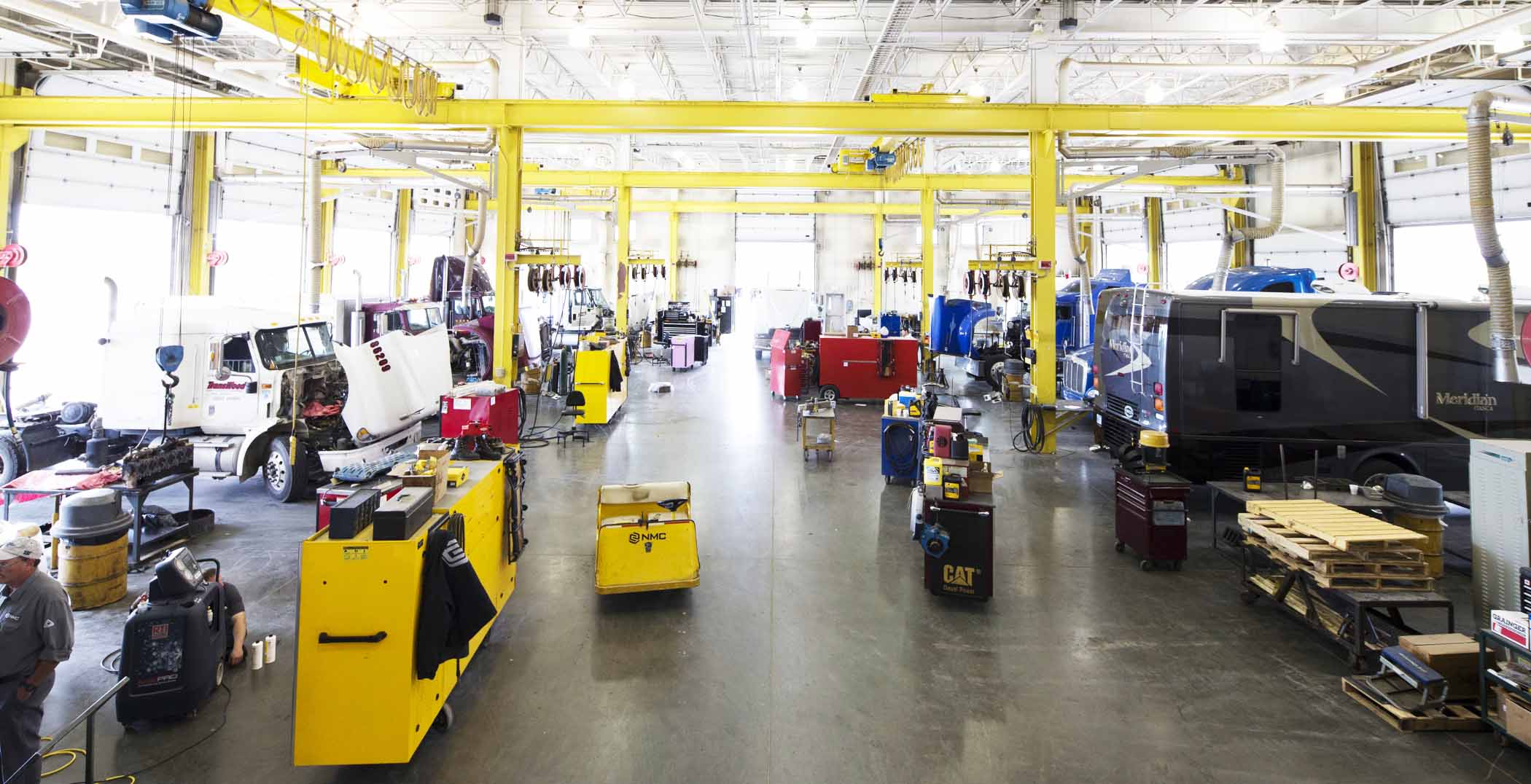 Steering Parts & Service
>
>
>
Steering Parts & Service
SEMI-TRUCK STEERING REPAIR
You might not give much thought to your commercial trucks' power steering system — until it fails to function properly! Whether you own one big truck or operate an entire fleet in Nebraska, you can trust NMC Truck Centers to handle all your semi-truck steering repair needs.
NMC has been a respected heavy equipment solutions provider in NE since 1938. We have the facilities, resources and people to handle a steering repair job for any truck make, model and year.
SCHEDULE YOUR STEERING SERVICE      CONTACT US FOR STEERING PARTS
PREVENTATIVE MAINTENANCE, TROUBLESHOOTING AND STEERING REPAIR FOR COMMERCIAL TRUCKS
How long has it been since you've had the power steering system checked on your trucks? If it's been a while, it's probably time for a preventative maintenance review. Our experienced technicians will conduct a series of diagnostic troubleshooting steps to detect any steering system issues in the early stages.
We can also perform any minor or major steering repair job such as inner and outer tie rod repairs, drag link repair and replacement, king pin fitting and steering gear installation. You'll have the peace of mind of knowing that your vehicles' steering system will respond appropriately in all types of driving conditions.
STEERING PARTS IN DIESEL TRUCKS WE CAN REPAIR
A diesel truck that steers well helps keep you safe and in control on the road. Most likely, your diesel truck utilizes power steering, also referred to as power-assisted steering. With the help of electric or hydraulic energy, it allows you to easily maneuver your truck and turn the wheels.
Common parts found in trucks with power steering include:
Power steering pump: Either the accessory drive belt or serpentine belt will turn the power steering pump.
Rack and pinion: The rack and pinion is what translates your steering input so your front wheels can move and turn.
Steering yoke: The steering yoke is made out of rubber so it can easily absorb road shocks.
Steering coupler: The steering coupler, which is a joint, allows you to rotate your steering wheel.
Tie rod ends: The rod ends are attached to the ends of the steering rack and steering knuckle. They transfer the rack's motion to allow your front wheels to move.
Power steering hoses: The high side and low side of the power steering hoses are attached to the rack and pinion. They are used to carry power steering fluid and low pressure fluid.
If you need replacement parts and fast, professional service for your truck's steering, turn to NMC Truck Centers.
THERE'S AN NMC TRUCK CENTERS LOCATION NEAR YOU
There are six convenient NMC Truck Centers locations in Nebraska to serve you — you'll find us in Lincoln, Doniphan, Scottsbluff, North Platte, Omaha and Norfolk. Contact us online or call us at 1-800-628-6025 to learn more about steering repair for commercial trucks or to schedule a service appointment today.