Chassis Repair Service
>
>
>
Chassis Repair Service
NMC Truck Centers dedicate extensive knowledge, techniques and tools to provide you semi-truck chassis repair. Whether you own a single piece of equipment or operate an entire fleet, we can handle all your needs so you can increase your uptime.
Brake and Wheel-End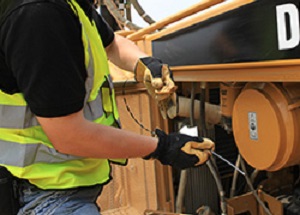 Operating a semi-truck with malfunctioning or worn-out brakes is not only hazardous to your truck, but also dangerous for drivers. Proper brake services are vital for safe working conditions to keep your business compliant with the DOT regulations of Nebraska.
As the headquarters for large truck brake service and maintenance, NMC Truck Centers provides every client with reliable repairs and services, as well as superb preventative maintenance work. It doesn't matter the make or model of your diesel truck — we can complete brake services for any equipment you use on the job site.
Not only do our skilled technicians have a broad line of experience, but they also have modern tools and equipment to implement crucial diagnostic troubleshooting. Our abilities for all commercial trucks include air and hydraulic brake system repairs, along with brake pad and shoe replacement. NMC Truck Centers offer wheel-end service, like hub assembly and bearing or seal installation and replacement.
SCHEDULE YOUR BRAKE & WHEEL SERVICE
Suspension
Nothing makes your ride more uncomfortable than having a rough and bumpy. If you are experiencing an uneven ride and notice your tires are wearing out faster than expected, it's an indications your suspension system is worn or damaged.
Are you in need of tractor trailer truck suspension repair? Your best bet is to take it to your local NMC Truck Centers. We offer companies across Nebraska skills and knowledge you can count on to handle anywhere from straightforward semi-truck suspension repairs to more intricate fixes.
Our services are a quick and efficient way to make your ride smoother With NMC Truck Centers complete heavy truck suspension repair and maintenance solutions, we can improve the safety of your big rig. At any of our six locations, our expert work ranges from routine maintenance to extensive repairs.
Equipped with top of the line diagnostic equipment to pinpoint suspension issues, NMC certified technicians can perform the following:
Bushing replacement
Fine-tuning
Lift kit installation
Spring rebuilding
Suspension system replacement and installation
U-bolt bending
We give our workers the right tools and resources to maintain, repair and replace suspension systems for all makes and models. We get the job done so you can continue on with a smooth journey.
SCHEDULE YOUR SUSPENSION SERVICE
Steering
If you own a single truck or operate a fleet of equipment in Nebraska, semi-truck steering services from NMC Truck Centers can assist you with your power steering system. Your truck's steering system is a vital component no matter what industry you work in.
Refer to NMC Truck Centers to take care of your semi-truck steering repair needs. We provide our employees with the right facilities and resources so they can handle jobs for any truck — make, model or year. As a respected heavy equipment solutions provider, we offer preventative maintenance, troubleshooting and steering repairs for commercial trucks.
We perform a series of diagnostic troubleshooting steps to discover steering system issues. Our experienced technicians detect problems in the early stages to help reduce the risk of further incidents. NMC Truck Centers execute small and large repairs, such as:
Drag link repairs and replacements
Inner and outer tie rod repairs
Kingpin fittings
Steering gear installations