NMC Cat Customer Value Agreement (CVA)
>
>
>
NMC Cat Customer Value Agreement (CVA)
THAT'S A CVA
Why get a CVA? Customer Value Agreements provide a flexible way for hassle-free maintenance, and are custom built to meet your requirements, your needs and your budget. Parts shipped to your door, no surprise costs on Equipment Protection Plan-covered repairs, useful machine insights, and more. It's all in one plan, and all can be part of your one machine payment.
Quick hit: see for yourself
Quick hit: benefits in brief
Fleet management means always looking for ways to get more out of your equipment and your budget.
Quick hit: download the flyer
Are you tired of taking on maintenance? Now you can hand it off, hassle-free.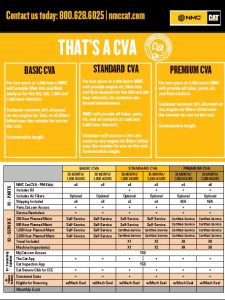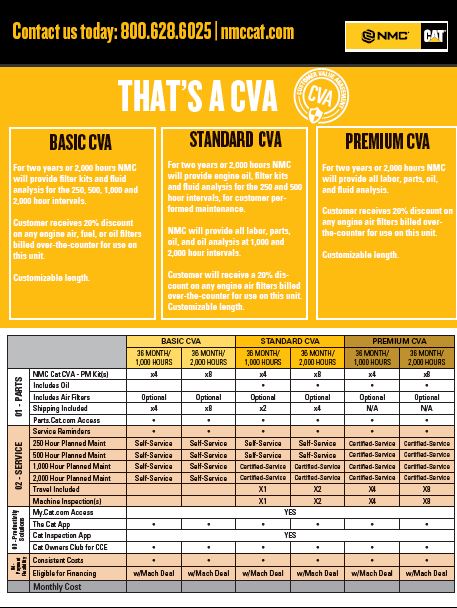 Quick hit: level components
Not every one of our clients wants to manage and maintain their equipment in the same way, which is why we offer several levels.
BASIC:
With basic CVA, you'll be managing much of the preventative maintenance of your equipment yourself, but we'll still help with a few components. We'll cover fluid analysis and provide fuel filters and engine oil filters. In some cases, we also offer transmission oil filters and hydraulic oil.
STANDARD:
When you choose a standard CVA with NMC Cat we provide much more than you'll get with the basic plan, including parts and labor for engine oil, engine oil filters, transmission oil, fuel filters, fluid analysis and more.
PREMIUM:
We recommend the premium or ultimate plan to most businesses, as parts and labor are included for additional services, such as hydraulic oil, hydraulic oil filters, fuel filters, differential oil, final drive oil, swing drive oil and so much more.