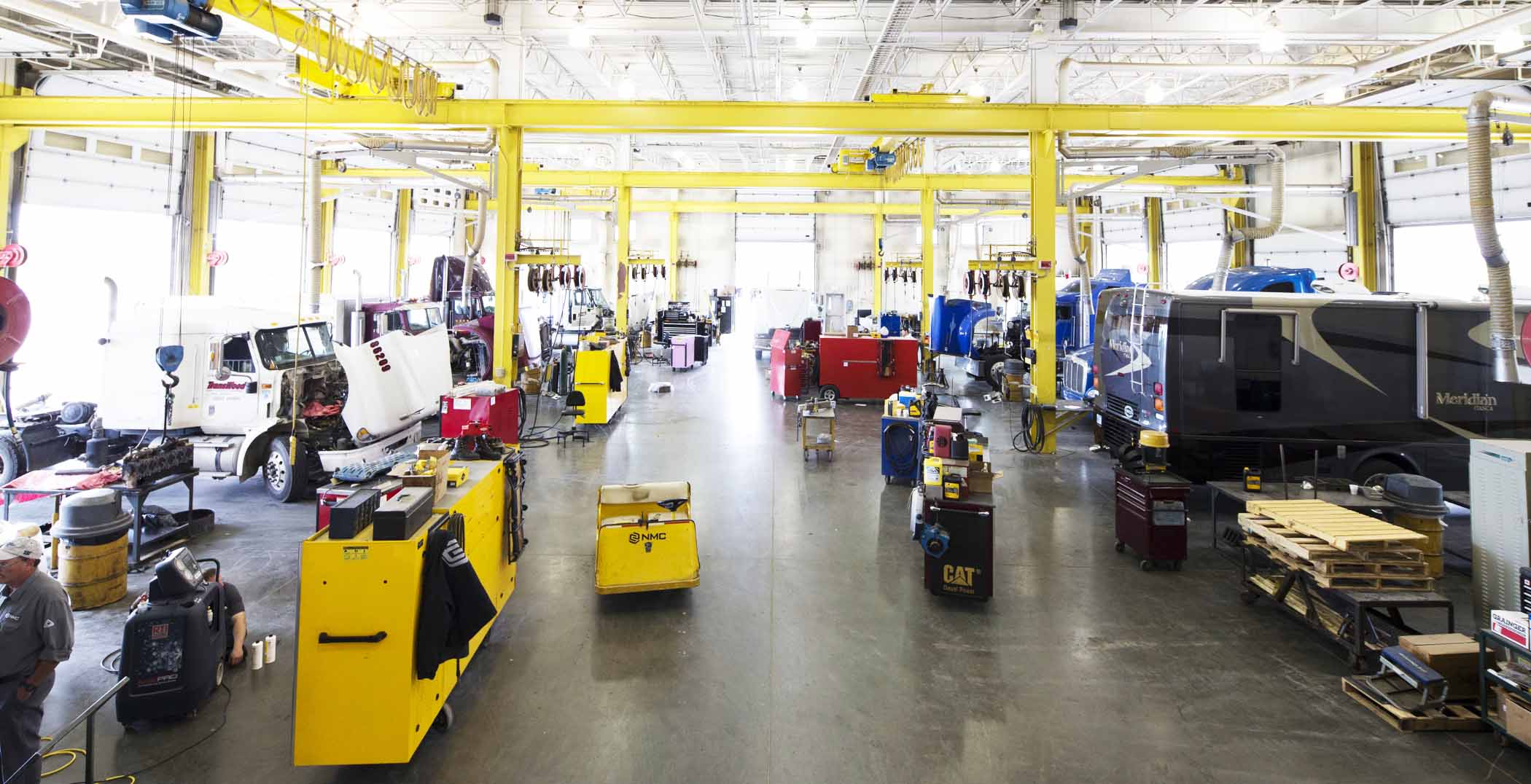 Serving All Large-Diesel Engines
>
>
>
Serving All Large-Diesel Engines
WE SERVICE IT ALL!
No matter what type or brand of large vehicle you operate, you don't have to look any further than NMC Trucks for all your repair and service needs. With six locations throughout Nebraska, we make it easy and convenient to get reliable service for your commercial truck, bus, trailer or RV.
We're experts at diesel engine repair, but we can also handle everything from routine brake jobs and clutch adjustments to oil changes and DOT inspections. You'll also benefit from the localized, customer-focused service approach that has been an NMC hallmark since 1938.
SCHEDULE YOUR DIESEL ENGINE SERVICE
KENWORTH REPAIR SHOP
Regarded by many transportation fleet professionals as "the driver's truck," Kenworth trucks are custom-built from the ground up to meet your specifications. NMC Truck Centers are fully equipped to keep any Kenworth model on the road for years to come.
PETERBILT REPAIR SERVICE
Peterbilt has been a leading big-truck pioneer since 1939 due to the company's unwavering focus on innovative engineering and finding ways to maximize fuel efficiency. If you're in need of a Peterbilt repair center near you, check out one of the convenient NMC Truck Centers locations in Nebraska today!
FREIGHTLINER TRUCK REPAIR
Freightliner vehicles are engineered for efficiency, reliability and fuel economy, making them a smart choice for any company. We can provide superior Freightliner truck repair service that will maximize your return on investment.
WESTERN STAR PARTS AND SERVICE
Made in the USA, Western Star trucks are designed and built to conquer America — and the rest of the world. NMC Truck Centers is your one-stop headquarters for repair and service of all Western Star models and an extensive selection of replacement parts.
DETROIT DIESEL ENGINE SERVICE
Founded in 1938, the same year that NMC opened for business, Detroit Diesel continues to manufacture high-performing heavy-duty diesel engines for the on-highway and vocational truck marketplace. We'll be there to deliver expert Detroit Diesel engine service throughout Nebraska.
INTERNATIONAL TRUCK & ENGINE REPAIR SERVICE
International Trucks are designed by drivers and built for drivers to ensure you get a vehicle that delivers when you need it most. We're proud to offer comprehensive International truck and engine repair service that will enable you to get the most out of your equipment.
MACK TRUCK SERVICE
The name "Mack" has been synonymous with heavy truck excellence for more than 100 years. NMC Truck Centers is a complete Mack Truck service shop that can handle all your repair and maintenance needs. We're also an excellent resource in Nebraska for Mack replacement parts and components.
VOLVO TRUCK REPAIR
Volvo is known for manufacturing high-quality trucks that seamlessly combine performance and efficiency with a host of advanced safety features to protect drivers during the long days and nights on the road. If you're looking for dependable Volvo truck repair service near you in NE, don't hesitate to give us a call!
BUS REPAIR
We also have the expertise to keep your bus fleet on the road. We can service any type of commercial or school bus, to help keep children safe to and from school and other activities.
RV/MOTORHOME REPAIR AND SERVICE
In addition to our commercial truck and bus services, you can turn to NMC Truck Centers for all your RV repair and maintenance needs. We even provide prompt RV roadside service in Nebraska to get you back on the highway quickly whenever and wherever an unexpected breakdown occurs.
SCHEDULE YOUR LARGE ENGINE REPAIR
Remember, if it's big and rolls on the highway, NMC Truck Centers can keep it on the job and maximize its lifespan. Contact us to learn more about our truck, bus and RV repair and maintenance services today!