>
>
>
Heavy Equipment Final Drives: What They Are and What They Do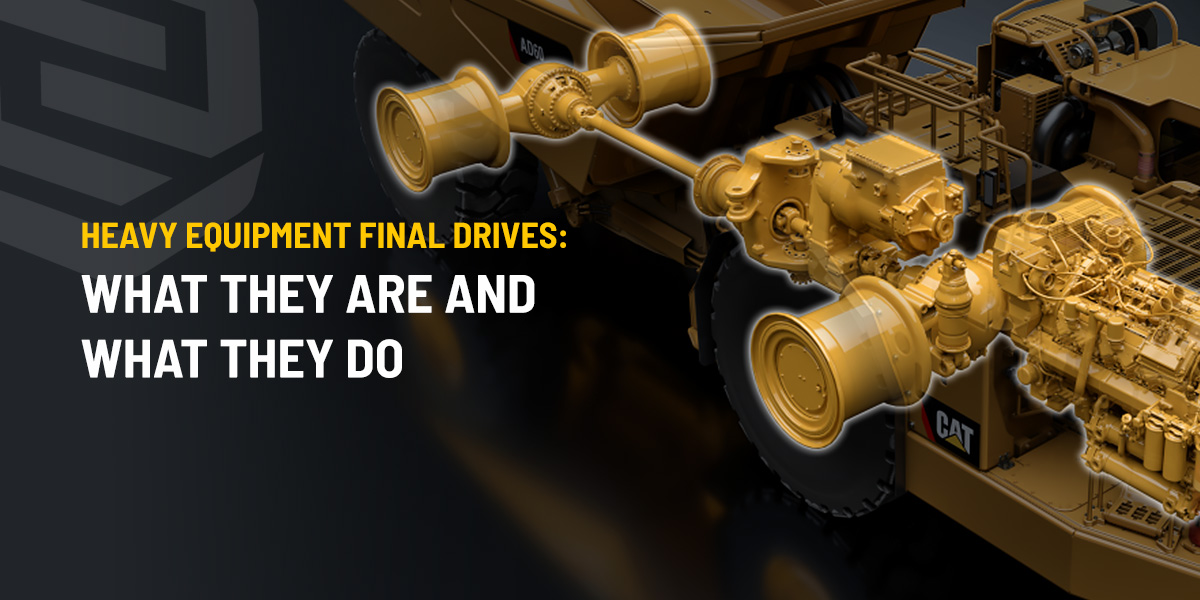 Heavy Equipment Final Drives: What They Are and What They Do
Category: Equipment and Solutions
Final drives are essential components to a machine's drive train because they play critical roles in controlling movement. These components transfer power to a device's tires or tracks while increasing torque and assisting in speed reduction. Heavy equipment final drives must be highly durable to handle high-impact loads, incredible torque levels and frequent gear changes.
What Is a Heavy Equipment Final Drive?
Final drives typically consist of a motor and a gearbox containing the ring and pinion gears. The motor gets power from the machine's main hydraulic pump and spins a shaft that runs through the gearbox. The gearbox uses a planetary gear configuration to decrease the speed supplied by the shaft and increase torque in the process.
When the torque increases, you can move your machine in the direction you want to go. Some of the most common types of final drives found in Cat® machines include:
Bull gear single reduction
Bull gear double reduction
Planetary single reduction
Planetary double reduction
How a Heavy Equipment Final Drive Works
A final drive's planetary gearing system contains a ring gear with a sun gear at the center and three pinion gears that rotate around it. The shaft in the motor turns the sun gear at high speed, providing secondary movement to the pinion gears. The pinion gears spin slower than the sun gear, increasing the overall torque.
This process generates the power known as the machine's final drive ratio. A high ratio indicates more torque and a lower top speed, while a low ratio means less torque and a faster machine speed.
Benefits of Routine Final Drive Maintenance
Regular preventive maintenance per your machine manufacturer's instructions is vital for keeping a machine and its components reliable, safe and productive. With the appropriate care, a final drive's gears and shafts can endure multiple rebuilds to provide a long service life.
Frequent visual inspections between service intervals can also catch problems early, preventing them from growing into more significant issues. Some tips for maintaining your final drive involve:
Keeping your final drive and undercarriage clean
Checking for leaks and monitoring fluid levels
Changing your gear oil at the correct intervals
Replacing your filters on schedule
Being a mindful equipment operator
Using a genuine final drive is important because it will match your machine's specifications, ensuring peak performance and extending component life.
Learn More About Final Drives From NMC Cat
NMC Cat can cover all your heavy equipment final drive needs. Whether you require service or repair, an entirely new component or advice for establishing an effective maintenance program, your nearest NMC Cat location has your back. Contact our team today with questions or to request additional parts information.