>
>
>
Choosing the Right Equipment for Landscaping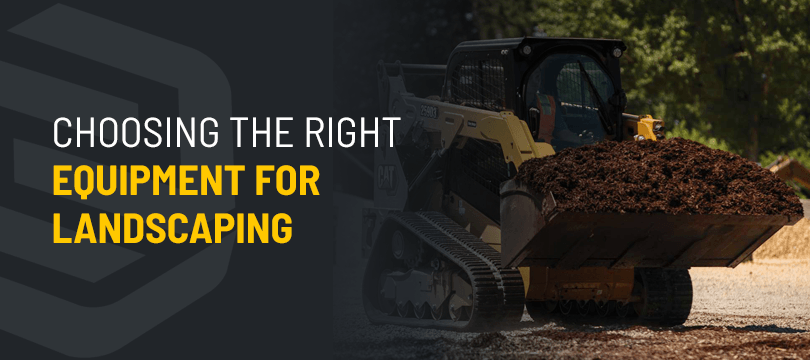 Choosing the Right Equipment for Landscaping
Category: Equipment and Solutions
Landscaping can be as simple as planting a flower garden and mowing the lawn to as large scale as land clearing, demolition and land grading projects. When your landscape project calls for something a little more heavy-duty, consider investing in versatile heavy equipment.
Types of Heavy Equipment for Landscaping
If you've got a large-scale landscaping project, you need the power and durability of heavy equipment. Compact multi-purpose machines are ideal for quickly working several acres of land, and you can use them for more than one application. Some of the most useful pieces of construction equipment for landscaping include skid steer loaders, compact track and multi terrain loaders, excavators and bulldozers.
Although these are similar machines, there are some key differences worth noting.
1. Skid Steer Loaders
Skid steer loaders are typically small and lightweight, making them easy to transport around the landscape. The best skid steer for landscaping depends on how much power you need to get the job done. Possible skid steer sizes and horsepower ratings include:
Small: Small machines weigh up to 1,750 pounds and are under 50 horsepower.
Medium: Medium machines are between 1,750 pounds and 2,200 pounds and have between 50 horsepower and 70 horsepower.
Large: Large skid steers weigh at least 2,200 pounds and have over 70 horsepower.
No matter their size, skid steers are powerful and versatile machines. Choose between a vertical lift arm or radial lift arm, depending on how you're working from the machine — vertical lift loaders are suitable for working at eye level and above, while radial lift loaders are what you need if you're working below eye level.
Skid steers operate using a hydraulic system, which means they have fewer mechanical components to maintain over time. In landscaping, you can pair a skid steer with the right attachment to do everything from lifting and hauling to pushing and plowing. They can make tight turns and navigate challenging areas of your landscape, as well as paved surfaces.
2. Compact Track and Multi Terrain Loaders
Compact track loaders and multi terrain loaders are different from skid steer loaders. Choosing between the three comes down to the type of terrain your landscape has:
Compact track loaders: These machines put less pressure on the ground than skid steers, yet retain excellent traction thanks to steel and rubber tracks. For sensitive landscapes or areas with mud and sand, a compact track loader will be less disruptive to the ground.
Multi terrain loaders: Multi terrain machines are lighter and far less disruptive to your landscape than skid steers and compact track loaders. While they are ideal for delicate areas, like sod, they do not compromise on stability. To choose the best multi terrain loader for landscaping, look for a machine that is both capable and lightweight, but still comfortable inside the cab.
Like skid steers, compact track and multi terrain loaders can tackle any number of tasks — including brush cutting, mulching and trenching — when you pair them with the right attachment.

3. Excavators
Excavators are hefty machines that operate using a bucket attached to the end of a boom. There are several different types of excavators. Some of the best excavators for landscaping projects include:
Compact: Compact excavators are also known as mini excavators. These are some of the most popular excavators for landscaping because they are easy to transport and ideal for small-scale jobs.
Backhoe: Backhoes have a loader bucket on the front of the machine and a digging bucket on a flexible arm at the back, which makes them very versatile around your landscape.
Suction: When you need to loosen and move dirt, a suction excavator uses teeth and water to break the soil and then vacuum it up.
You can also replace the bucket on an excavator with different attachments and use it for other areas of landscaping, such as grading and clearing land or drilling holes.
4. Dozers
A bulldozer can help you get the job done if you need to move dirt or have a lot of land to clear and grade. They use a large metal blade to complete tasks, which you can customize based on your project:
Straight: Straight edge blades, also known as "s blades," have no curve or enclosed sides.
Universal: Universal, or "u blades," are curved with wing-like side enclosures.
Combination: Combination, or "s-u blades," are a mix of straight and universal blades.
These tracked machines keep a good grip on the land and come in a range of sizes. Small or compact dozers are often the best fit for residential or small-scale landscaping projects.
How to Choose the Best Professional Landscaping Tools
As you're compiling your landscaping equipment list, consider the following:
Landscape size: Some machines are better suited for your project than others. For example, you can drive a skid steer loader or dozer across a large landscape, but you have to haul something like a mini excavator if the distance is too far. Gauge the size of your equipment off the size of your landscape. Smaller projects benefit from compact machinery, while more substantial projects call for larger equipment.
Terrain specifications: Consider how much traction you need on your landscape while operating machinery, as well as the type of terrain you're working on. Soft earth needs a low-pressure machine. Slippery or hilly areas might need a tracked machine, rather than a wheeled one. If you're working with a lot of small spaces or areas with low-hanging branches, consider a compact-sized machine, rather than a full-sized one.
Project needs: Most landscaping projects have multiple tasks to complete, such as tree removal, stump grinding, mowing and demolition. Depending on what the end goal is for the landscape, you may also have to grade or prepare the area for rebuilding or planting. Make a list of all the tasks you need to complete for your landscaping project. Compare this list of tasks to the capabilities and specifications of each piece of machinery, including available attachments.
Budget: To get the most value for your investment, choose a machine that meets as many of your needs as possible. If you're working on a short-term project, consider renting machinery or buying a piece of used equipment to cut costs.
Landscaping Equipment Guide for Attachment Options
The best part about using heavy equipment for a landscaping project is that these machines help you get the job done quickly. With the help of various attachments, you can turn a piece of heavy equipment into a multi-purpose landscaping solution. Some common landscaping attachments include:
Buckets
Rakes
Cement mixers
Stump grinders
Mulchers
Shears
Tillers
Augers
Blades
Forks
Brush cutters
Planers or graders
Snow blades, plows and blowers
Breakers
With so many available attachments, heavy equipment can be a valuable and convenient tool for your landscaping project.
Landscaping Equipment Tips
It's important to stay alert while operating your tools and machinery. When using heavy equipment for landscaping, keep the following tips in mind to stay safe and get the most out of your machines:
Take care of your equipment: Maintaining your equipment helps you catch potential problems or repairs before they become more costly or dangerous concerns. Perform daily inspections and make sure all critical areas are working correctly before you begin working. You should also schedule preventive maintenance check-ups, so a professional can perform a more thorough inspection. If something breaks, do not put off repairs. Take the time to learn about your machine before operating it, so you know what type of behavior is typical and what might be cause for concern.
Follow all manufacturer instructions: For your safety and the safety of others, do not use your heavy equipment for anything other than the intended use. Never allow passengers inside your machinery and never operate too close to bystanders, standing structures or powerlines.
Participate in training: When it comes to landscaping and skid steer safety or multi terrain loader safety, training is critical. Never operate a piece of heavy machinery unless you are familiar with how it works, including how to use the control system, how to steer and navigate and what types of terrains are safe to operate on. Many dealerships and manufacturers also have training programs available.
Buy from a reputable heavy equipment dealer: By working with a reputable dealership and manufacturer, you benefit from the latest technology and high-quality, reliable products backed by years of experience. Dealerships may also carry more new, used or rental equipment options.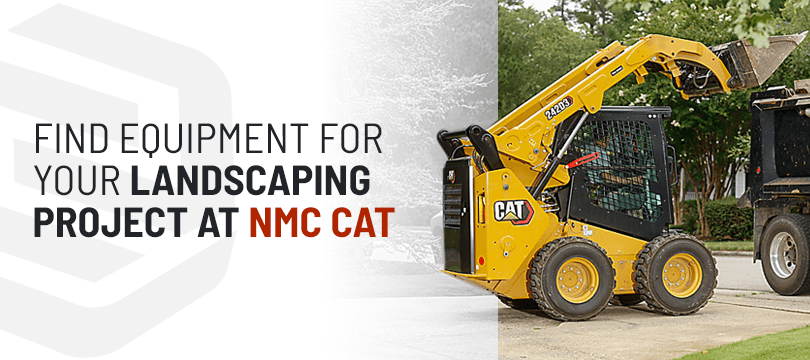 Find Equipment for Your Landscaping Project at NMC CAT
The right piece of heavy equipment can help you complete your landscaping project quickly, safely and efficiently. If you want to know more about the right machine for your project, contact NMC CAT online. We are happy to help you make the best decision for your landscape — and we can even help you choose which attachments you need for maximum productivity.
You can shop our selection of new, used or rental products or find an NMC CAT location near you today.