TRENCH SAFETY AND SHORING EQUIPMENT RENTAL
>
>
TRENCH SAFETY AND SHORING EQUIPMENT RENTAL
Rental trench safety and shoring equipment keep your team safe during projects that require digging. When you need extra protection from cave-ins and collapses, our rentals create a safer job site. Count on our selection of reliable equipment when you need temporary trench safety and shoring gear. We offer daily, weekly and monthly rentals on the following types of equipment:
Available Trench Safety and Shoring Equipment for Rent
No matter what type of shoring equipment is right for your application, NMC The Cat Rental Store has got it. Daily, weekly and monthly rentals are available on the following:
Also known as trench shields, steel trench boxes hold up to pressure from unstable soil. They create a safe working space for your team and protect them in the event of a collapse. Construction professionals use them in applications such as foundation digging and pipe laying that require working in a dug-out area.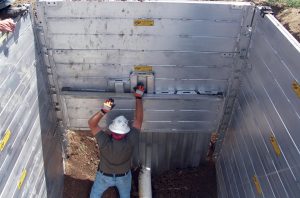 Aluminum trench boxes work similarly to steel trench boxes, but they're lighter and suit smaller jobs. They have a high level of versatility and a wide range of capacities. Strong enough to keep trench workers safe from injuries or unstable soil, yet lightweight for easy transportation and assembly, aluminum trench boxes are ideal for smaller jobs in place of steel trench boxes.
View our Aluminum Trench Safety Equipment
Efficiency Production's Stone Mizer Series bedding material container offers a wider and more durable design than any competitor. Stone Mizers can accommodate over-sized excavator buckets while withstanding the forces of larger excavators.
HYDRAULIC TRENCH SHORING
Shores offer superior versatility in trenches up to 25' deep and 12' wide. A cylinder extension system adds to the shore's range which improves on-site adaptability when encountering excavations of varying widths.
Applications of Trench Shoring Equipment
Trench shoring equipment supports trenches for many types of projects. Our clients use it for applications such as:
Sewer installation, repair and removal
Cable and conduit installation and repair
Fence and landscaping edging installation
Groundwater removal
Reasons to Rent Shoring Equipment
Our clients rent trench safety equipment for reasons such as:
Trying equipment: Some clients rent a specific model to try it out before getting it from our dealership. Clients who want to provide new services can also rent equipment to handle projects that involve shoring.
Maximizing storage and budget: When you rent equipment, you save money on the service and maintenance you would need to do as an owner. You can also save space in your long-term fleet storage.
Matching project specifications: Certain projects have goals that require a specific equipment solution. In these situations, our clients rent the exact model they need to get the job done.
Why Clients Choose NMC The Cat Rental Store
Hardworking industries choose us as their rental provider because we:
Offer comprehensive support: We provide 24-hour service, on-site delivery, product training and more services to enhance your rental experience.
Match competitor prices: If you see a better price at one of our competitors, we will match or beat that price — guaranteed.
Cover a large service area: You can count on our rental services in all of Nebraska and Pottawattamie County, Iowa.
Begin Your Quote Today
Start the quote process today by adding the items you need to your cart and checking out. Our team will help you create a rental plan that suits your budget and project.