STONE BOX
Stone Box for Rent
Stone boxes are an essential piece of equipment for your company's backfill requirements. Also known as bedding boxes, stone boxes are ideal for stockpiling sand or gravel for reuse, as well as excess road base. This helps to minimize material waste, which can be costly, and also saves you time and money.
At NMC The Cat Rental Store, we have numerous stone boxes for rent at competitive rental prices that will increase your productivity and work for your budget.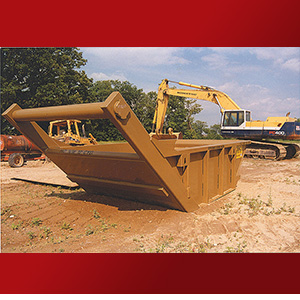 Rental Stone Box Benefits
There are many benefits to renting stone boxes, including:
Increased inventory: A rental stone box will allow you to increase your inventory during your busy season in a cost-effective way.
Avoid storage costs: Keep the stone box at your job site and return it when your project is completed.
Try before you buy: If you're thinking about a stone box purchase, renting first is a great way to make sure it's a good fit for your business before you make the investment.
Reduce waste: Reduce the amount of spilled bedding and other costly waste.
Efficient: Makes the construction process go faster to save you time on your project.
With reduced waste and time saved, your project will see a productivity boost as well as cost savings from renting a stone box.
Trenching Stone Box for Rent From NMC The Cat Rental Store
At NMC The Cat Rental Store, we have several models of Safe-T Shore stone boxes available, with lines including the SM-12, SMHD-5, SMHD-7.5 and SMHD-9. These different models offer you several sizing and capacity options, and our expert staff can calculate which would work best for your project requirements.
All of our stone boxes for rent are made using high-quality materials for durability you can count on. Depending on your model selection, you may also benefit from features such as side extensions to reduce material loss, hook arms to attach the box to a backhoe or excavator, and a front pull bar so you can operate the box from either end.
Choose NMC The Cat Rental Store for Your Rental Stone Box
At NMC The Cat Rental Store, we handle the delivery, installation and setup of the stone box, and we will provide any maintenance or service that may be needed for the duration of your rental. When your rental period has ended, we will remove and haul away the stone box for your convenience.
When you work with us, you can count on:
24-hour emergency service
Fast delivery
Competitive prices
Factory-trained field and shop technicians
Knowledgeable and professional customer service staff
Customer Support Agreements (CSAs)
And more
NMC Cat is your authorized Cat® dealer for Nebraska and Pottawattamie County, Iowa. We have been in business for more than 80 years, and we have the knowledge and experience to help you with whatever your project needs may be.
For more information about our rentals, fill out our online contact form and we will get back to you as soon as possible, or you can give us a call directly at 800-662-7368. You can also stop by one of our convenient in-store locations to see our inventory in person.