ALUMINUM TRENCH BOX
Aluminum Trench Box for Rent
Trench boxes are essential structures for protecting utility workers. They allow the worker to be underground while providing him or her with a protective trench designed to prevent cave-ins. They also feature walls of varying thickness depending on the project environment.
At NMC The Cat Rental Store, we have high-quality rental trenching safety equipment that is ideal for construction, mining and other industrial applications.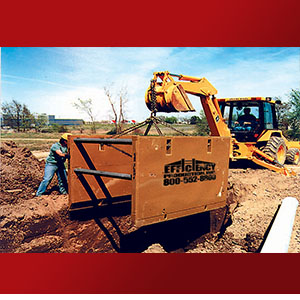 Benefits of Trench Box Rental
The main advantage of a trench box is worker safety. Nearly all trenches cave in eventually — when the cave-in happens depends on factors like the depth of the trench, soil composition, dampness and how long the trench has been there. Cave-ins can cause injury and, in some cases, even death, so worker protection is a top priority on any job site using trenches.
When a trench box is present, workers will have time to evacuate in the event of a cave-in, as the box will act as a shield that retains the trench walls and keeps them safe. Other benefits and features of aluminum trench box rental include:
Lightweight: Aluminum trench boxes are half the weight of steel trench boxes, making them easier to place and maneuver on light-duty jobs.
Easy to install: Lightweight, simple and durable construction makes aluminum trench boxes quick and easy to install, without the need for a large crew.
Cost-effective: Aluminum is a cost-effective material option, and renting will provide long-term savings for any short-term project.
Stability: Trench boxes make a trench more stable and durable. When we deliver and install your trench box, we will make sure it is correctly fitted to give your workers more control over the security of the trench.
Versatile: A sturdy box can cope with any type of ground composition and stress put on the ground.
Adjustable: Modular and pinned struts make for easy adjustment when needed.
Aluminum Rental Trenching Safety Equipment Available From NMC The Cat Rental Store
At NMC The Cat Rental Store, we have numerous aluminum trench box options available for rental. We offer Safe-T-Shore XLap trench boxes, including models 410, 412, 46, 48, 66, 810, 812, 816 and 88. These models feature different height and depth specifications, and the trained professionals at NMC The Cat Rental Store can calculate which model will be the best fit for your requirements.
We will handle all delivery, installation and setup of the trench box, and we will provide any maintenance or service that may be needed for the duration of your rental. When your rental period has ended, we will remove and haul away the unit for your convenience.
Other benefits of working with us include:
Factory-trained field and shop technicians
Competitive prices
24-hour emergency service
Customer Support Agreements (CSAs)
Fast delivery
Professional and knowledgeable customer service staff
And more
We are the authorized Cat® dealer for Nebraska and Pottawattamie County, Iowa and have been in business for more than 80 years. For more information about our services, give us a call or fill out our online contact form and we will get back to you as soon as possible. You can also visit one of our convenient in-store locations to see our inventory in person.