TEMPERATURE CONTROL EQUIPMENT
>
>
TEMPERATURE CONTROL EQUIPMENT
If you need a reliable short-or-long term temperature control solution help is readily available. One call to NMC The Cat Rental Store connects you with our fleet of power generation, temperature control, and compressed air equipment, all designed and built exclusively for rental applications. Equipment can be on its way in minutes and online when you need it. You'll get fast, no-hassle service and complete 24-hour support at terms attractive to your bottom line.
Count on NMC The Cat Rental Store for the best selection of temperature control equipment.

When you need a reliable, portable and efficient source of heat, NMC The Cat Rental Store can help. We carry an extensive inventory of heaters of various sizes, including the one million BTU Insero Heater and various ground thaw units, all of which feature low operating hours and are routinely serviced by our team of technicians. Whether you need to quickly thaw out the ground to begin a construction project or to keep your staff warm while working in a temporary location, we can match you with the right product for the job.
NMC The Cat Rental Store offers solutions to all of your temperature control needs. Our expanded fleet ensures a prompt, reliable service. We also feature ground thawing equipment for use on construction projects.
Features include:
Electric units in 208V or 480V
Propane or natural gas
All units on wheels
24/7/365 service
AC Industries and Applications
General Contractors and Construction
Temporary cooling to avoid contamination in new ductwork
Remove moisture from new drywall or concrete curing
Mechanical Contractors
Emergency cooling-temporary cooling during maintenance or repairs
Industrial Manufacturing Plants
Motor cooling-dense air injection/gas turbine cooling
Fresh air supply for confined spaces-vessel climate control
NMC The Cat Rental Store has Air-Cooled Chiller rentals available for numerous jobs. From process cooling to structure and tent cooling, our chiller rental department offers you another option for any of your temperature control needs. Our Rental Representatives are highly trained to spec the right equipment for your job.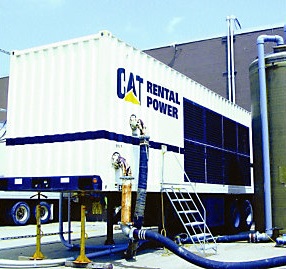 Chiller Industries and Applications
General Construction
Concrete cooling
Comfort cooling for remodeling and reconstruction
Industrial and Manufacturing Plants
Process cooling
Supplemental cooling tower
Jacketed reactor cooling
Condenser cooling
Lubrication oil cooling
Waste water treatment
Mechanical Contractors
Emergency cooling
Temporary cooling during planned maintenance