CHILLERS
Chillers for Rent
At NMC The Cat Rental Store, we have industrial chillers for rent that are perfect for manufacturing and other industrial sectors.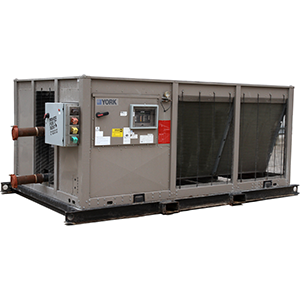 Our temporary chiller solutions can provide the precise temperature control you need for a wide variety of industries and applications, including:
Food processing
Beverage packaging
Welding and industrial manufacturing
Health care equipment maintenance
Concrete cooling
Wastewater treatment
Environment control
Wet gas compressor cooling
Pharmaceutical manufacturing
And more
Benefits of Commercial Chiller Rental
Our industrial chillers for rent include the suction strainers, triple-duty valves and pumps necessary for efficient installation and operation. The benefits of renting a commercial chiller include:
Versatile: Large, variable-flow water pumps allow chillers to be used for a wide variety of applications.
Easy to use: Features automated, intuitive controls and hands-free starting and stopping for enhanced reliability.
Quiet operation: Includes double-wall housing that minimizes sound for noise compliance and employee comfort.
Safe: Includes a motor control center with disconnect switches for safety and code compliance.
Efficient transport: Can be skid or trailer-mounted for safe and versatile transport options.
Cost-efficient: Rental allows you to avoid a long-term investment on a short-term project.
Superior performance: Equipped with advanced technology features for maximum efficiency and productivity.
Flexible options: We offer a variety of rental options that can be customized to the unique needs of your business.
Environmentally friendly: Designed to minimize your carbon footprint.
Improved air quality: Help to create a healthier working environment.
Industrial Chillers for Rent From NMC The Cat Rental Store
We have several different chiller models available for rent:
York 230 Ton
York 125 Ton
York 56 Ton
These are available for daily, weekly or four-week rentals.
Why Choose NMC The Cat Rental Store?
At NMC The Cat Rental Store, we know how essential it is to meet your cooling needs, so we make it as quick and easy for you to find and start using the best rental for your space as possible. Our friendly experts will calculate exactly what your needs are to find the most efficient fit for your work area.
Most of our chiller rentals can be delivered within 24 hours, or even faster in emergency situations. We will perform the complete start-up process for you and provide you with regular maintenance and service for the duration of your rental. And at the end of the rental period, we will even remove and haul away the unit for you.
Other benefits of working with us include:
Competitive prices
24-hour emergency service
Fast delivery
Professional and knowledgeable customer service staff
Factory-trained field and shop technicians
Customer Support Agreements (CSAs)
And more
NMC The Cat Rental Store has been the authorized Cat® dealer for all of Nebraska and Pottawattamie County, Iowa for more than 80 years. We have the experience and expertise to help you find the perfect equipment rental for your company's specific needs, and we will provide you with the support you need to get the most out of your rental.
If you have any questions or would like to request any additional information, you can give us a call or fill out our online contact form and we will get back to you as soon as possible. You can also visit one of our convenient locations to see our inventory in person.