HEATERS
When you need temporary heat, count on commercial air-forced and convection heaters for rent from NMC The Cat Rental Store. Our air-forced and convection heaters add warmth to large spaces and thaw the ground for your next project. Let NMC The Cat Rental Store help you find the right rental air-forced and convection heaters for the job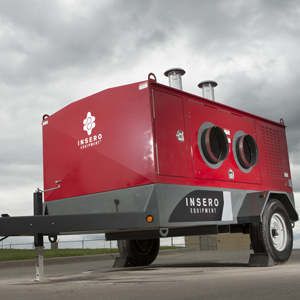 Convection Heaters for Rent
Industrial convection heaters use air convection to circulate heat. This heater type generates air convection currents that move across the heating element. The heat then spreads to the air in the surrounding space. Convection heaters offer these advantages:
Quiet operation from natural ventilation
Even heat that warms up an area quickly
Enclosed design for safe operation
Rental Air-Forced Heaters
Also known as fan-forced heaters, air-forced heaters blow air to heat an area. It uses a fan to pass air over a heating element and into the surrounding air. Air-forced heaters provide these benefits:
Rapid, powerful heat
Full efficiency — almost all energy used enters the room as heat
Cost-efficient energy use during operation
Choosing Between Rental Industrial Air-Forced and Convection Heaters
You have a few factors to consider when you need to choose between an air-forced and convection heater. Our experts can help you find the right heater for your application if you feel unsure about the right choice. Each heater suits different situations best:
Convection heaters: Convection heaters work well for large, enclosed spaces that need heat for an extended period. In exchange for a higher operating cost, you get quieter and more even heating.
Air-forced heaters: Fan-forced heaters can warm multiple smaller rooms. They have a lower operating cost with louder operation and less consistent heating.
How to Maximize Your Industrial Heater Use
A properly heated job site improves working conditions, enhances your project's results and saves you energy costs. When you use the right strategies to get the most out of your heater, you get to enjoy these benefits. Try these tips to improve your heating efficiency and energy costs when using one of our heaters:
Use temporary enclosures: If your project encompasses a large area, try using enclosures to section off your working space. You can move the enclosure as you work in different parts.
Cover windows: Uncovered windows let cold air in and warm air out. Cover your job site's windows with plywood or plastic wrap to keep heated air inside.
Circulate the heat with fans: By strategically using fans, you can keep warm air in your working space. Setting your fans to move in a counter-clockwise direction directs heat downward where you need it.
Reasons to Choose NMC The Cat Rental Store for Air-Forced and Convection Heaters
Hardworking industries choose NMC The Cat Rental Store for benefits such as:
24-hour, on-site service
Product training and assistance
Price match guarantee
Flexible rental rates
On-site delivery
Availability in all of Nebraska and Pottawattamie County, Iowa
Ask for a Rental Quote Today
Add the heaters and equipment you need to your cart and check out to begin the quote process. Our experts will help you develop a rental plan that fits your needs.