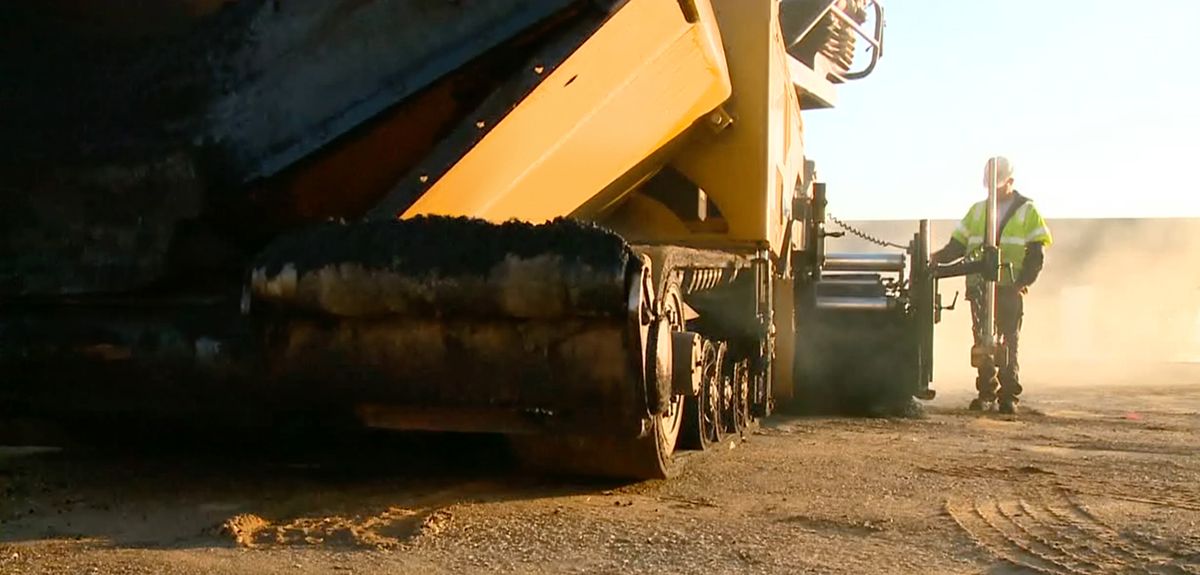 Asphalt Pavers
Paving is a demanding industry, whether you're making road repairs or laying down new streets, highways, bridges, parking lots and other surfaces. A Cat machine will help you get the job done faster, more efficiently and with better precision.
Cat asphalt pavers lead the industry for power and performance, and NMC Cat is your source for the newest machines. We are the region's Cat dealer. Our team will help you find the model best suited for your application and customize it to your preferred configuration.
The Complete Line of New Cat® Asphalt Pavers for Sale
Cat asphalt pavers deliver the speed, efficiency and precision needed for jobs of any size. They feature a wide range of advancements that eliminate rework and provide maximum uptime, ensuring you can keep to the project schedule. Multiple paving systems are available, including wheeled pavers, tracked pavers and paving screeds. The machine that will best match your demands depends on factors like the project, work environment and personal preference.
Wheeled Pavers
Cat wheeled pavers are mobile with excellent travel and paving speeds. They're also highly maneuverable and can make tight turns in compact work zones. This style is typically the preferred option for making road repairs and working in overlays and mill-and-fill applications where you can get suitable traction. Their mobility means you can move them across short distances without a trailer.
Tracked Pavers
Cat tracked pavers feature the heavy-duty, Mobil-Trac Undercarriage — a superior innovation that combines the traction you'd expect from these machines with the speed of a wheeled model. The tracks are especially effective when you need to work over rougher terrain and cover steeper inclines. For these reasons and others, this machinery is often the preferred option for laying down new stretches of roadway and other paved surfaces.
Paving Screeds
Cat paving screeds come in rear- and front-extender models. As a dealer, we carry the full lineup, including vibratory and tamper bar designs that offer distinct advantages:
Vibratory screeds: Vibratory screeds operate at higher speeds. They are typically used to cover more area in less time.
Tamper bar screeds: Tamper bar screeds tuck material under the screed plate. They produce denser, more compact surfaces.
Everything You Need Under One Roof
In addition to our Cat asphalt pavers for sale, we also offer the tools you need to make an affordable purchase and the resources necessary to keep your machine operating in peak condition. Our locations are your home for:
Affordable financing solutions.
A fully stocked parts department.
Expert product recommendations.
Professional maintenance and repair services.
Buy Asphalt Pavers From the Local Experts
Whether you need asphalt pavers or other efficient machines, we have the right solutions. At NMC Cat, we have over 80 years of experience connecting people with powerful machinery and skilled support. Talk to our team about your project requirements, and we'll help you determine the best solution for your business and budget.
Visit one of our many locations in Nebraska and Pottawattamie County, Iowa, to speak to a representative and get a look at these machines. You can also reach us using our contact form or by dialing 800-628-6025.