INDUSTRIAL PUMP RENTALS
>
>
INDUSTRIAL PUMP RENTALS
Count on NMC The Cat Rental Store when you need industrial rental pumps. Our inventory of portable, towable, and submersible pumps for rent comes from Wacker Neuson and Godwin. Like Caterpillar, these manufacturers have a legacy of performance and resilience for every shift.
Rent by the day, the week or the month. Whatever the job requires, we'll deliver an affordable rate for a well-maintained unit that helps you quickly achieve your goals. Follow the links on this page for detailed information about our current inventory. Request a quote online or contact one of our locations for assistance.
Wacker Neuson single-phase submersible pumps feature a small footprint that makes them an ideal choice for use in confined spaces. Key features include:
A high performance design that can handle solids up to 0.4" in diameter, suitable for quickly and reliably dewatering trenches, ditches, sumps and other narrow job sites.
A lightweight design with an integrated heavy-duty power cord, making them easy to transport and install in remote locations or harsh operating conditions.
A thermal protection function that reduces the risk of impeller blockage or other problems causing unanticipated downtime.
And more. Rent a Wacker Neuson pump for any upcoming job, big or small. We offer two models — the PS2 500 and the more powerful PS2 750. Contact an NMC The Cat Rental Store representative for assistance choosing the right machine for your project.
Portable Pumps for Rent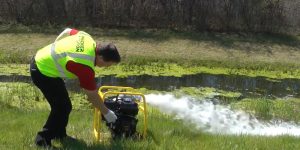 We also rent heavy-duty portable pumps by Godwin and Wacker Neuson that are suitable for medium to high volume water, sewage and sludge pumping applications. Several models are available, offering maximum flow rates up to 6000 gallons/minute. Paired with a reliable diesel engine, our rental pumps are an excellent choice for even the most demanding construction, mining, agricultural and other job sites.
Our towable pumps provide flexibility by hitching to your vehicle. Move your pump between job sites or areas for projects that need dewatering across a distance. Many towable pump models have comparable power to submersible and portable options.
When to Consider a Rental Pump
Businesses rent our pumps in a variety of situations. You could benefit from a rental pump if you:
Need to get the most out of your budget and storage: When you want to save on costs and required storage space, a rental pump can help you achieve this goal. It doesn't require the same upkeep and storage as a rental pump you own.
Experience an emergency: During storms, floods and water system malfunctions, a rental pump can help you remove water and waste from an area.
Plan to perform a one-off project: If you need to pump waste or water for one or a few projects, considering renting a pump. You'll save the cost of maintaining a pump you don't use frequently.
Reasons to Choose NMC The Cat Rental Store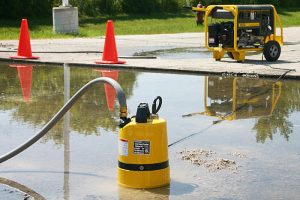 You can rely on NMC The Cat Rental Store for these reasons and more:
Prompt response and service: Count on us for 24-hour service and fast assistance when you have an emergency.
Price match guarantee: If you see a lower price at a competitor site, we'll match it to give you the best rental experience.
Leading client support: Our team can assist with training, maintenance and repairs to help you get the most out of your equipment.
Your Partner for All Equipment Rentals
With one of the most comprehensive inventories of industrial equipment rentals in the Midwest, NMC The Cat Rental Store is a valued partner to a wide range of clients in Nebraska and Pottawattamie County, Iowa. In addition to our full lineup of water pumps, we also rent generators, temperature control equipment, heavy machinery and more. Contact a rental representative in your area for help putting together a complete equipment package for your upcoming job.