TOWABLE PUMP
Towable Pump for Rent
If you need a dewatering, trash or sewage pump that can be transported to remote job sites, a rental towable pump may be an ideal option for you. These can be used on a variety of job sites, including fire service projects, mining dewatering, vault dewatering and removal of excess water from lakes and barge holds.
At NMC The Cat Rental Store, we have a variety of towable pumps for rent for whatever your water removal needs may be.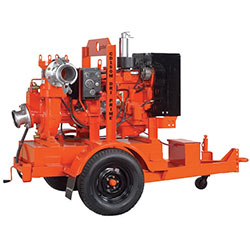 Benefits of Rental Towable Pumps
The main advantage of a towable pump is that it is ideal for moving from one job site to another. They hitch to all kinds of vehicles for easy transport. And if you only need pumps from time to time, renting is a great option. Other benefits of rental towable pumps include:
Try before you buy: If you're considering investing in a towable pump, rental is an excellent way to evaluate how well the equipment fits your business.
No storage costs: Avoid storage costs by keeping the towable pump at your job site until the work is done. We will remove it for you when your rental period ends.
Mobile: Can be easily transported between job sites so you can have it when and where you need it.
Cost reduction: With no insurance or other maintenance costs, you will save money.
Increased inventory: Bolster your equipment inventory and capabilities at an affordable price so you can make the most of your busy season.
Decreased downtime: If your regular pump needs to be serviced or repaired, a rental towable pump is a great way to avoid downtime and keep work moving forward.
New technology: If you have an older pump, renting a new towable pump will give you access to the latest technology to help speed up your operations.
With accessible, easy transport and minimal expenses, a rental towable pump is an ideal equipment choice.
Towable Pump for Rent From NMC The Cat Rental Store
NMC The Cat Rental Store offers several models of Godwin towable pumps: CD100M, CD150M, CD225M, CD300, CD225M, CD100M (sound attenuated) and CD150M (sound attenuated). Godwin pumps are known for their high-quality operation and durability, and these various models offer different sizing and capacity options. Our highly-trained staff can calculate exactly which model will be the best fit for your specific project requirements.
We will also deliver the pump right to your work site and set it up for you. During your rental, we will provide service or maintenance for the pump, and we will remove it from the site for you once your rental period ends.
When you work with NMC The Cat Rental Store, you can count on:
Competitive prices
Factory-trained field and shop technicians
24-hour emergency service
Fast delivery
Knowledgeable and professional customer service staff
Customer Support Agreements (CSAs)
And more
NMC The Cat Rental Store has been the premier authorized Cat® dealer for Nebraska and Pottawattamie County, Iowa for more than 80 years. We have the knowledge and experience to help you find the perfect equipment for all your project needs. For more information about our products and services, contact us today. You can also visit one of our store locations to see our inventory for yourself.