SUBMERSIBLE PUMP
Submersible Pump for Rent
Submersible pump rentals provide an effective water removal solution. This pump style saves you time and effort because it rests below the surface, eliminating the need for priming. Submersible pumps also conserve energy because they do not suck or pull water to the surface, unlike pumps that sit next to a body of water.
Submersible pumps are typically used for draining large bodies of water, pumping water from boreholes and irrigating farmland. They can also act as a sump pump to remove water from indoor areas such as basements.
At NMC The Cat Rental Store we have several models of submersible pumps available for rent to help with your water removal needs.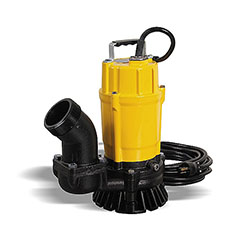 Benefits of Submersible Pump Rentals
Submersible pumps are an ideal choice for any water removal project for many reasons, including:
Try before you buy: Gives you the opportunity to try out the submersible pump and make sure it will fit your long-term needs before making a significant investment.
Energy-efficient: Because they do not suck or pull water to the surface, submersible pumps conserve energy and lower your power expenses.
Cost reduction: The lack of maintenance or insurance costs will save you money.
No storage costs: Avoid storage costs by keeping the submersible pump at your job site, and we will remove it for you after the end of the rental agreement.
Increased inventory: Increase your equipment inventory and capabilities at an affordable price during your busy season.
Decreased downtime: If your regular compressor unit needs to be serviced or repaired, a rental submersible pump is a great way to avoid downtime while your unit is being fixed.
Submersible pumps remove water effectively, and a rental pump gives you the flexibility you need on your project.
Rent a Submersible Pump From NMC The Cat Rental Store
At NMC The Cat Rental Store, we have several models of submersible pumps available. Our lineup includes Godwin Heidra pump models 103 and 150, and we also have Wacker Neuson pumps available, including models PST2 400 and PST3 750. Both brands are known for their efficiency, durability and versatility. The different models offer various functions and capabilities, and our expert staff can help you determine which model is the best fit for your particular project requirements.
We aim to make the rental process as easy for you as possible, which is why we deliver the unit directly to your job site and complete the setup for you. We will also provide any necessary maintenance or service during your rental period, and once your rental is over, we will remove the pump from your site.
When you work with us, you can also count on:
Factory-trained field and shop technicians
Competitive prices
24-hour emergency service
Knowledgeable and professional customer service staff
Customer Support Agreements (CSAs)
Fast delivery
And more
As an authorized Cat® dealer serving Nebraska and Pottawattamie County, Iowa, for more than 80 years, NMC The Cat Rental Store has the knowledge and experience to assist you with your project needs.
For more information about our products and services, contact us today. You can also visit one of our convenient store locations to see our inventory in person.