>
>
>
Construction Equipment: Tracks vs. Wheels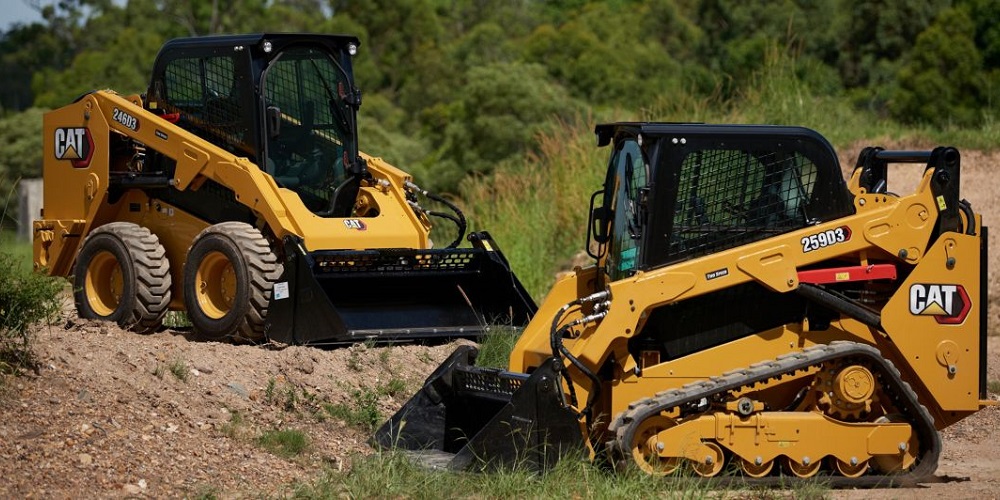 Construction Equipment: Tracks vs. Wheels
Category: Equipment and Solutions
Finding the right equipment can significantly impact your construction job and help you maximize your efficiency and operator safety. Tracked and wheeled equipment display various differences, and it's essential to know what kind to buy. You want to find the best choice for your operation to get the most from your machine.
Learn more about wheeled equipment vs. tracked equipment below, and discover more construction equipment examples so you can make the right choice.
Wheeled Equipment
Wheeled equipment comes in many different sizes. Depending on the machine, the rear tires can be larger, smaller or equal in size to the front. Determining whether to use a tracked vs. a wheeled skid steer mostly depends upon the machine's intended use.
Advantages of Wheeled Equipment
Wheeled equipment offers a unique set of perks for the construction site. You can get advantages such as:
Cost: Tires and wheeled machines tend to be more affordable than tracked machines.
Maintenance: You can save time and money on maintenance with wheeled machines.
Weight: Wheeled machines are much lighter than tracked ones, making them easier to operate under the right conditions.
Common Wheeled Equipment Applications
Wheeled equipment is commonly used on smooth, flat surfaces with a slight incline. However, if you are working on a larger job site requiring travel, wheels are ideal. Wheels also offer more maneuverability in snow.
Wheeled machines are lightweight, so they work well when ground impact is not a huge factor. The tires provide better traction over flat surfaces like concrete because the rubber connects with the asphalt.
If you need a maneuverable machine for a level construction site, a wheeled model might be the best option for you.
Tracked Equipment
Tracked equipment has a different power output and pressure than wheeled equipment. While the machine moves, the undercarriage supports the tracks, which are mounted on idlers.
Advantages of Tracked Equipment
Tracked equipment has several distinct advantages from wheeled options. Some benefits of tracked machinery include:
Maintenance frequency: Tracks typically need replacing less often than tires, so you can save money on replacement parts.
Traction: Because of their larger surface area, tracked machines can handle inclines and rough sites.
Power: Tracked machines distribute their power evenly, which helps them smoothly glide across the ground.
Common Tracked Equipment Applications
Since tracked equipment works better on rough ground, it provides more ground pressure than machines with tires. If you're working in an area where you can tear up the ground, a tracked option is suitable for getting more traction.
Tracked equipment is becoming increasingly popular because it can function across a wide range of surfaces. You are no longer limited to flat ground, which can be the case with wheeled machines.
Find Out More From NMC Cat
When contemplating the difference between tracked vs. wheeled skid steers and other types of machinery, you should assess your needs. If you need a machine that can withstand uneven ground and inclines, tracked equipment is your best option. Wheels are ideal if you don't want to disturb the ground underneath or if you have to travel a longer distance.
NMC Cat has a comprehensive inventory of both wheeled and tracked equipment. Contact us today about our machines and find out which option would be best for your use.