>
>
>
Cat® Motor Grader vs John Deere Motor Grader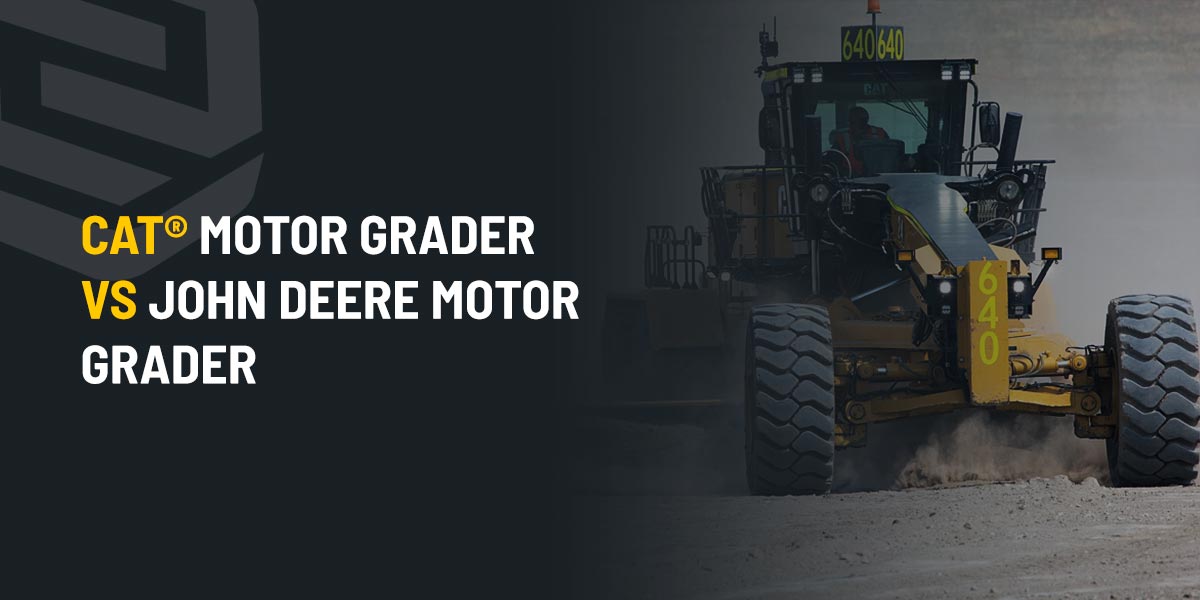 Cat® Motor Grader vs John Deere Motor Grader 
Category: Equipment and Solutions
Motor graders, otherwise known as road graders, are powerful pieces of heavy equipment depended on by numerous industries. When it's time to grade or level a surface, the motor grader is the most likely choice. Every motor grader comes with three axles, an engine and a blade to perform smoothing work.
Caterpillar and John Deere both offer premium motor grader models with exceptional build quality, so many business owners spend a considerable amount of time deciding which of these brands to include in their fleet. To help, the experts at NMC Cat have put together this guide to walk you through a comparison of these two pieces of equipment so you can see which is the best choice for your next project.
Motor Grader Applications
Motor graders are critical tools for building roads and providing leveling services across many industries. Common applications for motor graders include:
Roadwork: Highways, streets and parking lots depend on motor graders to flatten and smooth surfaces before workers can lay asphalt.
Construction: Construction projects depend on graders to level surfaces for placing building foundations.
Snow removal: When utilized with the correct attachment, a motor grader can serve as an effective snow plow.
Agriculture: Prepping soil for a new planting season is easy with a motor grader. These machines are also excellent for maintaining dirt roads on farms or in rural areas.
Mining: A grader can create smooth, stable pathways for miners to operate essential equipment.
Cat Motor Grader Overview
Since 1903, Caterpillar has been an innovator in the motor grader field, and the company continues to manufacture premium solutions today. Now, Caterpillar is the world market leader for models with integrated productivity tools, comfortable cabs, and advanced electronics and hydraulics.
Caterpillar design innovations for motor graders like the Cat® 140 include:
Ergonomics: Cat motor graders lower operator fatigue by providing advanced comfort with air suspension seats, air conditioning and heat temperature control, and improved lines of sight. These motor graders also feature the option to equip a radio with Bluetooth and a phone charger.
Auto-control: Cat Grade with Cross Slope technology provides auto-control featured on one side of the blade while the opposite side is controlled by the operator. Each motor grader can equip 3D grade and slope control via third-party technology providers.
Machine bounce: The Stable Blade option allows graders to detect machine bouncing and take steps to prevent it automatically. This feature senses the upcoming bounce and throttles down the grader to compensate, then returns it to the set speed.
Auto articulation: On equipment featuring joystick operation, auto articulation allows the grader to articulate automatically with steering input.
John Deere Motor Grader Overview
John Deere SmartGrade equipment features in-cylinder position sensing to match the articulation angle, blade pitch or circle offset selected by the operator.
Several highlights of this heavy equipment include:
Ejector scrapers: John Deere offers ejector scraper improvements with a 15% larger gate opening that boosts shielding and material ejection.
Quick attachment: Optimized vertical pin adapters improve usability for quick attachment sleeves with short and long drawbars.
Efficiency manager: The John Deere Efficiency Manager uses automation to match and adjust the performance of the engine and transmission to ground speed.
Automation Suite: The John Deere Automation Suite helps operators by reducing common control tasks with blade flip, auto-articulation and operator selectable presets.
Comparing the Options
Caterpillar is a construction equipment manufacturer known around the world for its contributions to this industry, although Cat machines do see frequent use in many other fields. Meanwhile, John Deere primarily provides equipment geared toward agricultural applications.
Caterpillar has a long history of experience constructing the finest in motor grader equipment, and modern features like Stable Blade and Cat Grade with Cross Slope make it easier than ever to achieve exceptional results with Cat machines. These capabilities allow new operators to learn faster and veteran operators to remain in their jobs longer before retirement.
While deciding on a John Deere motor grader versus a Cat model will still get you a quality machine, you can't beat the advanced functionality and longevity of equipment from Caterpillar.
Contact NMC Cat for More About Top-Quality Motor Grader Options
NMC Cat offers motor graders with the legendary durability of Cat heavy equipment and a local support team you can trust. We have more than 80 years of experience serving our local community with excellence and integrity. As the authorized Cat dealership for all of Nebraska and Pottawattamie County, Iowa, we're confident that we can find a motor grader suited to your unique needs.
Ready to explore your options for motor graders? The NMC Cat team is here to help your business find the perfect equipment solution. Reach out to our team online now with any questions or to request more product information.