>
>
>
Best Wheel Loaders for Your Farm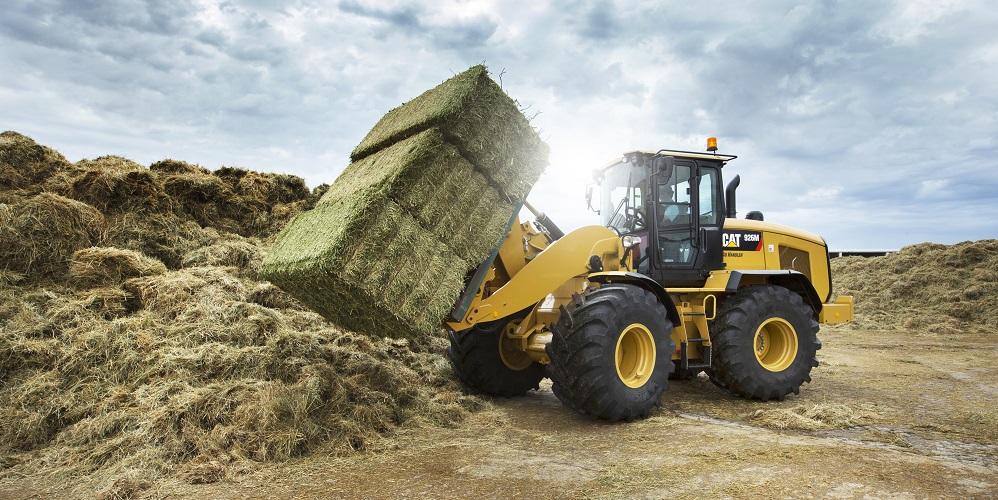 Best Wheel Loaders for Your Farm
Category: Equipment and Solutions
Farmers and professionals in agriculture are always moving supplies from point A to point B. Completing operations by hand can take weeks with just a shovel, so a wheel loader is necessary for maximizing profits. If you are in the market for Cat® loaders for farming, selecting the right wheel loader for your efforts is the ticket to streamlining responsibilities.
The experts at NMC Cat understand that farmers need equipment engineered for optimum performance, so we are proud to recommend genuine Cat machines for diverse applications. Whether you are working on a dairy farm, caring for livestock or growing crops, there are wheel loaders designed for your operations. Use the information below to select world-class technology you can rely on for years to come.
Types of Wheel Loaders for Agriculture
Wheel loaders are categorized by size and performance specifications. Before settling on the right farm wheel loader for your needs, review the following:
Compact wheel loaders: These wheel loaders are suitable for smaller jobs. Navigate through narrow terrains without disrupting crops and working surfaces.
Small wheel loaders: A small wheel loader allows users to maneuver rough terrains while providing flexibility for attachments. Similar to compact wheel loaders, these machines are suitable for tight job sites. Small loader variants provide additional horsepower.
Medium wheel loaders: Medium builds reduce the need for manual labor. Relocate piles of soil and more with hydraulic functions that enable you to monitor operational costs.
Large wheel loaders: These machines are for extreme loads. Prepare land quickly with shovel-inspired attachments, and use your investment to navigate the farm at higher speeds.
Wondering who makes the best wheel loader? Take a look at our suggestions to learn more about some of the best farm wheel loaders in each class:
1. Cat® 903D Compact Wheel Loader
The Cat 903D Compact Wheel Loader packs an impressive amount of power into a small-scale machine. Thanks to a Cat C2.4 engine, equipment operators can use over 40 horsepower to scoop supplies, animal waste and more near high-traffic areas. The 903D Compact Wheel Loader provides you with a 25 percent increase in tipping capacity and ground speed capabilities compared to previous generations.
With an accessible engine compartment, this machine allows you or your service team to perform quick, hassle-free inspections. This Cat compact wheel loader also features optional front and rear differential lock, giving it the capability it needs to operate in harsh environmental conditions no matter the season.
Select models enable equipment operators to change out tooling attachments without having to climb out of the enclosure. This is one of the best farm wheel loaders in the compact class, as you gain access to user-friendly joystick controls, a spacious cabin and functions for traction support.
2. Cat 926M Small Wheel Loader
Cat 926M Small Wheel Loaders feature a Cat C7.1 engine for plenty of power at a quieter volume. Stay comfortable inside the cabin for projects that take more than a few minutes to complete. Select Cat 926M Wheel Loader packages include rearview cameras and heated seats, useful when working through evening hours.
Cat 926M Small Wheel Loader machines showcase two operating modes (standard and performance) for versatility. Standard power modes focus on minimizing cabin vibrations and saving fuel, while performance modes push engine power by as much as 10 percent with the press of a button.
With optimized Z-bar linkage, the 926M provides greater efficiency and tool attachment usage. This small wheel loader comes with customizable features like Rimpull and Creeper Control, scheduled maintenance alerts and an advanced diesel particulate filter to offer exceptional usability and a long life span. It also supports sustainability efforts with its environmentally friendly Clean Emission Module.
Clear snow, relocate animal feed and more with a single piece of equipment. Using a single tool increases efficiency on your farm and can help you save money by maximizing your return on investment.
3. Cat 950 GC Medium Wheel Loader
The Cat 950 GC Wheel Loader is a well-rounded machine that allows you to tackle everyday jobs on the farm with proficiency. The loader design features a Cat C7.1 engine offering 225 horsepower for rugged applications. Pair your investment with a Cat Performance Series Bucket attachment for material handling work that would take weeks to finish with traditional tools.
Cat 950 GC Wheel Loaders provide significant fuel savings thanks to an included Engine Idle Management System (EIMS). Get the most out of your fuel, as the farm wheel loader automatically reduces engine revolutions per minute after idling for a specific period of time.
This Cat agriculture wheel loader is equipped with a glass windshield that extends to the cab floor for maximum visibility near the bucket. These premium farm loaders are designed for extended use and safety thanks to features like windshield wipers, handrails and rearview mirrors. You can also choose to add other equipment to your Cat medium wheel loader, like quick coupler control or cold weather starting.
4. Cat 988K Large Wheel Loader
Cat large wheel loaders are necessary for land clearing tasks. If you have to move rocks, hay bales or mounds of soil, the Cat 988K Wheel Loader is appropriate for these demanding applications. A Cat C18 engine with over 500 horsepower and steel lift arms makes it easy to dump supplies and aggregates with control.
Equipment operators can quickly drive over grass and dirt using a world-class Steering and Transmission Integrated Control System (STIC™). Set the direction in which you want to travel and transmission gears from the same lever inside the enclosure. With comfortable seating, air filtration and an easy-to-read control panel, this Cat large wheel loader ensures you can focus on your work. It's also compatible with numerous attachments, like those in our Performance Series.
Purchase New Farm Loaders From NMC Cat
NMC Cat supplies new wheel loaders to farmers within Nebraska. Our inventory is always growing with the latest technology from the Caterpillar brand for unmatched performance and durability. We've been working in the industry for decades, meaning that we have the experience to help you find the wheel loader you need on your farm.
We value building relationships within our community. That's why our customer service team takes the time to understand your operations before recommending a machine. Our repair and maintenance services are unmatched, and we are continuously available to support you with reliable equipment and exemplary customer care. Browse our current selection, and you can contact us online with further questions about equipment specifications.