>
>
>
14 Tips for Mini Excavator Maintenance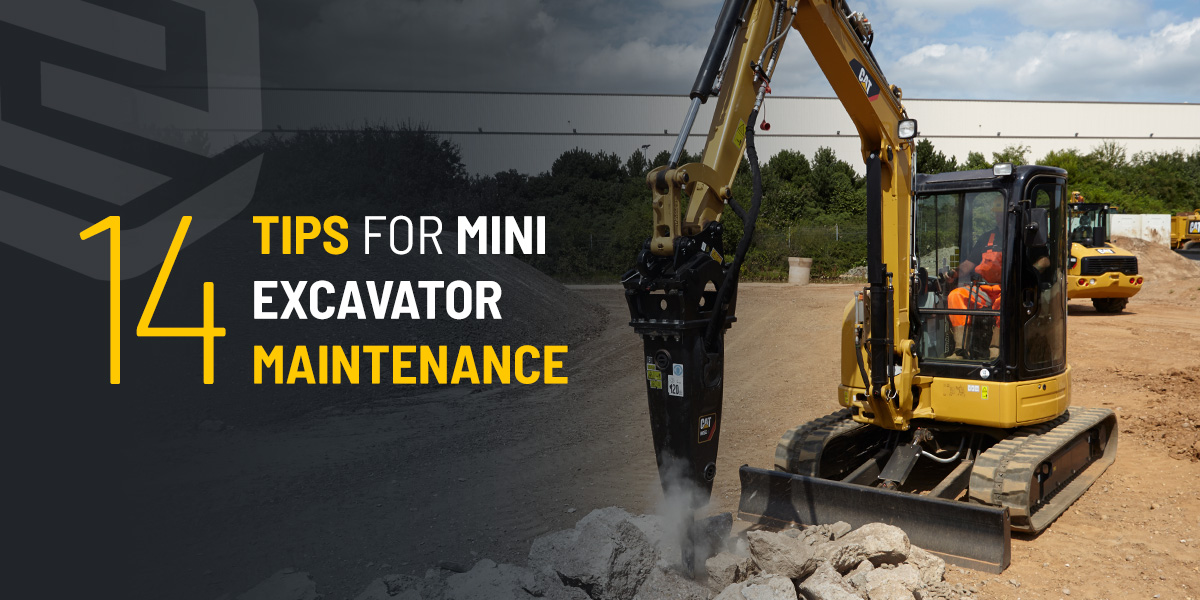 14 Tips for Mini Excavator Maintenance
Category: Equipment and Solutions
Mini excavators, also known as compact excavators, perform versatile work around the job site. Contractors use mini excavators to dig, drill, and carry materials in various applications. The compact size and flexibility of these excavators make them ideal for various industries, including construction, demolition, and farming.
You need your construction equipment working at its best. Although mini excavators are known for their ruggedness, these machines still require routine attention to perform as required. Regular maintenance helps keep mini excavators in top condition so you can focus on getting the job done. This guide to mini excavator maintenance offers some helpful tips to keep your fleet working as it should.
14 Tips for Mini Excavator Maintenance
Although mini excavators come in different sizes and styles, following some common maintenance steps can ensure your machines operate at peak levels. Consider these 14 tips for mini excavator maintenance to help you keep every component of your equipment in good working order:
1. Train Your Operators Effectively
Implementing an efficient preventative maintenance program begins with training machine operators effectively. Your mini excavator operators can only spot potential problems with their machines if they have been trained under normal operating conditions.
It's vital to train heavy equipment operators in maintenance procedures. Operators should be able to identify engine and exhaust issues, loose bolts, frayed belts, missing parts and filters in need of replacing. Taking the time to train workers and ensure they can recognize the thousands of components in a mini excavator can save costly repairs in the future.
2. Follow a Routine Maintenance Schedule
Following a compact excavator, maintenance schedule simplifies the maintenance process and ensures that workers know their machine's condition. To create a maintenance schedule, check your mini excavator maintenance manual. The maintenance manual includes service recommendations on how frequently to review everything from fluid levels to track tension.
Regular maintenance should include frequent checks and maintenance at longer intervals:
Daily: Operators should check fluid levels, examine connections and ensure attachments are well greased every day.
Weekly: The operator should grease the mini excavator's slew-ring bearing and check the track tension and drive belt every week.
Every six months: At the six-month mark, it's best to have a professional take a look at your mini excavators. Getting regular preventative maintenance from certified technicians ensures that no problem ever goes overlooked.
Every two years: More time-consuming maintenance should be performed at longer intervals. For example, you should clean the fuel injectors every two years.
3. Examine the Hydraulic Cylinders
A daily pre-operation walkaround is one of the most effective ways to maintain your mini-excavator and prevent accidents on the job site. Taking the time to walk around your equipment and inspect it before each use reduces the chance that you'll miss a loose bolt or frayed connection.
The first step in your walkaround should be checking the hydraulic cylinders. The hydraulic system is crucial for using the mini excavator's attachment, so this system should always be working correctly. Walk around the hydraulic cylinders and check the rods and seals. Inspect the linkage to ensure there are no signs of damage or excessive wear.
4. Inspect the Attachment
The next step in your excavator walkaround is to inspect the attachment itself. Checking the attachment and coupler for signs of disrepair helps prevent accidents and may ultimately reduce maintenance costs for your mini excavators. If the attachment or arm shows any rust or other damage, replace the component to relieve any stress on the mini excavator's arm.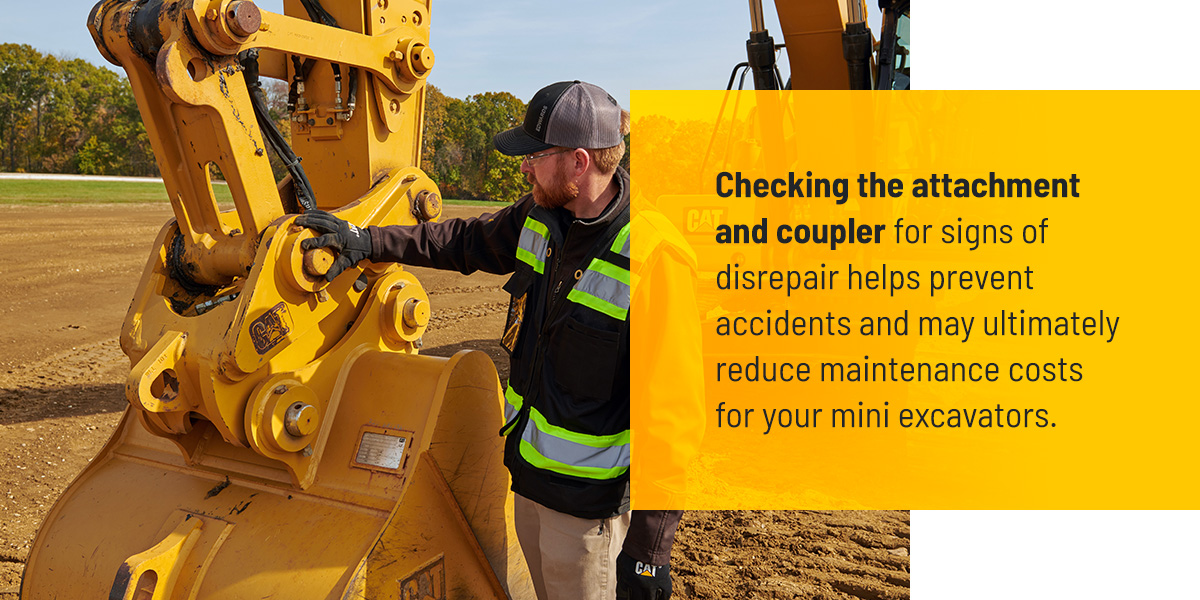 5. Open the Side Hood
Walk around to the side hood and open it to inspect what's inside. Examine the hydraulic tank, tubes, hoses, and plugs. Look for leaks and breakage. Then check the hydraulic fittings and connecting joints. If there are signs of leakage, correct the issues.
6. Inspect the Fuel Water Separator
Examine the fuel water separator for any trace of water in your mini excavator's fuel. Depending on your mini excavator model, your machine may have a fuel water separator with a clear bowl containing a red ring. If the ring floats, there is water in the fuel. Completing this maintenance step catches potentially damaging leaks in your fuel filter.
7. Check the Cooling System
While inspecting the inside of the side hood, check the cooling system. Look for leaks in the system, faulty hoses, and any buildup of trash and debris. Remove debris if it's present and repair leaks. Then examine coolant levels. Always ensure the coolant meets the manufacturer's recommended levels.
8. Grease Pivot Points
Greasing your mini excavator's pivot points is one of the most cost-effective maintenance tips you can implement. Daily greasing of the arm, bucket, and other pivot points ensures that the mini excavator runs properly. Daily greasing also prevents the pins from wearing out prematurely.
9. Examine the Engine Compartment
After inspecting everything in the side hood and greasing the pivot points, move around to the engine compartment and lift the hood. First, check for and remove debris from the inside. Then examine the oil cap and tighten it if needed. Inspect all the belts for the engine attachments. Replace any belts that are frayed, worn, or broken.
10. Check Fuel Levels
The next step in your maintenance list is to check fuel levels. Engine and hydraulic oil should always be at the recommended level. Operating a mini excavator on insufficient fuel could result in costly damages, so this stage is essential. Check the maintenance manual for the manufacturer's recommended fuel levels. Then examine the fuel levels and replace the oil when needed.
11. Check Air Filters
Replacing the air filters should be on the regular maintenance schedule, though operators may only need to check them once weekly. If you work on a dusty job site, you should check the air filters more often. If an air filter is clogged with dust, you can remove it and gently knock it off to remove excess debris.
12. Examine the Tracks
Walk around the mini-excavator and inspect the tracks for rocks and damage. Remove debris and replace tracks that show excessive wear. It's also essential to look for adequate track tension and adjust it if necessary. If the mini excavator is used regularly over rough terrain, the operator may need to check the track tension every day. This step ensures that the tracks are neither too loose nor too tight, which can cause excessive wear and downtime.
13. Inspect the Cabin
After you've completed the walkaround, inspect the mini excavator cabin. This stage of maintenance helps ensure the operator's safety and the safety of others on the job site. Perform all of these steps while checking the excavator cabin:
Examine the falling object protective structure and tighten any loose bolts.
Remove trash buildup under the floorplate and in the cabin.
Check for broken switches or controls and replace them if necessary.
Ensure the mirrors are clean and have no cracks.
If your mini excavator has an enclosed cab, check and clean the windows.
14. Use Telematics
One of the best ways to maintain your mini excavator is with telematics. This technology monitors machine activity and performance to alert operators when there is a need for repair or replacement. Telematics systems also record maintenance history so an operator can see which components were checked last.
A mini excavator using a telematics system usually has a screen within the cabin that will alert operators when there is an issue. The system also provides service alerts to help with planning a maintenance schedule. This method allows operators to keep track of maintenance and avoid overlooking problems, potentially saving hours of downtime.
NMC Cat for Mini Excavators and Maintenance Services
Properly maintaining your mini excavators is essential for promoting safety on the job site and reducing downtime. From training operators to implementing daily walkarounds and optimizing performance with telematics, regular maintenance can significantly boost efficiency.
When you need mini excavators in Nebraska, turn to NMC Cat. NMC Cat offers Cat® mini excavators for sale or rent with advanced innovations that enhance productivity. We also provide preventative maintenance services to keep your equipment up and running. Contact NMC Cat today for answers to your questions.