HOSE REBUILDING AND REPAIR
Most heavy equipment relies on hydraulics for virtually every facet of their operation. A hydraulic system requires the efficient transmission of fluid to enable a machine and its components to move and perform work. Hoses are necessary for providing a flexible connection between two ports to facilitate efficient, unobstructed fluid flow.
Hydraulic hoses are critical to a machine's ability to operate properly. And you know when a hose breaks it means costly downtime that puts your projects behind schedule. Having access to an experienced service provider is essential for replacing broken hoses quickly and getting your bulldozer, excavator, skid steer or other vital equipment back on the job.
Schedule Your HOSE REBUILDING AND REPAIR SERVICE
NMC Cat: Your Source for Hydraulic Hose Repair in Nebraska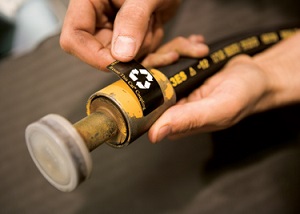 If you use heavy equipment in Nebraska or Pottawattamie County, Iowa, you can trust NMC Cat to deliver prompt, reliable hydraulic hose rebuilding and repair service. With more than 80 years in the equipment industry, we have the trained technicians and the comprehensive tools to quickly make repairs and get your machine back up and running.
NMC Cat offers a one-year warranty with hose rebuilds and repairs for any make and model of equipment. Hoses are essential for a machine to operate, so you can trust our team to troubleshoot and build a new hydraulic hose. Our parts inventory has an extensive selection of fittings, hoses and adapters. Professional services include:
Fluid analysis and diagnostics for hydraulic systems
Foam core plug cleaning and ends capped to prevent contaminants
Load and pressure testing
Repair and replacement
Supply and install low, medium and high-pressure hoses using permanent or reusable crimp couplings
Customized Hydraulic Hose Repair
NMC Cat is able to perform hydraulic hose repair work on Cat® and non-Cat equipment. Our fully equipped shops feature the latest tools and technology to complete the task quickly and efficiently, regardless of make or model.
We also have the best service technicians in the region. Our team can troubleshoot and build the hydraulic hose you need with while-you-wait service. Our parts inventory includes a wide selection of hoses, fittings, and adapters.
Services You Can Expect
Repair & replacement for all hose sizes
Supply & install low, medium & high-pressure hoses with both reusable or permanent crimp couplings
Load & pressure testing
Fluid analysis & other diagnostics for hydraulic systems
Foam core plug cleaning & ends capped to prevent contaminants
A Warranty You Can Count On
Our exclusive one-year warranty on any hydraulic hose shop repair ensures the quality of our workmanship and gives you extra peace of mind. You'll have confidence knowing that the job is done right and that your hose repair or rebuild will meet your expectations and alleviate any performance or reliability concerns.
Contact Us to Schedule Your Hydraulic Hose Repair Job
NMC Cat is ready to take on any hydraulic hose repair or rebuild project in Nebraska or Pottawattamie County, Iowa, regardless of size, scope or complexity. For comprehensive hydraulic hose repair with quick turn-around time – stop by or call our custom hydraulic hose shop today. You can also contact us online to learn more about our services.