.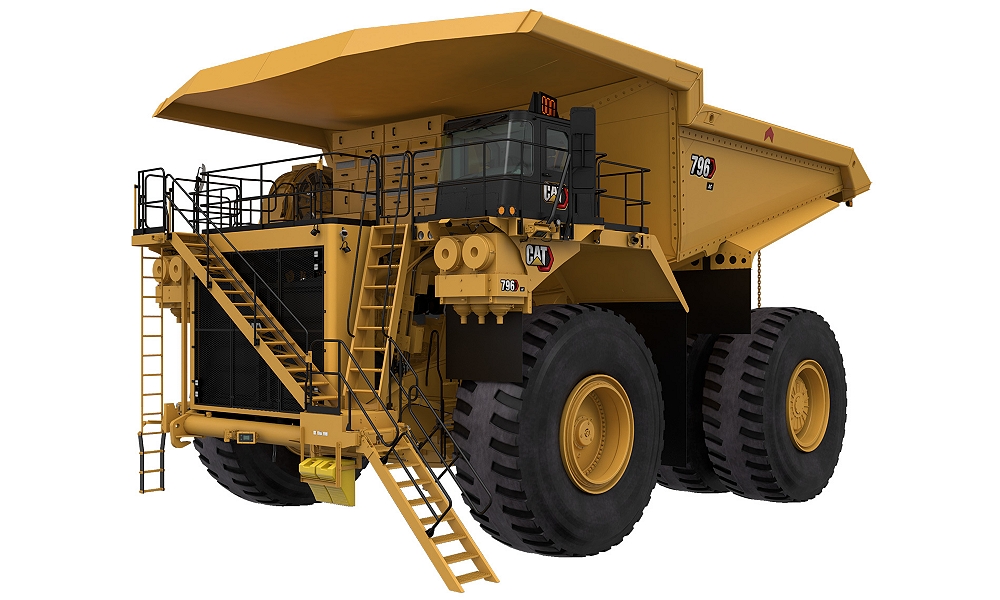 🔍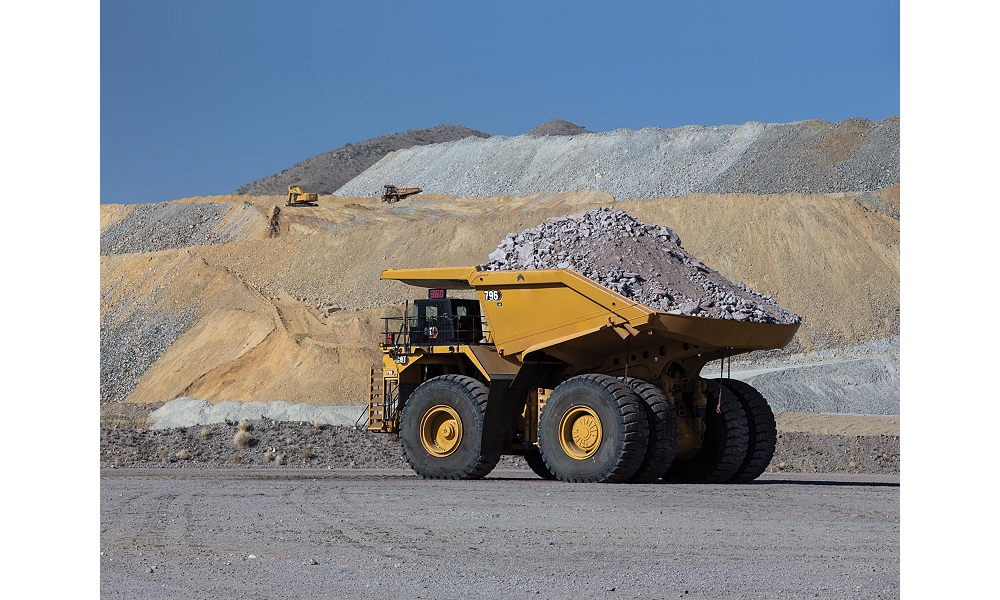 🔍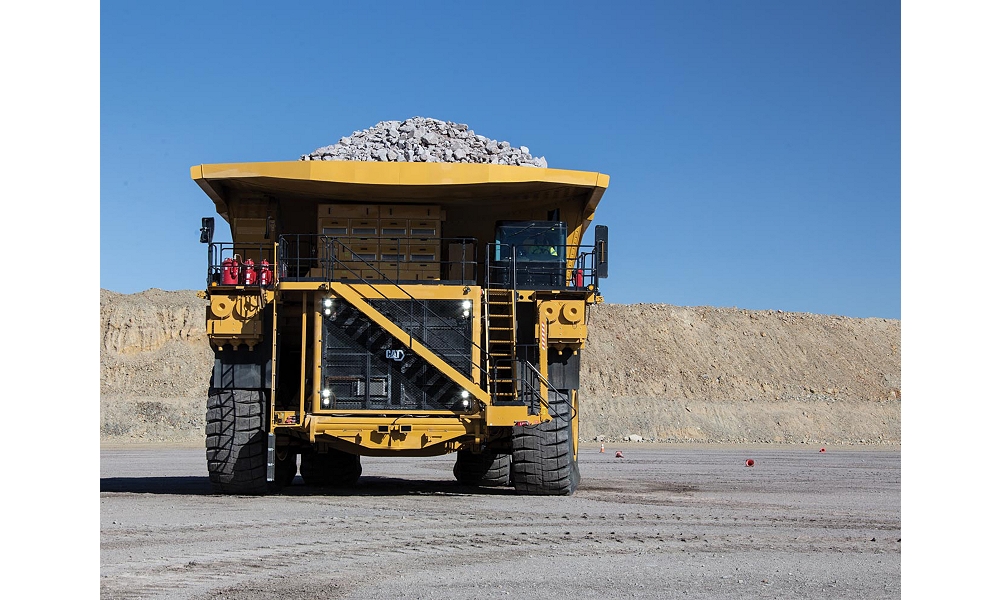 🔍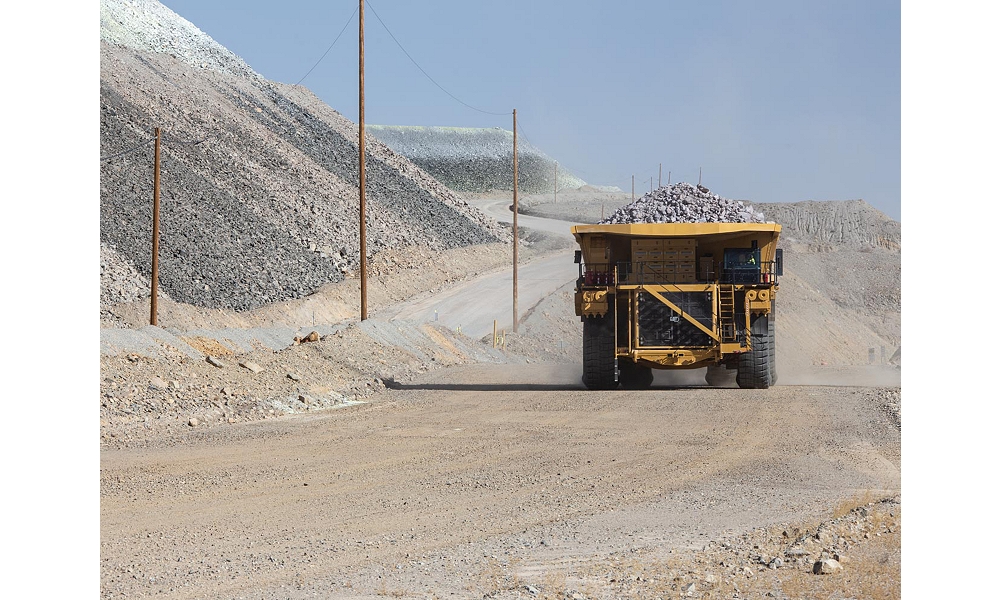 🔍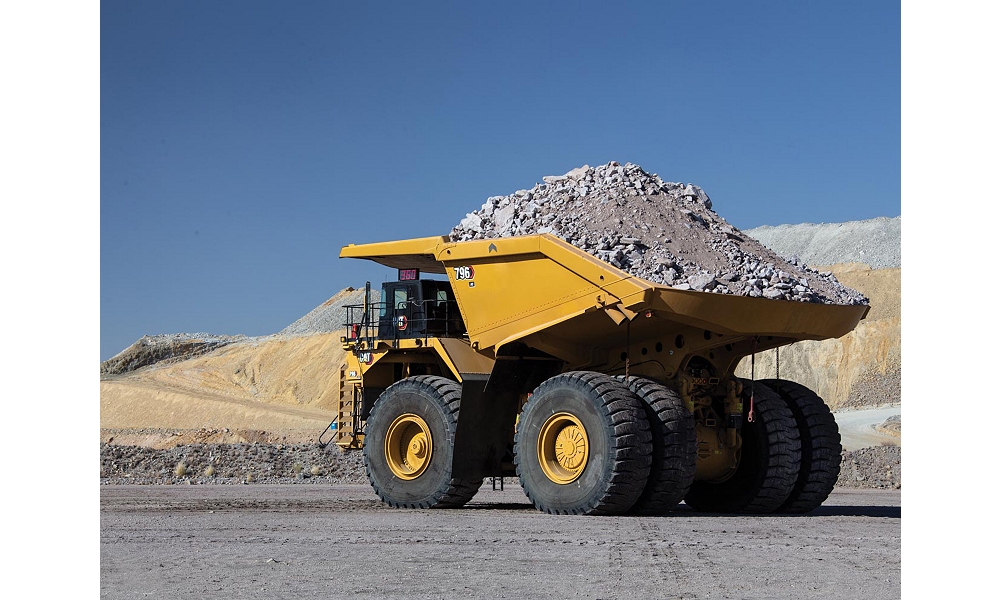 🔍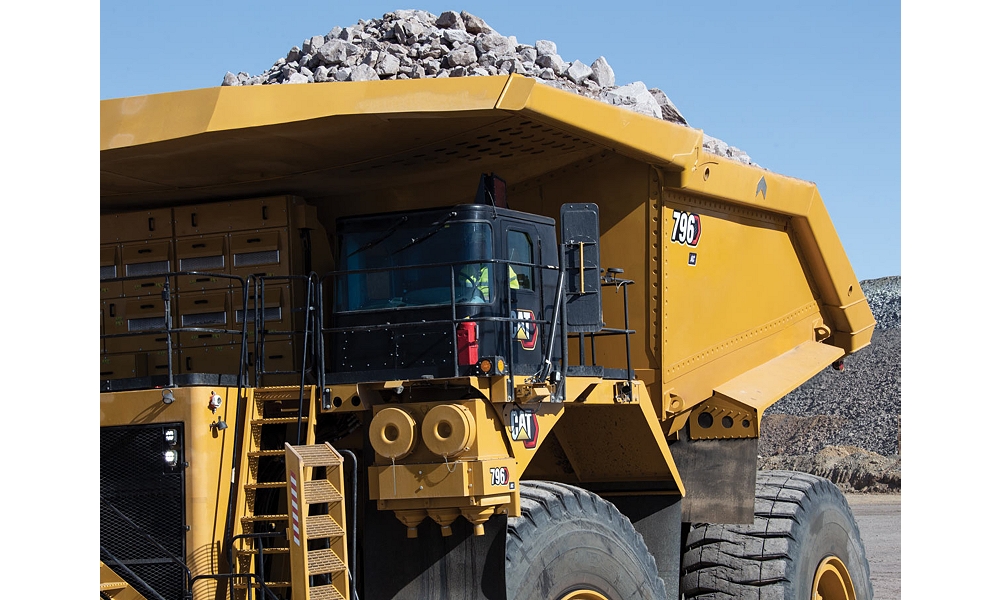 🔍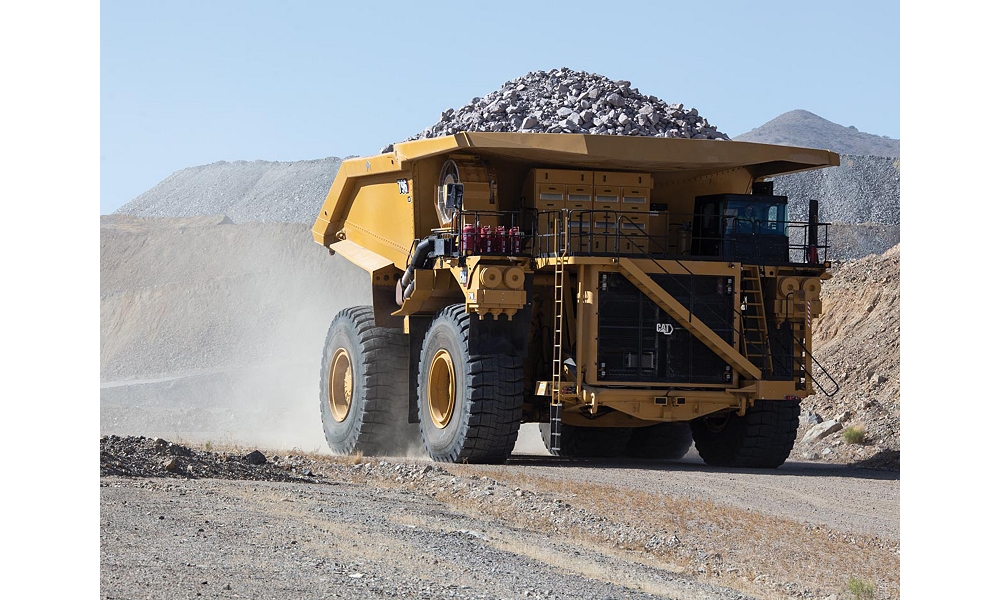 🔍
🔍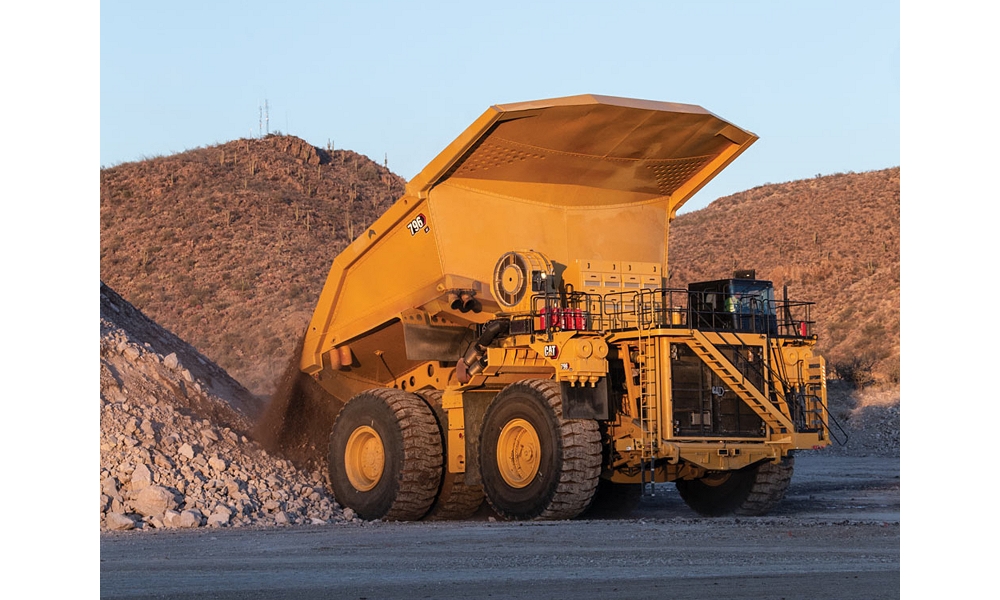 🔍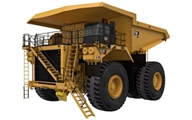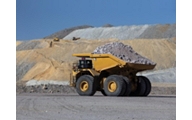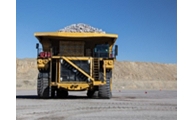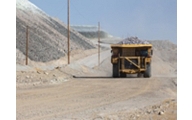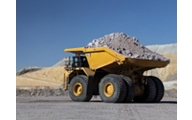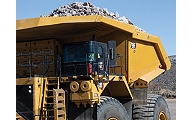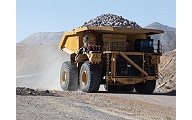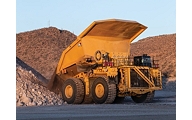 Description
Technical Specifications
Benefits and Features
Equipment
360 View
The Cat® 796 AC electric drive truck offers more flexibility than any other truck in its size class — delivering optimized performance and better productivity. Built on a proven truck architecture and high strength structures, the 796 AC delivers a nominal target payload of up to 327 tonnes (360 tons) regardless of attachments. Add in a proven drive system with industry-leading serviceability, and the 796 AC mining truck delivers a hauling solution you can depend on — resulting in high reliability, high availability, and low lifecycle costs. By hauling more every load, every cycle and every shift, it creates a low-cost-per-ton hauling operation that delivers a better bottom line.
Weights - Approximate
Nominal Rated Payload
360 ton (US)
Rated Gross Machine Weight
1270000 lb
Chassis Weight
448415 lb
Body Weight Range
38 833 – 42 907 kg (85,611 – 94,594 lb)
Note (1)
Consult your tire manufacturer for maximum tire load.
Note (2)
Chassis weight with full fuel and fluids, standard & mandatory attachments, hoist, body mounting group, rims, and tires.
Note (3)
Refer to Cat Mining Truck 10/10/20 Overload Policy (AEXQ0250) for maximum gross machine weight limitations
Engine
Gross Power - SAE J1995
3500 HP
Engine Model
Cat® C175-16
Net Power - SAE J1349
3405 HP
Rated Speed
1800 r/min
Emissions Rating
Fuel Optimized
Bore
6.9 in
Stroke
8.7 in
Displacement
5187 in³
Note (1)
Net Power advertised is the power available at the flywheel when the engine is equipped with air intake system, exhaust system, and alternator.
Note (2)
U.S. EPA Tier 4 Final / EU Stage V available for applicable markets.
Note (3)
Additional fuel optimized selectable power ratings: 2312 kW / 3,100 hp
Service Refill Capacities
Fuel Tank
1300 gal (US)
Fuel Tank (Tier 4)
1200 gal (US)
Diesel Exhaust Fluid Tank
100 gal (US)
Cooling System
211 gal (US)
Crankcase
82 gal (US)
Front Wheels - Each
7 gal (US)
Final Drive - Each
67 gal (US)
Hydraulic Tank
296 gal (US)
Hydraulic System - Including Tank
385 gal (US)
Grease Tank
90 lb
Note (1)
DEF Tank only available for U.S. EPA Tier 4 Final / EU Stage V engine option
Steering
Steer Angle
39 °
Turning Diameter - Front
106.3 ft
Steering Standards
Steering Standards: ISO 5010:2007
Note
Turning Diameter (ISO 7457:1997)
Braking System
Service Brakes
Four-Corner, Wet Disc, Oil Cooled, Hydraulically Actuated
Front Wet Disc Brake Surface Area
20378 in²
Rear - Wet Disc Brake Surface Area
30750 in²
Standards
Service and Secondary: ISO 3450:2011
Parking Brake
Four-corner, Multi-disc, Spring Applied, Hydraulically Released
Load Brake
Rear service brakes
Dynamic Retarding Power - Continuous
5480 HP
Note
Anti-Lock Brake System (ABS) optional with CMD package
AC Drive System
Total Reduction Ratio
35:01:00
Top Speed - Loaded
40 mile/h
Generator/Alternator
Cat brushless, engine mounted, dual bearing
Controls
Cat IGBT Inverter Technology, air cooled, pressurized cabinet with filtration
Wheel Motor
Cat AC induction, rear axle mounted
Cooling System
Cat variable speed, hydraulically driven cooling system
Capacity - HE Body - 100% fill factor
Struck
97-153 m³ (127-200 yd³)
Heaped (SAE 2:1)
186-237 m³ (243-310 yd³)
Note
Consult your local Cat dealer for body recommendations.
Body Hoists
Type
Twin, two-stage hydraulic cylinders with snubbing valve.
Pump Flow - High Idle
257.3 gal/min
Relief Valve Setting - Raise
3029 psi
Body Raise Time - High Idle
21 s
Body Lower Time - Float
22 s
Body Power Down- High Idle
17.5 s
Note (1)
Twin, two-stage hydraulic cylinders mounted outside main frame; double-acting cylinders in both stages.
Note (2)
Power raise in both stages; power down capability in both stages.
Note (3)
Automatic body-lower modulation reduces impact on frame.
Suspension
Type
Self-contained nitrogen/oil cylinders, pin-to-pin mounting, top & bottom double shear clevis attachments
Effective Cylinder Stroke - Front
4 in
Effective Cylinder Stroke - Rear
2 in
Rear axle - Oscillation
+/- 5.32 degrees
Cab
Air Conditioning
HFC - 134A refrigerant: 21,600 Btu/h
Heater / Defroster
24600 Btu/h
Note
Ambient capabilities down to -15C (5F) for heater/defroster and up to 50C (122F) for air conditioning.
ROPS Standards (1)
The operator sound pressure level, 75 dB(A), measured according to ISO 6394:2008 and ISO 6396:2008.
ROPS Standards (2)
ROPS (Rollover Protective Structure) meets ISO 3471:2008 for Operator and ISO 13459:2012 for Trainer.
FOPS Standards
FOPS (Falling Objects Protective Structure) meets ISO 3449:2005 Level II for Operator and ISO 13459:2012 Level II for Trainer.
Weight Distributions - Approximate
Front Axle - Empty
47 %
Rear Axle - Empty
53 %
Front Axle - Loaded
33 %
Rear Axle - Loaded
67 %
Note
Weight distributions optimized with Cat body.
Tires
Standard Tires
59/80 R63
Rims
44" x 63"
Note (1)
Quick Change Rims optional.
Note (2)
Caterpillar recommends the customer evaluate all job conditions and consult tire manufacturer for proper tire selection and TKPH (TMPH) capabilities.
Dimensions (Approximate)
Height - Top of ROPS
22.05 ft
Overall Length
51.44 ft
Wheel Base
21.9 ft
Rear Axle - Tail
16.07 ft
Dump Clearance - Empty
5.72 ft
Loading Height - Empty
23.85 ft
Overall Height - Body Raised
48.85 ft
Centerline Front Tire Width
23.06 ft
Front Axle Clearance - Loaded
2.81 ft
Overall Canopy Width (with rock deflectors)
33.15 ft
Outside Body/Canopy Width (without rock deflectors)
31.62 ft
Inside Body Width
29.44 ft
Front Canopy Height - Empty
26.01 ft
Rear Axle Clearance - Loaded
2.8 ft
Centerline of Rear Dual Tire Width
19.5 ft
Overall Tire Width - Empty
30.27 ft
Note
Dimensions listed includes canopy deflectors
SAFETY
Greater visibility thanks to wide field of view from the cab and radial retard grid that improves right-hand view.
Safer access and egress with 600-mm-wide (23.6-in-wide) ladders, flat deck, toe kicks, and optional power access stair attachment.
Confidence-building features such as anti-rollback, traction controls, reverse shift inhibitor, Automatic Retarding Control, and door sensor warning for park brake application.
Full dynamic retarding through a compact radial grid, backstopped by the proven design of Caterpillar four-corner oil-cooled brakes, for stable handling and confident stopping.
Fully independent secondary brake system that provides emergency controllability with a hydraulically actuated secondary brake pedal that serves as a backup to electronic controls.
PRODUCTIVITY
Achieves a true class-leading 327-tonne (360-ton) payload regardless of local attachments.
Ease of operation and reduced costs thanks to deep integration of Cat engine, AC drive system, hydraulics and controls.
End-to-end visibility of all truck parameters for optimized fuel efficiency, speed on grade and parasitic loads across the operating range.
Excellent slow speed control within service areas as well as superior motor torque and acceleration pulling away from the shovel.
OPERATOR COMFORT
Ergonomic cab layout, excellent all-around visibility, and controls, levers and switches that are positioned for ease of use.
Automatic climate control and reduced vibration and sound.
Next generation seat with height adjuster, adjustable shoulder stock to keep the seatbelt from rubbing, and seat back, side and lumbar bolsters to increase stability.
SERVICEABILITY
High displacement, low rpm rating and conservative horsepower ratings, which mean more time on the haul road and less time in the shop.
Inlet manifolds and turbochargers that are located outside of the engine's V, giving the service technicians more space to work on top of the engine and within the engine bay.
Engine and dual bearing drive alternator that can be serviced separately, eliminating shimming.
Sealed and pressurized inverter cabinet that requires no cleaning, eliminating recurring maintenance.
Engine walkways and service platforms, modular components and ground-level grouped service points.
DURABILITY AND LONG LIFE
First overhaul life of 25,000 hours for lower cost of ownership, with proven C175 engine and electric drive system.
Highly validated and proven straight frame rail design that eliminates the bends and breaks that can occur at stress concentrations.
Outstanding durability delivered by box section construction that uses Caterpillar proprietary steel specification for excellent welding characteristics.
Increased frame life thanks to deep section main rails in critical areas of the frame lower stress levels.
Frame, powertrain, engine and components that are built to be rebuilt — delivering multiple lives of like-new performance at a fraction-of-new price.
PROVEN AC DRIVE & POWERTRAIN
Reduced operating costs thanks to the integrated engine and powertrain 100% designed, validated and built by Caterpillar.
High voltage system that operates at lower current than most competitive trucks, contributing to higher efficiency, lower heat generation, smaller and lighter components, and longer component life.
Radial style retarding grid with AC electric motor that requires no regular motor maintenance and is quieter and lighter than box grids.
AC Drive dynamic retarding for continuous retarding power; AC electric motor that reduces maintenance; and state-of-the-art high voltage IGBTs for maximum AC drive system efficiency.
Variable hydraulic blower fan, which provides optimized cooling even at idle for increased component performance and life.
SUSTAINABILITY
Designed to use less fuel, which reduces engine emissions and carbon footprint.
Optional U.S. EPA Tier 4 Final / EU Stage V engine, which reduces NOx by 62% and particulates by 93% when compared to Tier 1 emissions.
Reduced waste thanks to Centrifugal Oil Filter (COF), standard self-cleaning engine filter, extended oil change intervals and reduced oil usage.
Engines compatible with diesel fuel blended with lower-carbon intensity fuels such as biofuels and renewable fuels, plus power options like trolley.
Cat Rebuild and Cat Reman programs, which preserve raw materials, conserve energy and reduce emissions.
TECHNOLOGY SOLUTIONS
Equipped with standard Product Link™ Elite monitoring system, which delivers health and payload information to keep performance high and enable proactive maintenance planning.
Factory-ready for fully integrated Cat MineStar™ Command for hauling, an autonomous hauling solution proven to increase productivity up to 30%.
Optional MineStar Fleet, a fleet monitoring system, to measure, manage and maximize the overall hauling operation.
Optional MineStar Detect proximity detection system, which uses cameras to give operators a better view of what's happening around their equipment.
Optional in-cab Cat Driver Safety System (DSS) intervenes when operator fatigue or distraction are detected.
CAT BODIES
Bodies designed to fit with the chassis, sized to meet payload requirements and work as part of the truck system.
High Efficiency (HE) dump body option that is lightweight, simplified and durable.
With unique minimal structure design, HE body provides long life while minimizing weight for increased payload.
HE body sized and configured to meet the specific needs of the mine, dictated by fragmentation, abrasion, cohesion and the loading tool.
Standard Equipment:
Power Train

Cat® C175-16 Diesel Engine: 2610 kW (3,500 hp) Fuel Optimized , U.S. EPA Tier 2 equivalent (available for applicable markets)
Cat® C175-16 Diesel Engine: 2610 kW (3,500 hp) U.S. EPA Tier 4 Final / EU Stage V (available for applicable markets)
C175-16 Diesel Engine
– Turbocharging (4) / Aftercooled (ATAAC)
– Centrifugal oil filter
– Self-cleaning oil filter
– Charging Alternator (225 amp), brushless
– Pre-lubrication/engine
– Air cleaner with precleaner (4)
– Multi-point oil pressure sensing
– Exhaust - Muffler, Right Side Exit
Braking system:
– Electric dynamic retarding with blended low speed
– Oil-cooled, Multi-disc (front and rear) - Service, Parking, Secondary
– Load Brake (rear axle only)
– Extended Life Brake Disc Material
– Automatic Retarder Control (ARC)
– Brake Release Motor (towing)
Cat® AC Drivetrain:
– AC generator
– AC induction motors
– IGBT motor control
– Radial retarding grid with AC motor control
– Programmable top speed
– TorqueBoost technology
– Traction control system
Directional Shift Management:
– Body-up reverse neutralizer
– Body-up shift inhibitor
– Reverse shift inhibitor
– Neutral coast inhibitor
– Neutral start inhibitor
Additional Features:
– Rear axle continuous lubrication and filtration
– Rear axle continuous oil cooling

Operation And Controls

Integrated ROPS/FOPS cab, insulated/sound suppressed
Seat, operator, air suspension, adjustable, heated/cooled
Seat, trainer, air suspension, adjustable
Seatbelt, trainer, two point
Steering wheel, tilt, telescopic, horn
Horn, electric
Directional shift lever
Single Pedal Retarding & oil-cooled brake control
Automatic Retard Control (ARC) toggle switch
Load brake switch
Windshield with tinted/safety glass
Window, electric powered, operator/passenger
Windshield Wipers (2), intermittent control and washer
Visor (2)
Storage rear of seats
Cup holder (2)
Dome courtesy light
Entertainment radio ready with speakers and wiring harnesses
Converter, 12V
12V DC power supply (1)
Mirrors, standard (Left-Flat, Right-Convex)
Fixed access ladder, left hand ground access
HVAC:
– Pressurized, filtered environment
– Air conditioner
– Heater/defroster
Metric or English gauges:
– Speedometer
– Tachometer
– Electric hour meter
– Fuel level
– DEF level (U.S. EPA Tier 4 Final / EU Stage V engines only)
– Hydraulic oil temperature
– Engine coolant temperature
Service & Information:
– Diagnostic connection port
– Electric engine control fault indicator
– Alarm, Park brake / open operator door
– Third party telematics port
– VIMS message center advisor

Electrical

Audible Alarm, backup
Electrical system, 24V with fuses and breakers
Batteries, 12V (8) 90 amp hour
Ground level Battery charge receptacle
Lighting, signals/service:
– Headlights (4 low beam, 4 high beam), LED
– Backup and marker/hazard, LED
– Directional signals (front and rear), LED
– Front stair access/service deck, LED
– Stop/tail lights, LED
– Engine compartment, LED
– Inverter energy warning lights, LED
Payload indicator, red/green
Payload, digital display

Additional Features And Equipment

Accumulators (Steering & Brake) – Australian and Canadian certified
Automatic lubrication system
Rotating component guards
Mud Flaps
Tow hooks and pins (front)
Tow pin (rear) (empty truck only)
44 x 63 rims, six position (6)
Fueling:
– 4922 L (1,300 gal) fuel tank (Fuel optimized engines only)
– 4543 L (1,200 gal) fuel tank (U.S. EPA Tier 4 Final / EU Stage V engines only)
– 379 L (100 gallon) DEF tank (U.S. EPA Tier 4 Final / EU Stage V engines only)
– Fuel filter with water separator
– 210 GPM Fast fill fuel system (Left and Right)
Service:
– Engine service platforms (2)
– ANSI or ISO service instructions
– SOS℠ sample points (hydraulic oil, engine coolant, engine oil)
– Ground level machine lockout (battery)
– Ground level engine shut-down
– Drivetrain lockout
– Engine start lockout
– Auxiliary "buddy" dumping quick connect
– Auxiliary steering quick connect (towing)

Cat® Technology Products

Cat® MineStar™ Detect (Radar and Camera) System
Cat® Product Link™ Elite (Cellular)

Dump Body

High Efficiency (HE) body, 186-237 m³ (243-310 yd³)
– HE Body Mounting Group
– Rock ejectors (chain)

Antifreeze

Cat Extended Life Coolant (ELC) protects to –35° C (–30° F)
Optional Equipment:
Power Train

Cat® C175-16 Diesel Engine: 2312 kW (3,100 hp) power setting (Fuel optimized / U.S. EPA Tier 2 equiv. engines only)
Cat® C175-16 Diesel Engine: 2050 kW (2,750 hp) power setting (Fuel optimized & U.S. EPA Tier 4 Final / EU Stage V engines)
Body heat exhaust

Operation And Controls

Throttle lock
Timer, engine shutdown
Heated mirrors (Left and Right)
Powered access ladder, left hand ground access
Language monitors: English, Spanish, Italian, Portuguese, Dutch, Norwegian, Swedish, Estonian, Latin, Lithuanian, Slovakian, Slovenian, Greek, Romanian, Russian, Polish, Czech, Hungarian, Icelandic, Finnish, Danish, Thai, Indonesian, Vietnam, Malaysian, Chinese

Electrical

Lighting, signals/service:
– Fog lights, LED
– Work lights, LED
– Side profile lights, LED
– Dump body marker/stop lights, LED
Retarding indicator light, multi-color, cab exterior

Additional Features And Equipment

Fueling: 300 GPM Fast fill fuel system (Left and Right)
Portable fire extinguisher
Front bumper single-point center tow
Wheel chocks (ANSI and ISO)
44 x 63 rims, quick change (2 quick change, 4 standard)
Service:
– Inverter platform (rear access)
– Service Center, fast-fill

Cat® Technology Products

Cat® MineStar™ Detect (Camera Only) System
Cat® Product Link™ Elite (Satellite)
Cat® MineStar™ Health
Cat® MineStar™ Fleet
Cat® MineStar™ Terrain
Cat® MineStar™ Command-Ready
Cat® MineStar™ Command
Cat® Trolley Assist Attachment

Dump Body

HE rock box liner
HE canopy rock deflectors
HE rear tire rock deflectors
HE impact liner

Antifreeze

Antifreeze/coolant protects to –50° C (–58° F)