.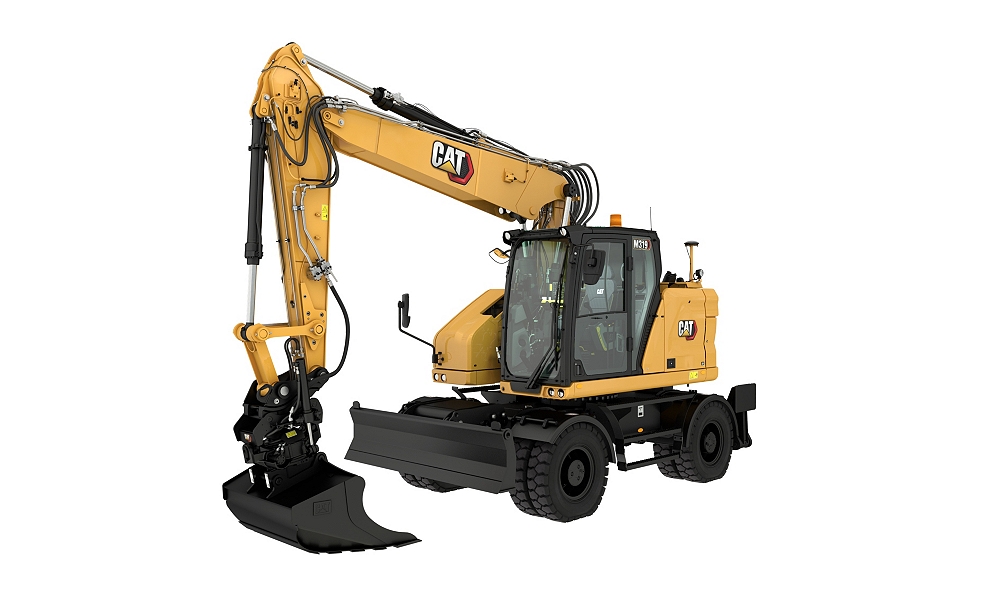 🔍
Description
Technical Specifications
Benefits and Features
Equipment
360 View
The Cat® M319 Wheeled Excavator provides top performance to get the job done faster. Save time and money with low maintenance costs, longer service intervals, and 100 percent daily ground level maintenance. The M319 gives you the power to work longer while putting money in your pocket.
Engine
Engine Power - ISO 14396
174 HP
Engine Model
C4.4
Net Power - ISO 9249
171 HP
Bore
4.1 in
Displacement
268.5 in³
Stroke
127 mm
Biodiesel Capability
Up to B20¹
Emissions
Meets U.S. EPA Tier 4 Final, EU Stage V, Japan 2014 emission standards.
Note (1)
Net power advertised is the power available at the flywheel when the engine is equipped with fan, air cleaner, CEM exhaust gas aftertreatment, alternator, and cooling fan with engine speed at 2,200 rpm. Advertised power is tested per the specified standar
Note (2)
¹Cat diesel engines are required to use ULSD (ultra-low sulfur diesel fuel with 15 ppm of sulfur or less) or ULSD blended with the following lower-carbon intensity fuels** up to: 20% biodiesel FAME (fatty acid methyl ester)* or 100% renewable diesel, HVO
Machine Weight
Operating Weight Maximum
46407 lb
Operating Weight Minimum
41888 lb
Transmission
Maximum Travel Speed
21.7 mile/h
Forward/Reverse - 1st Gear
6.2 mile/h
Forward/Reverse - 2nd Gear
21.7 mile/h
Creeper Speed - 1st Gear
3.4 mile/h
Creeper Speed - 2nd Gear
9.3 mile/h
Drawbar Pull
23380 lbf
Hydraulic System
Main System - Maximum Flow - Implement
67 gal/min
Maximum Pressure - Implement Circuit - Heavy Lift
5366 psi
Maximum Pressure - Implement Circuit - Travel Circuit
5076 psi
Maximum Pressure - Implement Circuit - Normal
5076 psi
Swing Mechanism
Maximum Swing Torque
32560 ft·lbf
Swing Speed
9.4 r/min
Service Refill Capacities
Fuel Tank
76.6 gal (US)
Diesel Exhaust Fluid (DEF)
5.3 gal (US)
Cooling System
35 l
Hydraulic Tank
31.7 gal (US)
Hydraulic System - Including Tank
74 gal (US)
Dimensions
Boom
VA 5.2 m (17'1")
Stick
2.5m (8'2")
Bucket
GD 0.91 m³ (1.19 yd³ )
Shipping Height - Top of Cab
10.7 ft
Support Point
11.6 ft
Shipping Length
26.6 ft
Tail Swing Radius
6.25 ft
Counterweight Clearance
4.25 ft
Ground Clearance
1.4 ft
Undercarriage Length
16.6 ft
Wheel Base
8.8 ft
Working Ranges and Forces
Boom Type
VA 5.2 m (17'1")
Stick
2.5m (8'2")
Bucket
GD 0.91 m³ (1.19 yd³ )
Dump Height
25.6 ft
Digging Height
18.9 ft
Reach at Ground Level
30.2 ft
Vertical Wall Digging Depth
14.6 ft
Stick Forces (ISO)
16861 lbf
Bucket Forces (ISO)
26752 lbf
working Ranges and Forces
Cutting Height
35.2 ft
LATEST FEATURES
Cat Payload helps you achieve precise load targets to improve your operating efficiency. Pick up a load of material--with a bucket and thumb combination or grapple and clamshell attachments--and get a real-time weight estimate without swinging.
Enhance visibility to make service work easier and safer with optional inspection lighting.
New optional auxiliary relay powers on and turns off CB radios, beacon lights, and other attachments without you taking your hands off the joysticks.
Remote Flash and Remote Troubleshoot now standard.
Not all features are available in all regions. Please check with your local Cat dealer for specific offering availability in your area. Build Number: 07C
High Performance with Lower Fuel Consumption
The Cat® engine matches to your performance and production needs. The engine meets U.S. EPA Tier 4 Final and EU Stage V emission standards.
Enjoy lower fuel consumption throughout the life of the machine.
Work confidently in space-restricted areas. Dig, swing, and dump within a tight working space.
Travel between sites easier with travel speeds up to 35 kph (21.7 mph).
From dirt to asphalt, the excavator matches your needs to get the job done in a timely, efficient manner.
The advanced hydraulic system provides the optimum balance of power and efficiency while giving you the control you need for precise working requirements.
With increased swing torque, you can get the job done faster to move on to the next one. The dedicated swing pump provides consistent power for better multitasking capabilities.
Auxiliary hydraulic options give you the versatility to use a wide range of Cat attachments.
Don't let the temperature stop you from working. The excavator has a standard high-ambient temperature capability of 52°C (125°F) and cold start capability of -18°C (0°F).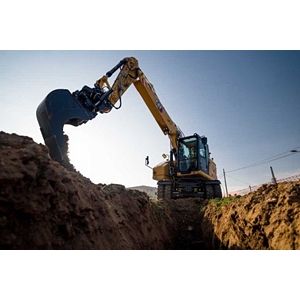 Work in Comfort
Choose between Deluxe and Premium cab options.
The Deluxe seat is heated and air adjustable while the Premium seat is heated, ventilated, and adjusts automatically.
Get in and out of the cab easier using the tip-up left console.
Feel more comfortable in the cab while you work with reduced cab vibrations from advanced viscous mounts.
Control the excavator comfortably with easy-to-reach controls, all located in front of you.
Stow your gear with plenty of in-cab storage beneath and behind the seat, overhead, and in the consoles. A cup holder, bottle holder, and coat hook are also provided.
BluetoothTM integrated radio allows for seamless mobile phone connection to listen to music, podcasts, and hands-free calling.
Easily adjust to your ideal temperature with the touchscreen monitor or jog dial.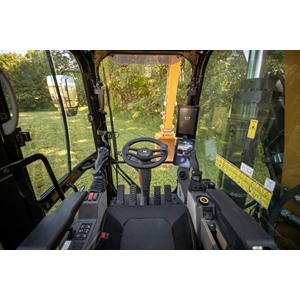 Lower Maintenance Costs
Quickly check and service your machine with daily maintenance points accessible from ground level.
Check the engine oil level quickly and safely from the ground.
Save on maintenance parts with the new, longer lasting filters.
Track your machine's filter life and maintenance intervals on the in-cab monitor.
Two levels of fuel filtration protect the engine from contaminated fuel.
The new hydraulic oil filter provides improved filtration performance, anti-drain valves to keep oil clean when the filter is replaced, and longer life with a 3,000-hour replacement interval.
S·O·SSM ports are located at ground level, simplifying maintenance and allowing for quick, easy extraction of fluid samples for analysis.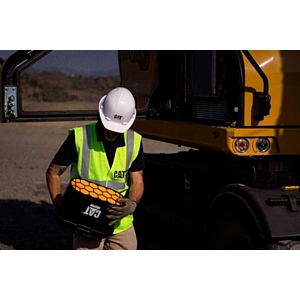 Simple to Operate
Start the engine with the push-to-start button, a Bluetooth key fob, or the unique Operator ID function.
Program your power mode and joystick preferences using Operator ID; the excavator remembers your settings each time you go to work.
Navigate quickly on the standard high-resolution 254 mm (10 inch) touchscreen monitor or with the aid of the jog dial control.
The auto axle lock presses the pedal for you to reduce your overall number of actions. The machine automatically detects when the service brake and axle need to be locked or unlocked. It releases automatically when you press the travel pedal.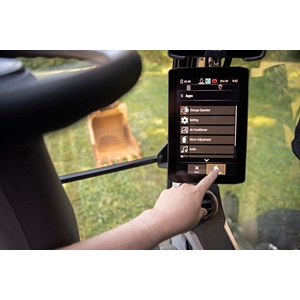 Safety
Access daily maintenance points from ground level.
Keep your excavator secure with Operator ID. Use your PIN code on the monitor to enable the pushbutton starting feature.
The standard ROPS cab meets ISO 12117-2:2008 requirements.
Enjoy better visibility into trenches, in each swing direction, and behind you with the help of smaller cab pillars, larger windows, and a flat engine hood design. Rearview and side-view cameras are standard.
The service platform design provides easy, safe, and quick access to the upper service platform; the service platform steps use anti-skid punch plate to prevent slipping.
The standard hydraulic lockout lever isolates all hydraulic and travel functions in the lowered position.
Swing lock prevents front linkage from moving as you travel.
Ground-level shutoff switch stops all fuel to the engine when activated and shuts down the machine.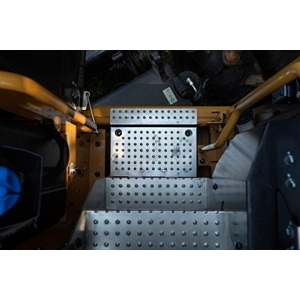 Boost Efficiency and Productivity with Integrated Cat Technologies
Boost productivity versus traditional grading with optional Cat Grade with 2D system.
Optional Cat Payload on-board weighing system: Achieve precise load targets and increase loading efficiency with on-the-go weighing and real-time estimates of your payload without swinging.
Combine Payload with VisionLink® and remotely manage your production targets or take payload data with you. The monitor's USB port lets you download your results from one shift all the way up to 30 days of work so you can manage your progress without needing an internet connection or VisionLink subscription.
Upgrade to optional Cat Grade with Advanced 2D: Create and edit grade designs with ease on a second high-resolution 254 mm (10 in) touchscreen monitor.
Upgrade to optional Cat Grade with 3D: Create and edit designs with ease and see the front linkage's full range of motion on a second high-resolution touchscreen monitor.
Optional 2D E-fence is integrated right out of the factory to prevent the excavator from moving outside operator defined set points.
All Cat Grade systems are compatible with radios and base stations from Trimble, Topcon, and Leica. Already invested in a grade infrastructure? You can install grade systems from Trimble, Topcon, and Leica onto the machine.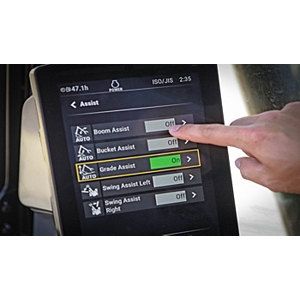 Sustainability
The Cat® C4.4 engine meets U.S. EPA Tier 4 Final and EU Stage V emission standards.
Cat diesel engines are required to use ULSD (ultra-low sulfur diesel fuel with 15 ppm of sulfur or less) or ULSD blended with the following lower-carbon intensity fuels up to: 20% biodiesel FAME (fatty acid methyl ester) * or 100% renewable diesel, HVO (hydrogenated vegetable oil) and GTL (gas-to-liquid) fuels. Refer to guidelines for successful application. Please consult your Cat dealer or "Caterpillar Machine Fluids Recommendations" (SEBU6250) for details.
Cat Grade technologies combine advanced guidance with optional automated machine control, helping you reach grading targets while reducing fuel burn and greenhouse gas emissions by improving efficiency, job site productivity, and accuracy.
Cat® Payload for excavators provides on-the-go material weighing which helps reduce fuel burn by improving loading efficiency, job site productivity, and eliminating trips to the scale.
Auto Engine Speed Control reduces unnecessary fuel burn and greenhouse gas emissions by allowing the engine to automatically go into idle mode when the machine is not working.
Extended maintenance intervals not only reduce downtime but decrease the amount of fluid and filters that are replaced over the life of the machine.
Cat Scheduled Oil Sampling (S-O-S) Services helps reveal excessive wear, contaminated fluids or other "unseen†issues that can shorten component life. In many cases, you can extend oil and coolant change intervals by using fluid monitoring. Consult your Cat dealer or the machine's operation and maintenance manual for more information.
Don't waste fuel idling. Cat VisionLink® online fleet monitoring helps you manage idle time and reduce fuel burn and greenhouse gas emissions.
VisionLink® displays the CO2 emissions for monitored assets, calculated by fuel type for the Runtime Fuel Burned each day in a selected date range.
Remote Flash minimizes downtime and maintenance time while keeping your asset running with maximum efficiency. Alerts for machine updates are sent virtually from your Cat dealer and updates can be deployed without a dealer technician needing to be onsite.
Remote Troubleshoot decreases maintenance time and keeps your machine running with maximum efficiency by allowing your Cat dealer to virtually test the machine while working. Once a problem is identified, a technician can fix it the first time, saving time and money.
*Engines with no aftertreatment devices can use higher blends, up to 100% biodiesel.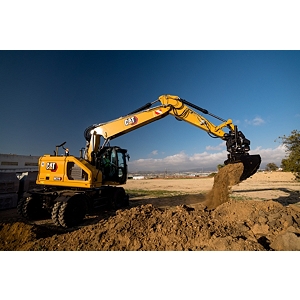 Standard Equipment:
Cab

ROPS, sound suppression
High-resolution 254 mm (10 in) LCD touchscreen monitor

Cat Technology

Cat Technologies

Remote Flash/Troubleshoot capability

Engine

Power mode selector
One-touch low idle with auto engine speed control
Auto engine idle shutdown
52°C (125°F) high-ambient cooling capacity
Cold start capability-18°C (0°F)
Double element air filter with integrated precleaner
Electric fuel priming pump
On-demand electric cooling fans
Biodiesel capability up to B20

Hydraulic System

Automatic swing brake
Auto hydraulic oil warm up
Electronic main control valve
Boom and stick drift reduction valves
1-slider joysticks
Heavy lift mode
Quick coupler circuit
Separate dedicated swing pump

Undercarriage And Structures

Automatic brake/axle lock
5000 kg (11,020 lb) counterweight
All wheel drive

Electrical System

LED lights on chassis (left-hand, right-hand) and counterweight
Programmable time-delay LED working lights
Roading and indicator lights, front and rear
Maintenance-free batteries
Centralized electrical disconnect switch

Service And Maintenance

Sampling ports for Scheduled Oil Sampling (S-O-S)

Safety And Security

Rear- and right-side-view cameras
Wide angle mirrors
Ground-level engine shutoff switch
Anti-skid plate and countersunk bolts on service platform
Optional Equipment:
Cab

Deluxe cab
Premium cab
Auxiliary relay

Cat Technologies

Cat Grade with 2D
Cat Grade with Advanced 2D
Cat Grade with 3D
Payload
2D E-Fence

Hydraulic System

2-slider joysticks
Second high-pressure auxiliary circuit (one/ two-way high-pressure flow)
Medium pressure auxiliary circuit (one/twoway medium-pressure flow)
SmartBoom
Ride control
Cat tiltrotator support
Joystick steering

Boom And Sticks

5.2 m (17'1") variable adjustable boom
2.2 m (7'3") stick
2.5 m (8'2") stick
2.9 m (9'6") stick

Undercarriage And Structures

10.00-20 16 PR, dual tires
11.00-20 16 PR, dual tires
315/70R22.5, no gap dual tires
445/70R 19.5, single tires

Electrical System

Electrical refueling pump

Service And Maintenance

Automatic lubrication system for implement and swing system

Safety And Security

360° visibility
Cat asset tracker
Signaling/warning horn
Inspection lighting