.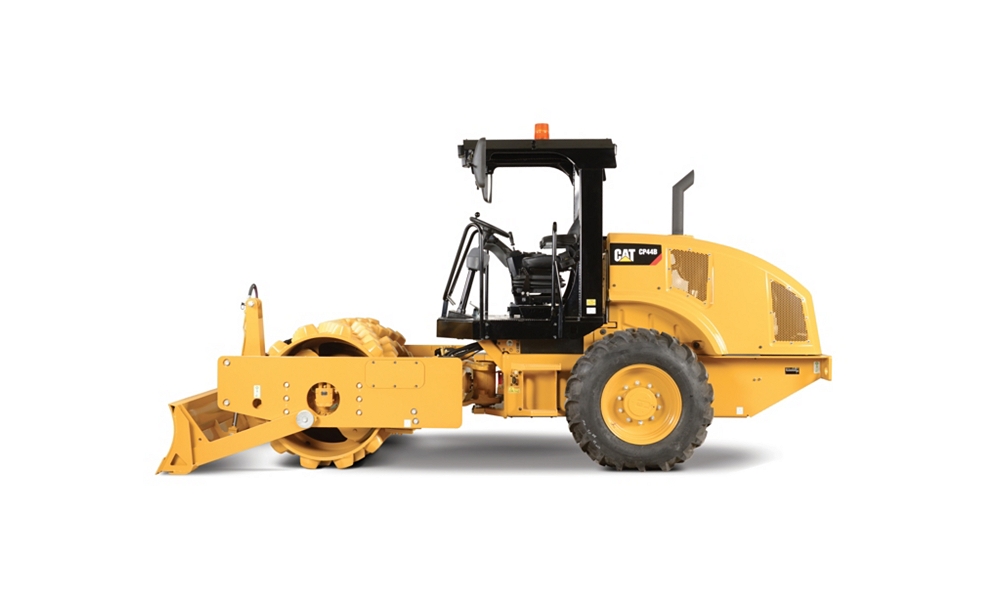 🔍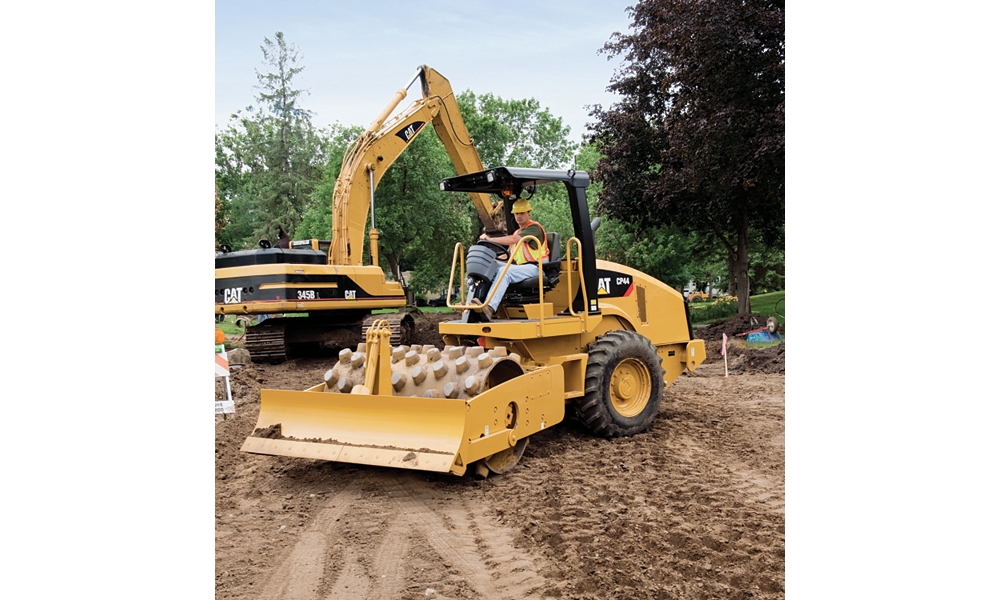 🔍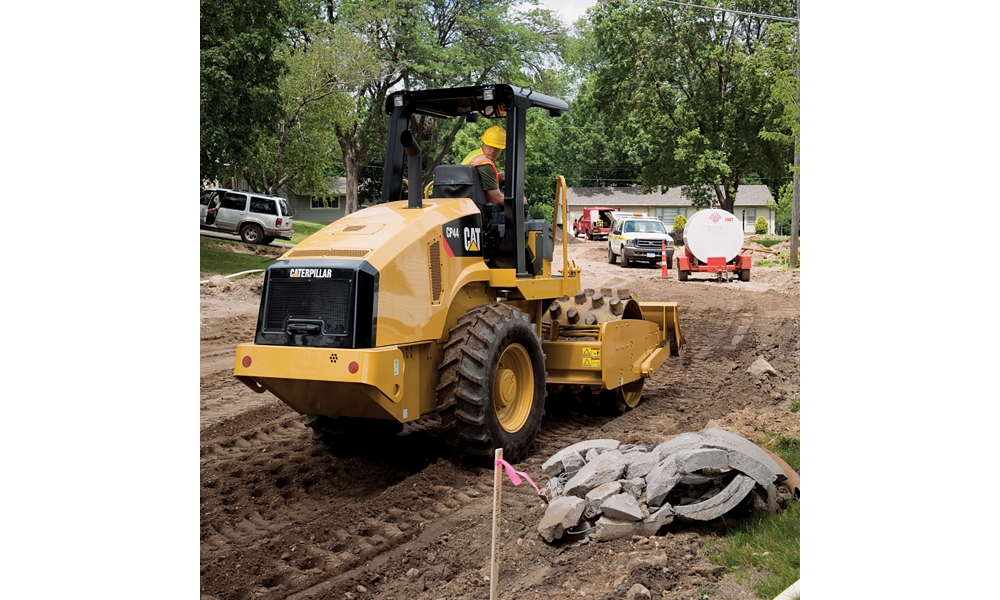 🔍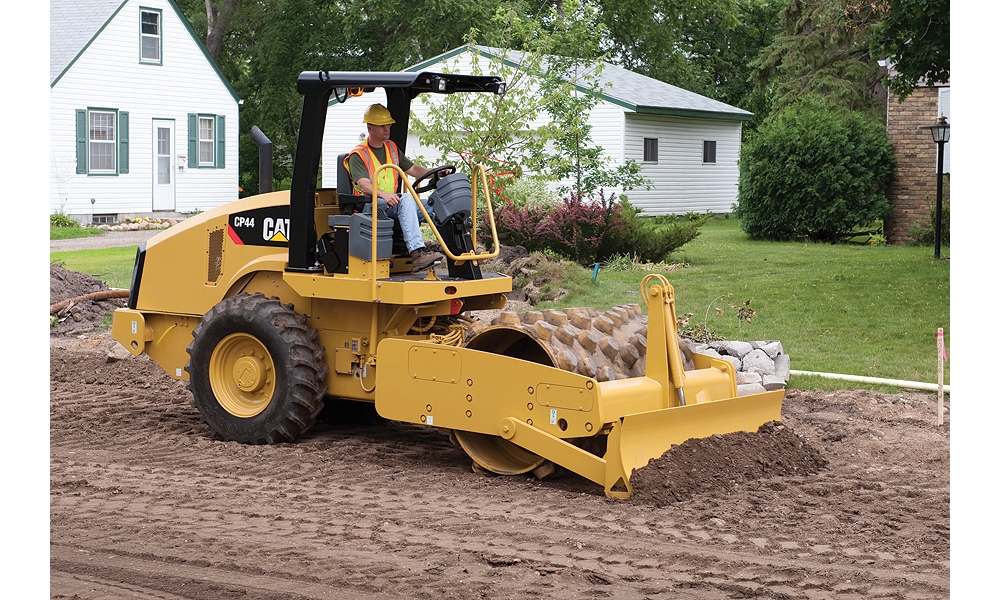 🔍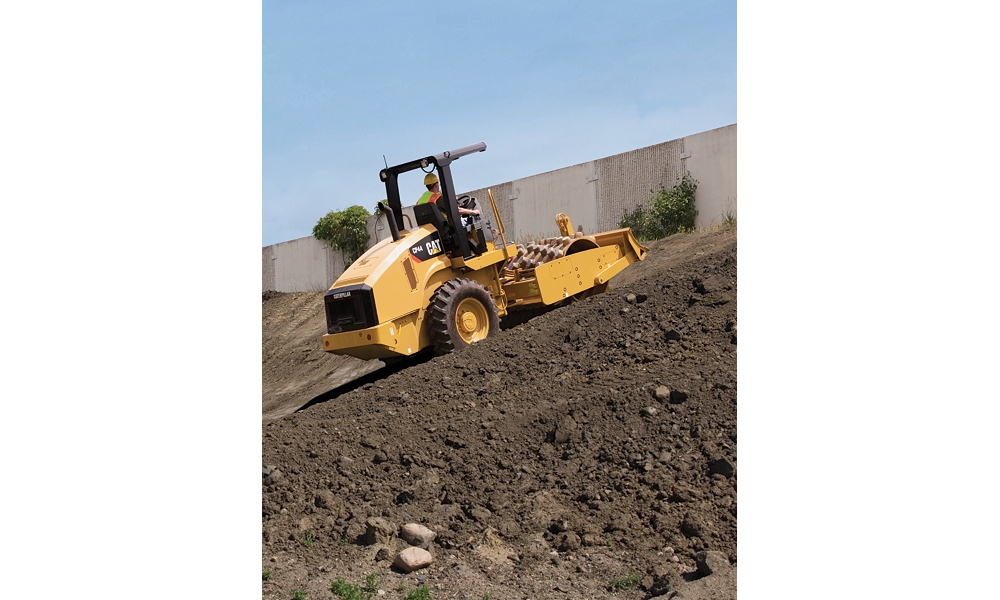 🔍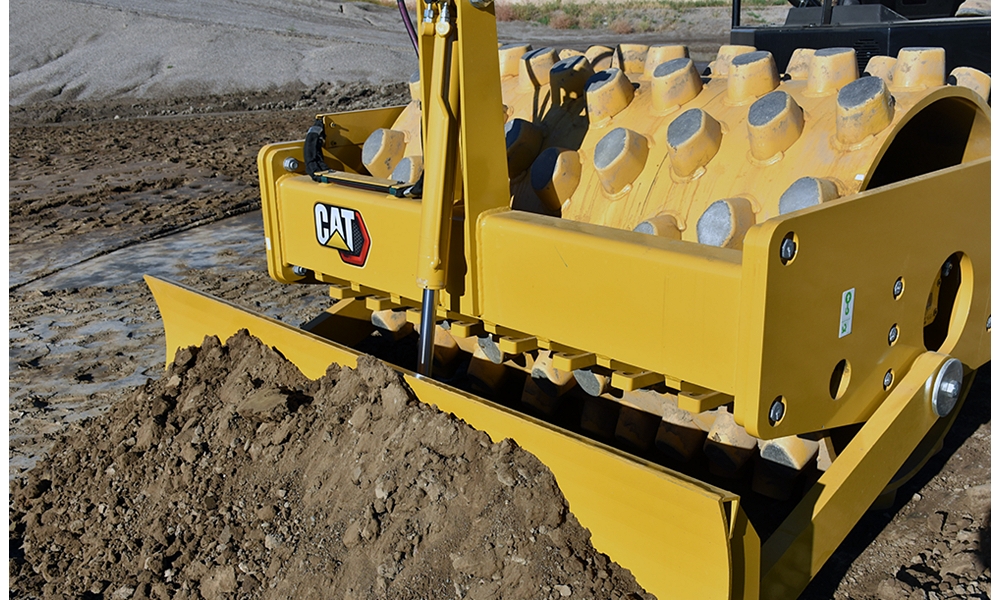 🔍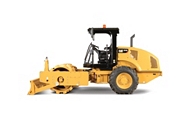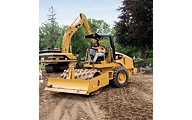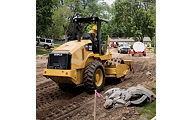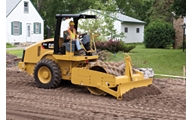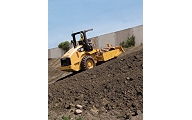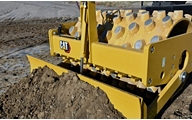 Description
Technical Specifications
Benefits and Features
Equipment
The CP44B provides exceptional performance on flat or sloped terrain. This machine is suitable for many applications from site preparation to compacting sub-bases for parking lots or roadways and is ideal for water and sewer trench work.
Weights
Operating Weight - With Cab
16471 lb
Operating Weight - With ROPS/FOPS
15935 lb
Weight - Drum with Cab
8181 lb
Weight - Drum with ROPS/FOPS
7939 lb
Operating Specifications
Compaction Width
66 in
Ground Clearance
16.1 in
Travel Speed - Maximum
7 mile/h
Turning Radius - Inside Drum Edge
10 ft
Engine
Gross Power
100.6 HP
Engine Model
Cat C3.4B
Vibratory System
Variable Frequency Option Range
23.3-31.9 Hz (1400-1914 vpm)
Vibratory Frequency - Standard
1914 V/m
Centrifugal Force - Maximum
29900 lb
Centrifugal Force - Minimum
15000 lb
Nominal Amplitude - High
0.063 in
Nominal Amplitude - Low
0.031 in
Tires
Tires
14.9 × 24 8-ply traction
Service Refill Capacities
Fuel Tank Capacity
37 gal (US)
Dimensions
Drum Diameter - Over Pads
48.2 in
Drum Width
66 in
Height - With ROPS/FOPS or Cab
9.35 ft
Optional Blade Height
22.6 in
Overall Length
16.7 ft
Overall Length - With Blade Option
18.41 ft
Overall Width
5.91 ft
Overall Width - With Blade Option
6.95 ft
Wheel Base
8.5 ft
Comfortable and Ergonomic Operator Station
The steering console features an LCD display. The display provides diagnostics and additional data to the operator. Machines that are equipped with Cat Compaction Control output compaction measurements to the display as well.
A multi-position steering wheel adjusts for comfort. An adjustable vinyl seat with seat belt is comfortable and keeps controls and operating information within easy reach. The 12-volt adapter provides power for personal electronic devices. A floor mat reduces vibrations. Cup holders are provided on the steering column. Large mirrors provide excellent views to the rear of the machine.
The operator is provided with excellent visibility to the front, drum edges rear tire edges and rear of machine enhancing safety and production. Optional mirrors provide enhanced visibility to the rear.
Easy to Service
Design provides ground level access to all service and maintenance points.
Long service intervals contribute to more productivity and lower owning and operating costs. The vibratory system scheduled oil change interval is 3 years/3,000 hours. The hydraulic oil service interval is 3,000 hours. Engine oil service is every 500 hours.
Power Train
The Vibratory Soil Compactor features a Cat engine that offers enhanced efficiency, better serviceability, ample power, and less noise.
Reliable Vibratory System
The vibratory soil compactors deliver excellent compaction performance due to high amplitude and static linear load.
The vibratory soil compactor utilizes the proven Cat pod-style vibratory system. The system design significantly reduces the risk of contamination common to conventional designs that employ metal weights. Providing unrivaled reliability and performance, the Cat pod-style vibratory system is virtually maintenance free, with the first scheduled maintenance period at 3 years or 3,000 hours.
An automatic vibration function provides consistency for more uniform compaction. When vibration is engaged, vibration will cease as the compactor slows beneath a predetermined speed. When propel resumes, vibration recommences at a predetermined speed. This feature contributes to uniform, high-quality work.
Standard Equipment:
Operator Environment

ROPS/FOPS Canopy with Handrails, Floor Mat, Internal Rear View Mirror, Exterior Rear View Mirrors
Vinyl Adjustable Seat with Integrated Console and LCD Display with Lockable Vandalism Guard
Adjustable Tilting Steering Column with Integrated Cup Holders
Rear Vision Camera System
Seat Belt
12-volt Power Outlet
Horn, Backup Alarm

Vibratory System

Padfoot Drum
Dual Amplitude, Single Frequency
Pod-Style Eccentric Weight Housings
Auto-vibe Function
Front Adjustable Steel Scraper
Universal Bumper

Power Train

Cat C3.4B Engine
Air Cleaner, Dual Element
Two-Speed Throttle Switch, Eco-mode and Automatic Speed Control
Dual Propel Pumps; One for Drum Drive, One for Rear Axle
Fuel Filter, Water Separator, Priming Pump, Water Indicator
Tilting Radiator/Hydraulic Oil Cooler
Dual Braking System
Two-speed Hydrostatic Transmission

Electrical

12 volt Electrical System
150 ampere Alternator
60 Cold-cranking Amps Battery Capacity

Other

Product LinkTM
Sight Gauges for Hydraulic Oil Level and Radiator Coolant Level
S�O�SSM Sampling Valves: Engine Oil, Hydraulic Oil and Coolant
Optional Equipment:
Operator Environment

ROPS/FOPS Cab with Climate Control
Sun Visor

Vibratory System

Leveling Blade
Variable Frequency
Dual Adjustable Steel Scrapers
Recording Module for Vibration Frequency

Power Train

Transmission Guard
Bio-oil Factory Fill

Technology Solutions

Map - SBAS GNSS Mapping
Connect - Cloud and Machine Connectivity

Other

Upgraded Halogen Light Package
Rotating Amber Beacon