.
🔍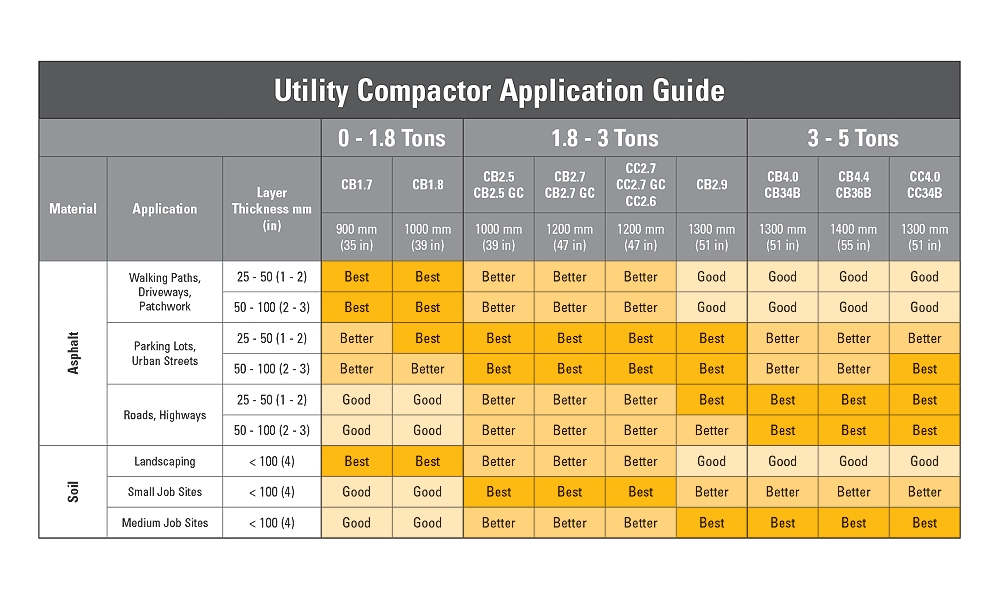 🔍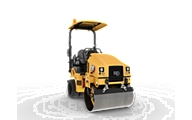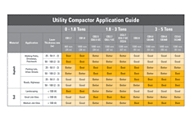 Description
Technical Specifications
Benefits and Features
Equipment
The CC2.7 is a 3 metric ton machine with a 1200 mm (47 in) front drum and 4 rear wheels. The combination compactor offers versatility with its 4 rubber tires that provide a kneading action for a smooth mat surface.
Weights
Standard Operating Weight with ROPS
5718 lb
Static Linear Load
61 lb/in
Maximum Operating Weight
6114 lb
Dimensions
Compaction Width
47.2 in
Overall Width
51.7 in
Drum Width
47.2 in
Height - ROPS
109.7 in
Wheel Base
70.9 in
Overall Length
99.2 in
Drum Diameter
28.3 in
Engine
Gross Power
48.2 HP
Net Power - ISO 9249
48.2 HP
Engine Model
C1.7T
Operating Specifications
Turning Radius - Inside Drum Edge
100 in
Ground Clearance
11.2 in
Curb Clearance
17.8 in
Travel Speed - Maximum
6.8 mile/h
Static Linear Load
66.2 lb/in
Drum Offset
2 in
Number of Wheels
4
Turning Radius - Outside Drum Edge
147.2 in
Vibratory System
Nominal Amplitude - High
0.02 in
Minimum Frequency
3180 VPM
Maximum Frequency
3840 VPM
Centrifugal Force per Drum - Maximum
7929 lb/ft
Service Refill Capacities
Water Spray Tank Capacity
42.24 gal (US)
Fuel Tank Capacity
14.37 Gal
� Product link for remote monitoring of machine location and status � Optional Compaction Measurement Value (CMV) displayed to the operator for improved compaction performance and consistency
� Large 720 mm (28 in) drum diameters for smooth mat finish � 14 mm (0.55 in) thick drum shells for longer durability � Dual vibratory frequencies and ballast options to maximize compactive effort � C1.7T engine with 36 kW (48.2 hp) (gross)
� High visability 75 mm (3 in) orange seatbelt to make job site safety visible � Seat with operator presence sensor to prevent unintended operation while out of the seat � Slip resistant steps and platform for improved operator safety � Optional rotating amber beacon
� Rocker switches and Cat gauge cluster with water tank gauge to help make operation easy � Variable water spray system to extend time between water fills � Optional sliding operator seat and dual propel levers for reducing
� Cat controls with ET capability for easy troubleshooting � Reduced maintenance tasks for quick servicing � 500 hour oil change interval to reduce maintenance time and costs � Uptime kits and customer value agreements available to ensure maximum uptime � LED lighting for durable and reliable performance � External fuel fill for easy access
Standard Equipment:
Operator Environment

Adjustable Suspension Seat with Operator Presense Switch
ROPS Folding
Seat Belt - 75 mm (3 in) high visibility orange
Operator Console w/ Water Tank Gauge, Emergency Stop, and Glove Box
12-volt Power Outlet
Horn, Backup Alarm

Compacton System

Folding Scrapers
Vibe Selection - front, rear, or both
Pressurized, Triple-Filtration Spray System with Test Mode

Powertrain

Auto Engine Off and Auto Warmup
Air Cleaner, Dual Element
Engine Belt Guard

Technology

Electrical

Other

Vandal Protection - lockable hood, fuel fill, and controls cover
Machine Life and Tiedowns
Offsets Hitch
Optional Equipment:
Operator Environment

ROPS Fixed
Sun Canopy
Seat - Side Shift
Dual Propel Levers

Compacton System

Fixed Scrapers
Cocoa Mats
Edge Cutter Ready
Water Sprayer Antifreeze Kit
Ballast Kit - 100 kg (220 lb)

Technology

Remote Flash / Troubleshoot
CMV - Compaction Measurement Value

Electrical

Battery Disconnect
LED Roading Lights
Rotating Amber Beacon

Other

Biodegradeable Hydraulic Oil
Bumpers
Single Point Lift
Custom Paint