.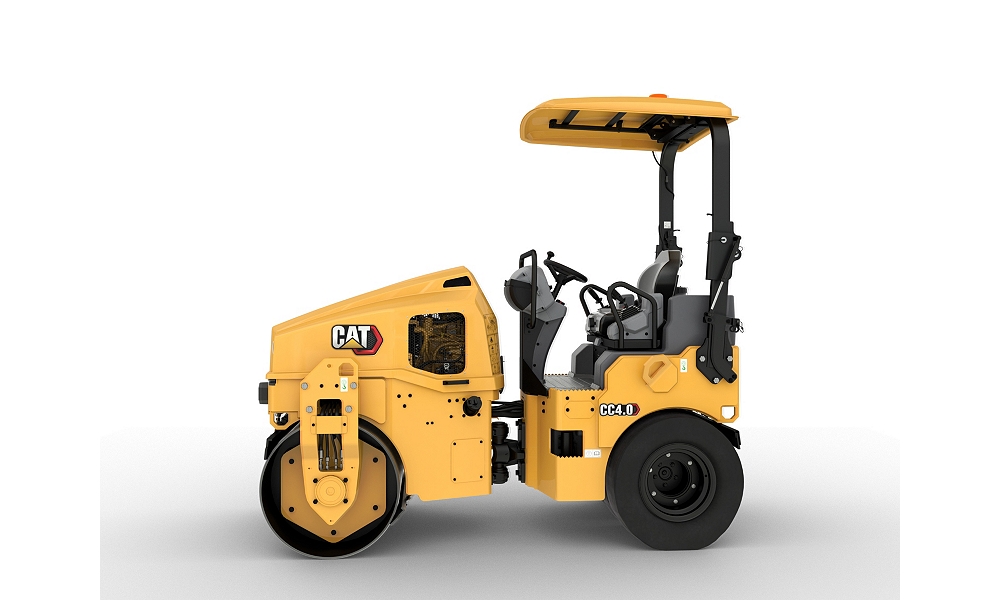 🔍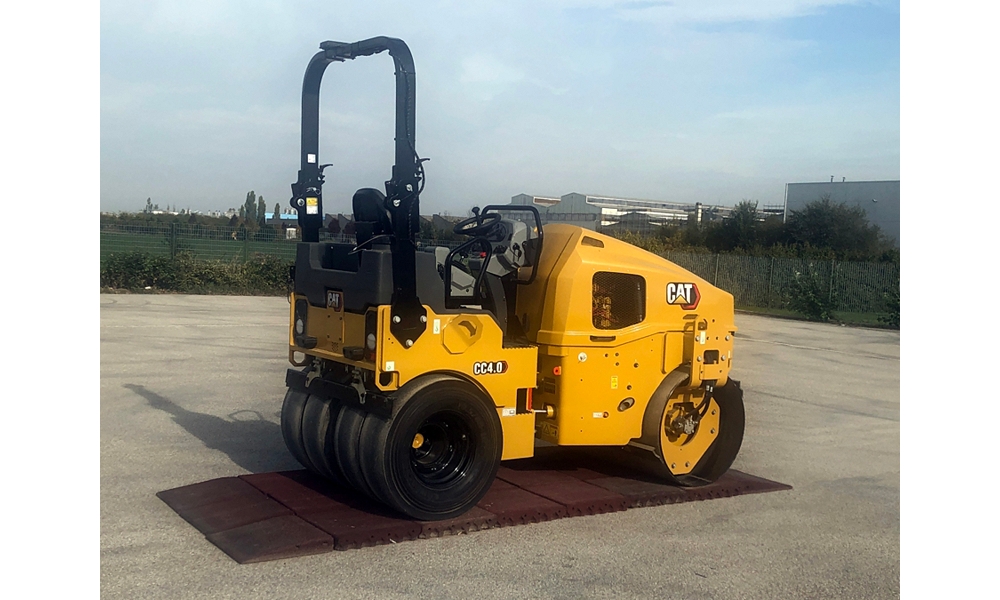 🔍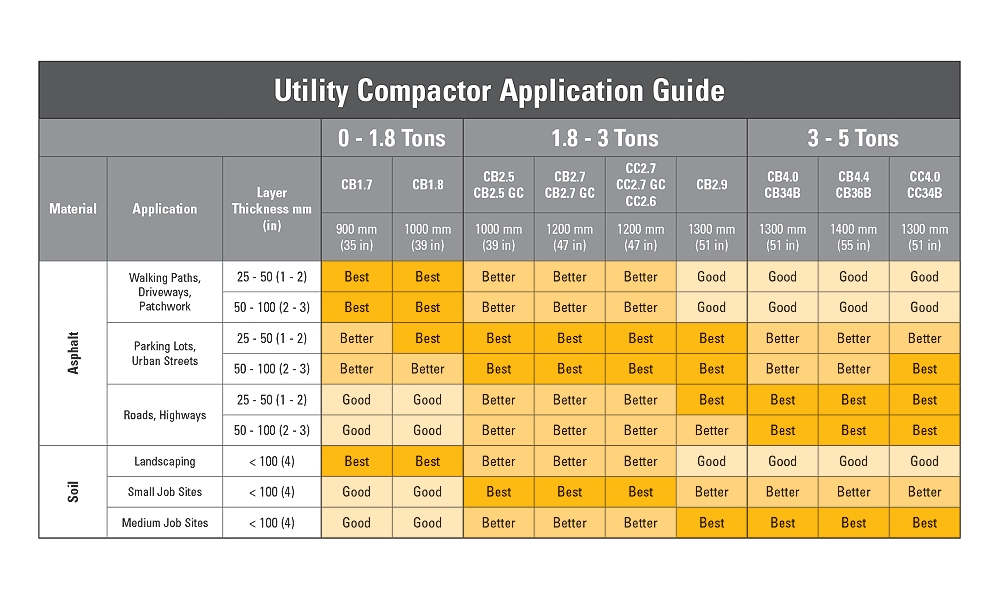 🔍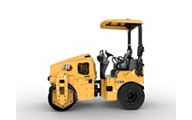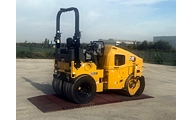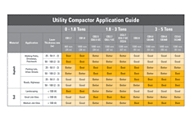 Description
Technical Specifications
Benefits and Features
Equipment
360 View
The CC4.0 is a 3-5 metric ton compactor with 800 mm (31.5 in) drums. It's a versatile machine that can be used as the only vibratory roller on small sized jobs or on larger jobs as a support roller for high-production rollers. Its high amplitude and drum width give it the capacity to achieve a tons-per-day production rate that make it an excellent match for shoulders, small parking lots, lane additions, or other similar sized jobs.
Weights
Standard Operating Weight with ROPS
7889 lb
Maximum Weight at Rear Drum
3971 lb
Maximum Weight at Front Drum
3918 lb
Maximum Operating Weight with ROPS
3936 lb
Static Linear Load
76.6 lb/in
Dimensions
Compaction Width
51.2 in
Overall Length
112.3 kg/cm
Overall Width
55.1 in
Drum Width
51.2 in
Drum Diameter
31.5 in
Wheel Base
80.7 in
Height - ROPS
104.7 in
Engine
Gross Power
48.2 HP
Engine Model
C1.7T
Net Power - ISO 9249
47.6 HP
Operating Specifications
Standard Compaction Width
51.2 in
Drum Offset
2 in
Curb Clearance
19.6 in
Ground Clearance
11.2 in
Travel Speed - Maximum
7.5 mile/h
Turning Radius - Inside Drum Edge
115.2 in
Turning Radius - Outside Drum Edge
166.4 in
Static Linear Load
59.8 lb/in
Vibratory System
Frequency
3300 VPM
Nominal Amplitude - High
0.02 in
Centrifugal Force - Maximum
7524 lb/ft
Service Refill Capacities
Fuel Tank Capacity
21.43 gal (US)
Water Spray Tank Capacity
61 gal (US)
Simple to Operate
• Rocker switches and Cat gauge cluster with water tank gauge to help make operation easy
• Variable water spray system to extend time between water fills
• Optional sliding operator seat and dual propel levers for reducing operator fatigue and better job surface visibility
Proven Productivity
• Large 800 mm (31.5 in) drum diameters for smooth mat finish
• 16 mm (0.6 in) thick drum shells for longer durability
• Dual vibratory frequencies and ballast options to maximize compactive effort
• C1.7T engine with 36 kW (48.2 hp) (gross)
Technology Ready
• Product link for remote monitoring of machine location and status
• Optional Compaction Measurement Value (CMV) displayed to the operator for improved compaction performance and consistency
Superior Safety
• High visability 75 mm (3 in) orange seatbelt to make job site safety visible
• Seat with operator presence sensor to prevent unintended operation while out of the seat
• Slip resistant steps and platform for improved operator safety
• Optional rotating amber beacon
Easy to Service
• Cat controls with ET capability for easy troubleshooting
• Reduced maintenance tasks for quick servicing
• 500 hour oil change interval to reduce maintenance time and costs
• Uptime kits and customer value agreements available to ensure maximum uptime
• LED lighting for durable and reliable performance
• External fuel fill for easy access
Standard Equipment:
Operator Environment

Adjustable Suspension Seat with Operator Presense Switch
ROPS Folding
Seat Belt - 75 mm (3 in) high visibility orange
Operator Console w/ Water Tank Gauge, Emergency Stop, and Glove Box
12-volt Power Outlet
Horn, Backup Alarm

Compacton System

Folding Scrapers
Vibe Selection - front, rear, or both
Pressurized, Triple-Filtration Spray System with Test Mode

Powertrain

Auto Engine Off and Auto Warmup
Air Cleaner, Dual Element
Engine Belt Guard
Fuel Filter, Water Separator, Priming Pump, Water Indicator

Technology

Electrical

Other

Vandal Protection - lockable hood, fuel fill, and controls cover
Machine Life and Tiedowns
Offset Hitch
Optional Equipment:
Operator Environment

ROPS Fixed
Sun Canopy
Seat - Side Shift
Dual Propel Levers

Compacton System

Cocoa Mats
Edge Cutter Ready
Water Sprayer Antifreeze Kit
Ballast Kit - 200 kg (440 lb)

Technology

Remote Flash / Troubleshoot
CMV - Compaction Measurement Value

Electrical

Battery Disconnect
LED Roading Lights
Rotating Amber Beacon

Other

Biodegradeable Hydraulic Oil
Bumpers
Single Point Lift
Custom Paint