>
>
>
Quick Tip Video — How to Buy Cat® Parts Online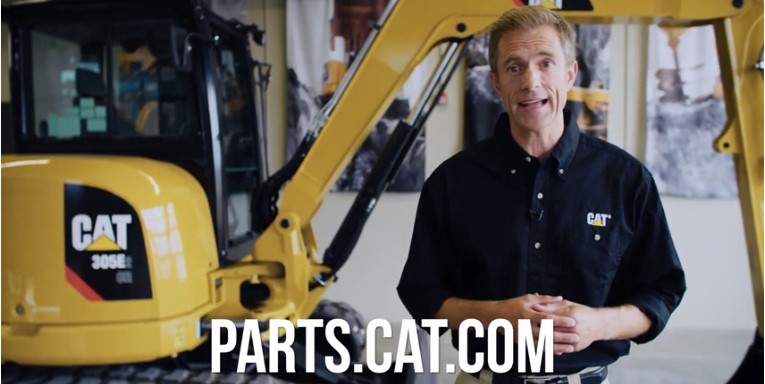 Quick Tip Video — How to Buy Cat® Parts Online
Category: Quick Tip Videos
The official online parts catalog from Caterpillar® makes it easier than ever to get the components you need. Thanks to this website, you can get durable and strong parts for your Cat equipment in less than 48 hours. Let Parts.Cat.Com simplify the component ordering process so that you can get back to work.
In today's quick tip video, Colin from Caterpillar highlights some of the online parts catalog's features:
Types of Parts Available in the Online Catalog
You can choose from 1.4 million new and used parts and attachments from the online parts catalog. It includes the following 27 categories of components:
Tires
Hydraulics
Cylinder seals
Air conditioning kits
Hardware and fasteners
Machine security system (MSS)
Belts
Ground engaging tools
Cabs
Sensors
Lights & accessories
Drive train
Machine service tools
Electronics
Work area vision system (WAVS)
Attachments
Shop supplies
Radios & accessories
Engine parts
Batteries
Seals and O-rings
Planned maintenance kits
Fluids
Filters
Seats
Undercarriage
Hand tools
Features of Parts.Cat.Com
Parts.Cat.Com includes a variety of features that make ordering the right parts simpler and faster. Try using these tools the next time you get Cat parts online.
Quick Order
If you already know the SKUs for the products you want, use the Quick Order feature to add them all to your cart at once. You can also upload a spreadsheet with up to 180 part numbers to make the process even faster.
Seamless Integration With Your Local Dealer
Caterpillar understands the importance of your relationship with your local Cat dealer. As a result, they'll let you use Parts.Cat.Com to order parts through your nearest location. With a few clicks, you can check parts availability at a dealership near you. You can also have your parts delivered to your dealer for you to pick up within 48 hours.
Equipment Fit Check
You can check a part's compatibility with your equipment while you shop. Enter your machine's serial number in the "Will it fit my equipment?" section. The website will detect its model type to determine whether you can use the part with it.
Parts Suggestion
Get the expertise of your local parts counter with the convenience of online shopping. When applicable, a product's listing will show you which parts you need to buy for its installation. As a result, you'll get all of the required components to add the part to your equipment.
Direct Delivery
When you need your order to come to your headquarters, you can also choose direct delivery to the address of your choice. Shipping fees and longer wait times may apply if you pick this option.
Consider NMC CAT Your Top Provider for Cat Parts
When you need Cat parts in Nebraska or Pottawattamie County, Iowa, count on your nearest NMC CAT location. We keep part inventories at our dealerships and accept pick-up orders from Parts.Cat.Com. If you have a specific requirement, we welcome you to reach out for assistance. Our experts will help you find the part you need and get it within your timeline.
Buy parts or get more information by finding an NMC CAT near you.