>
>
>
Must-Have Heavy Equipment for Construction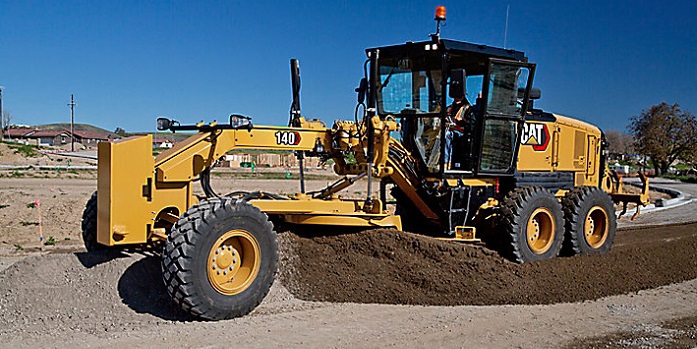 Must-Have Heavy Equipment for Construction
Category: Equipment and Solutions
If you work in construction, you know the importance of having the right tools on hand. When it comes to the heavy equipment you need for construction projects, there are several must-have pieces that will keep work moving safely and efficiently. Check out the below for a guide to heavy equipment for your next construction job.
1. Bulldozers
Bulldozers are likely one of the first machines to come to mind when you think of heavy equipment. Dozers are earthmoving machines equipped with blades on the front that allow them to push large loads of soil, dirt and other materials. Because of their size and mass, they can also be used effectively for grading applications.
There are several different types of dozers:
Track dozers: Rather than wheels, track dozers have large tracks that evenly distribute the weight of the machine for decreased pressure on the ground. This design makes them less likely to sink into soft earth.
Wheel dozers: Wheel dozers are slightly larger and rest on tires, which allows them to move much faster than track dozers. They tend to be gentler on the ground and cause less soil damage.
Mini dozers: Mini dozers are compact and ideal for maneuvering in tight spaces.
2. Skid Steer Loaders
Skid steer loaders are known for being one of the most versatile pieces of heavy equipment on any job site. They are available in a range of sizes and can load, push and carry dirt and other materials. As skid steer loaders tend to be smaller and more agile, they can reach places that larger machines can't. Additionally, these machines will accommodate an array of attachment options for even greater versatility, including tools for digging and drilling.
3. Excavators
Excavators are another example of versatile heavy equipment. They are designed to perform a wide variety of tasks, including clearing land, digging and moving heavy materials. Excavator cabs can rotate a full 360 degrees, which is a range few other heavy equipment pieces offer.
Like dozers, excavators are available with tracks or with wheels. On tracks, you'll be able to navigate tricky terrain, while wheels provide greater speed.
4. Backhoe Loaders
Backhoe loaders are a combination of backhoe, tractor and loader. Their primary function is to dig into hard materials like compact earth and lift and move heavy loads. Backhoe loaders can easily maneuver over tough terrain, and they come with many attachment options such as different sized buckets.
5. Motor Graders
Motor graders are used to grade and move small amounts of dirt. They are ideal for leveling ground and preparing roads before asphalt is added, and they also work well for snow removal.
Contact NMC Cat for the Best Heavy Equipment for Construction
At NMC Cat, we have all of these types of heavy equipment available, along with many others to round out your fleet. Our inventory of heavy equipment includes new, used and rental machines so you can find the right match for your budget.
Our expert staff can also help you determine which heavy equipment pieces you need based on your unique project requirements.
For more information about our inventory, give us a call at 800-628-6025 or complete our online contact form.