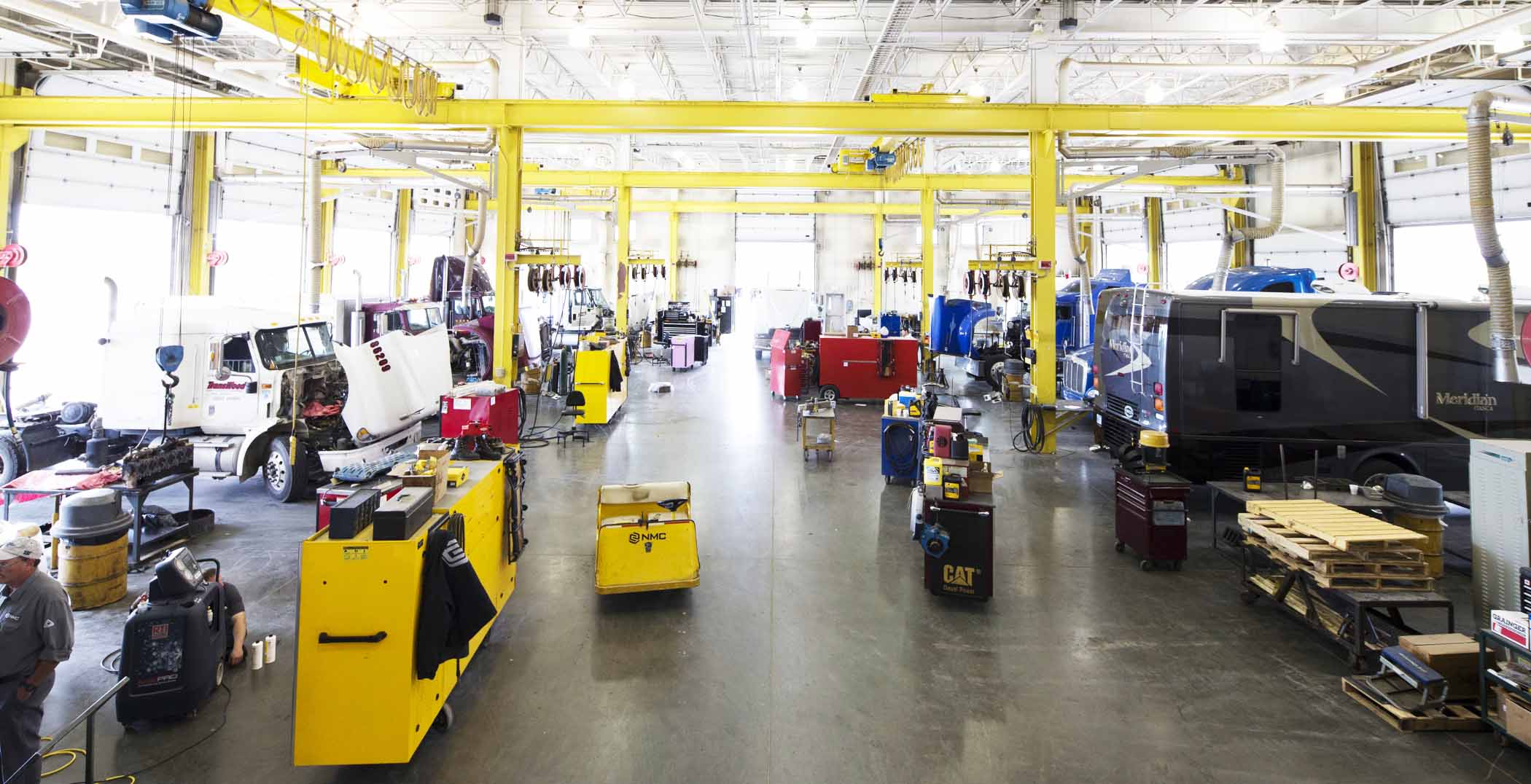 Gilder Kits
CAT POWERED GLIDER TRUCK KITS
For someone not familiar with the on-highway trucking industry, the term "glider kits" might seem foreign. But any long-distance trucker or freight hauling company owner will be very familiar with these custom semi-trucks. They've been around for ages. Glider kit trucks are proven to be cost-effective to purchase, great for fuel economy and totally reliable. What more can you ask for when you buy a semi-truck?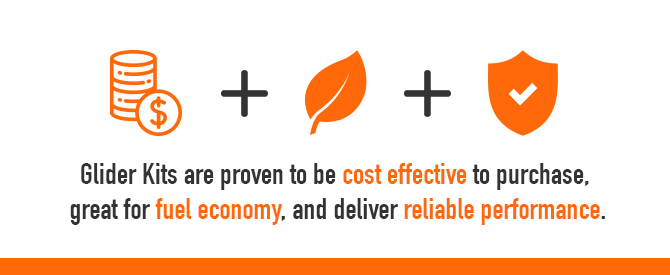 The name "glider kit" is due to these custom commercial trucks for sale from the factory as cabs and chassis complete with suspensions and tires, but without any powertrain. Like aircraft gliders, they're unpowered. They're referred to as kits because they can be put together with owner-chosen components. That includes the power and dependability of Cat® brand diesel engines.
Custom semi-trucks made as glider kits give the owner total flexibility to build the perfect on-highway truck they've dreamed about. They start with a new cab and chassis assembly built by their preferred manufacturer, like Freightliner, Kenworth, Western Star or Peterbilt. Then they deck it out with a Cat engine, a transmission by Eaton or Allison and finish it off with their specific custom features.
Glider trucks are the perfect solution for having a Cat engine powering their rig and are the answer to having a Cat under the cowling now that Caterpillar is no longer manufacturing complete on-highway trucks. The good news is that all Cat engines are still available, whether they're brand-new, factory remanufactured units or dealer-rebuilt engines.
THE BENEFITS OF GLIDER TRUCK KITS
We'd like to say that having a Cat engine running your on-highway hauler is the only reason to buy a semi-truck built from a glider kit. That's not true. While having your truck powered by Cat is the main benefit, there are other good reasons associated with finding a glider kit on-highway truck for sale. Let's look at all the benefits you get with a Cat powered glider kit.
Ability to have a Cat engine in any truck body
Better selection of individual drivetrain and control components
Lower upfront cost of ownership than buying a fully equipped new semi-truck
Exempt from 12 percent federal excise tax
Better fuel economy by eliminating emission equipment
No selective catalytic reduction (SCR)
No exhaust gas recirculation (EGR)
No diesel exhaust fluid (DEF)
Lower maintenance time and expense
Improved aftermarket resale value
Dealer-backed service plans
Full comprehensive warranty
When you consider all these benefits and advantages, you have to wonder why you'd buy a complete factory new-build truck when you get all that and more in a glider kit for far less money. How is that possible? The secret lies in recycling.
RECYCLING CAT ENGINES
The best glider trucks start with finding a new glider chassis from a leading manufacturer. That may be complete with the cab, suspension, control systems and even the brakes and tires. Then, a Cat engine is recycled from a wrecked truck or delivered as a re-man engine from Cat. This gives the option for the best of all worlds — a truck as good as new and powered by a Cat.
This secret is far from brand-new, though. Glider kits have been around for decades, but drivers barely recognized the benefits until strict emission standards for semi-trucks were introduced in the early 2000s. Forced implementation of SCR, DEF and EGR controls caused truckers to suffer power loss while driving up fuel consumption. It was hardly a profitable situation.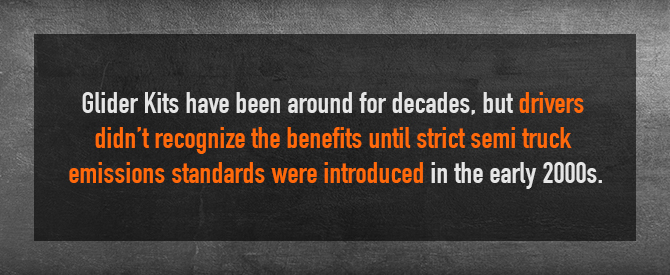 Fortunately, Cat didn't equip their early engines with these power- and fuel-robbing devices. They're still widely available as rebuilt, recycled engines. Some are taken from on-highway haulers whose chassis were damaged beyond repair in an accident. Other engine assemblies come from trucks where the overall service life expired, but the engine was perfectly suitable for a factory remanufacture or a dealer overhaul. These recycled Cat engines are as good as new. They have thousands of hours and countless miles of service yet to offer.
ADVANTAGES OF A PRE-EMISSION CAT ENGINE
Installing a pre-emission control Cat engine in a current production chassis is the main advantage of a glider kit custom commercial truck. Caterpillar 1999 Environmental Protection Agency (EPA)-certified C-15 and C-16 engines don't require SCR, DEF and EGR integration, and can be installed and operated in new trucks, provided the regulations of the state and city where the vehicles are registered permit it. Primarily, this may exclude California and Canada, but these jurisdictions do allow passage of trucks with pre-emission power.
Pre-emission engines significantly reduce the truck's purchase and operating costs. Recycled or re-man engines are less expensive thanks to reusing existing engine blocks and components. They also don't have the expensive emission control devices attached. This adds to a lower overall truck price and less fuel consumption, which is passed on to the owner/operator.

Older-model Cat engines are famous for being exceptionally reliable and low-maintenance. Re-man engines are covered by a comprehensive Cat warranty, from the flywheel to the front cover. There's an option to extend re-man engine warranty — a big advantage over purchasing an aftermarket Cat engine that's been rebuilt by an agency.
Dealership overhauls do not have the same overhaul protection (OPT) warranty authentic Cat engines offer. While the engine may be excellent, a non-Cat warranty will be substandard. In addition, most OPT warranties don't cover components like engine brakes, sensors, harnesses and engine control modules. Cat brand does. This alone makes the decision to install a genuine Cat brand re-manufactured engine in your glider kit worthwhile.
GLIDER KIT TRUCKS VS. NEW TRUCKS OFF ASSEMBLY LINES
There's no doubt glider kit custom semi-trucks are just as high-quality as new trucks that roll off the assembly line. In fact, with Cat engines, they're even better. Glider kits used to have a negative reputation, but that's because people were uninformed about the glider truck option. They viewed glider trucks as inferior, aftermarket contraptions that failed to hold resale value.
Opinions changed when the semi-truck industry was forced to find ways around restrictive EPA regulations. The negative reputation also changed when Cat ceased manufacturing on-highway trucks, but continued to offer non-restrictive, pre-emission engines. Now, you still have the option of having a new on-highway truck with Cat power and the ability to customize it as your very own.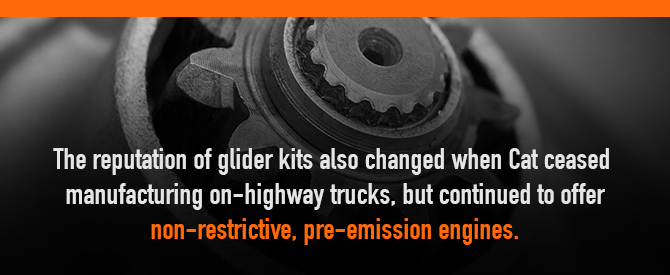 Talk about a win-win situation. A new Cat powered semi-truck that costs less to buy than a new assembly-line rig. And it costs less for fuel and maintenance as well. So, how do you go about getting one of these glider kit trucks?
THE GLIDER KIT TRUCK PROCESS
The process of building a glider truck is straightforward. It starts with partnering with a glider kit company that's provided customers with equipment and service solutions since 1938. We're NMC Truck Centers. Our company is customer-focused. We have a comprehensive line of parts and product sales that serve the transportation industry, including on-highway hauling. We excel at building glider kit trucks.
Building a glider kit truck isn't a lot of work. We strive to make it easy for you to buy a semi-truck that's truly customized to your taste. If you love trucks and trucking, you'll find building a glider truck so rewarding. NMC will guide you through every step of the process, offering you our expertise, sourcing your products and providing the skilled labor to put your glider kit together. You dictate your level of involvement.
Let's go through the process step by step.
1. THE CHASSIS
Building a glider truck starts with selecting a chassis. Usually, the chassis is complete with a cab, the suspension and the axles, complete with brakes and tires. It will likely have safety features like lights and warning devices. It may also have electronics and navigation devices. Possibly, the chassis you select may even be equipped with entertainment and communication systems.
It's the brand name that counts. You may be partial to a particular chassis manufacturer, like Peterbilt, Kenworth, Western Star or Freightliner. If the chassis manufacturer supplies a glider, at NMC we're able to work with you on it. One of the pitfalls we can help you avoid is recognizing when a particular chassis is not compatible with other components you're leaning toward.
2. THE ENGINE
At NMC, we favor Cat brand engines. That's because Cat engines are proven performers that are ideally suited for glider kit trucks. While we can rebuild or supply any remanufactured engine you'd like, we strongly suggest making a Cat engine the heart of your truck.
NMC has the technical knowledge and experience in working with Cat products. We know how reliable they are, and are confident that Cat engines won't let you down on the road. They're fuel-efficient, cost-effective and we can stand behind the Cat brand warranty 100 percent.
3. THE TRANSMISSION
Once you've identified your truck's chassis and picked out a Cat diesel engine, it's time to match the powertrain with the proper transmission. NMC recommends either Allison or Eaton transmissions. It's your choice. Both are excellent components and will perform well on-highway.
We match your transmission to the proper clutch and make sure the driveshaft is perfectly balanced to put your Cat horsepower to the pavement. Your drivetrain is a unified system. At NMC, we know what parts are dependable and what works well together. Matching the entire system is a key principle in the glider kit process.
4. THE PARTS AND ACCESSORIES
Now we've got your chassis and entire driveline identified. You're satisfied your glider kit is coming together exactly the way you want it. It's time to accessorize your semi-truck with parts that make the entire vehicle seamless.
We're able to source all the components you desire. That could be complete wiring harnesses, radiators, coolers, fluid reservoirs and tubing. We even supply custom mounts that keep your engine and components vibration-free.
5. THE ASSEMBLY
NMC will assemble your glider kit truck any way you want. We value your input and involvement so we can deliver your on-highway hauler exactly as you envision. It's something we both can be proud of. And it's something that'll give you years of trouble-free, reliable and safe service.
From the time you pick your chassis to the day you take delivery, NMC Truck Centers will be with you. We're based in Nebraska and we'll ensure you'll get the exact glider kit truck you've always wanted — especially if it's a new truck powered by a Cat engine.
NMC takes pride in developing relationships with customers, our vendors and our staff of highly skilled, knowledgeable technicians who will put your glider kit together. Contact NMC Truck Centers for more information on commercial trucks for sale or to request a quote.