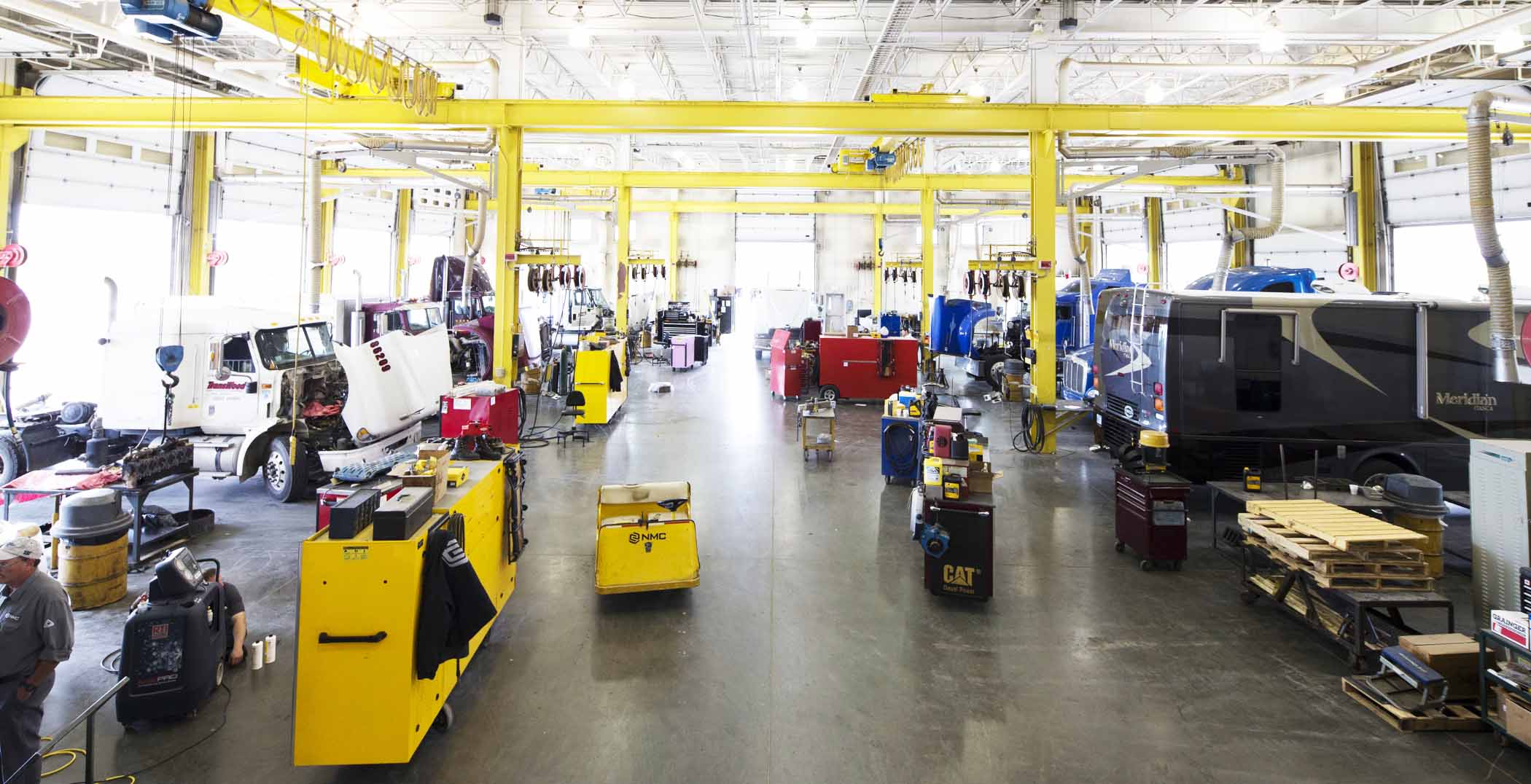 Engine & Exhaust Service
>
>
>
Engine & Exhaust Service
If you're in need of a truck engine and exhaust system service in Nebraska you can trust, make your first call to NMC Truck Centers. NMC has been a respected NE heavy equipment solutions provider since 1938.
You can count on us to deliver prompt, commercial truck engine repair and service, as well as keep your vehicles' exhaust system functioning at full capacity. We offer a combination of experience, expertise and state-of-the-art technology that our competitors cannot match.
SCHEDULE YOUR ENGINE OR EXHAUST SERVICE            CONTACT US FOR ENGINE OR EXHAUST PARTS
WIDE ASSORTMENT OF ENGINE AND EXHAUST SYSTEM REPAIR AND MAINTENANCE SERVICES
Regardless of the year, make or model of your commercial trucks, NMC can provide the right solution for your vehicles. Our semi-truck engine service features everything from minor tune-ups to head gasket replacements and complete engine overhauls. We can also handle all types of exhaust repairs, including exhaust gas recirculation (EGR) system replacements.
What's more, we've equipped all our truck centers with advanced diagnostic tools, enabling us to perform troubleshooting steps to detect and correct repair issues in the early stages. We're also your source for timely preventative maintenance to keep engines and exhaust systems in peak operating condition.
YOUR DIESEL TRUCK'S ENGINE AND EXHAUST
Your diesel truck's internal combustion engine is what converts the energy from gasoline into mechanical power to move your vehicle. To achieve this, many components must work behind the scenes, including:
Engine block: The engine block is the main part of the engine and contains the cylinders. It helps cool and lubricate the engine.
Pistons: The pistons help transfer the energy from combustion to the crankshaft, ultimately helping propel your truck.
Crankshaft: The crankshaft works at the engine's speed, turning the pistons up and down and in a reciprocal motion.
Camshaft: The camshaft helps control the timing of when the valves open and close as well as control the movement of rockers, pushrods, lifters and valves.
Cylinder head: The cylinder head allows the flow of intake air to get to the cylinders by controlling the passageways. It also exhausts the passages.
Timing belt/chain: The timing belt is what grabs the pulleys from both the crankshaft and camshaft while the chain wraps around the pulley.
Your truck's exhaust system keeps you and the environment safe by carrying away toxic gasses. Components of the exhaust system include:
Exhaust manifold
Oxygen sensors
Catalytic converter
Hanger
Clamps and joints
Muffler
The experienced team at NMC Truck Centers can handle any service need for your engine and exhaust parts.
CONTACT US TO SCHEDULE A SERVICE APPOINTMENT TODAY
You'll find NMC Truck Centers in six convenient Nebraska locations: North Platte, Omaha, Lincoln, Doniphan, Scottsbluff and Norfolk. We've staffed each facility with certified technicians who are committed to keeping your vehicles on the road. Contact us online or at 1-800-628-6025 to learn more about our commercial truck engine and exhaust service solutions or to schedule an appointment today.