>
>
>
Quick Tip Video — Cat® Advanced Display Screen (ADS)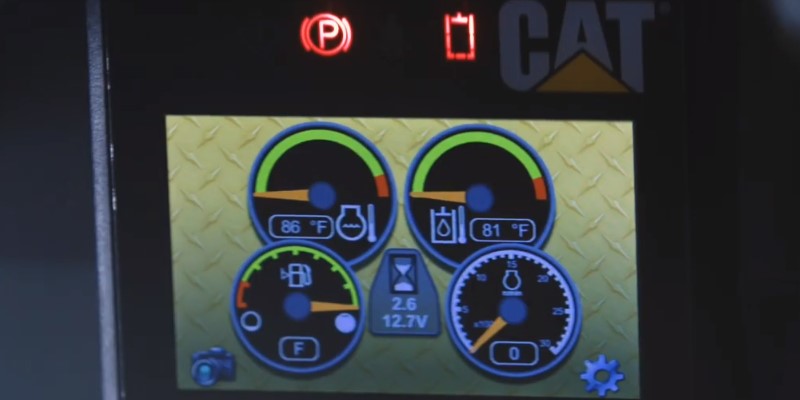 Quick Tip Video — Cat® Advanced Display Screen (ADS)
Category: Quick Tip Videos
Many newer Cat models feature the Advanced Display Screen (ADS), an interface that will give you maximum control over your equipment. Get critical information on your machine and control a variety of features from one display.
In today's quick tip video, Dave from Caterpillar® gives a general overview of ADS features:
Home Screen
The ADS home screen will contain vital information about your equipment systems with the following indicators:
Fuel gauge: The bottom-left circle gauge will show your fuel level with a display that's similar to a traditional gas gauge.
Engine coolant temperature: On the top left, you'll find your coolant temperature. Any temperature in the red part of the gauge needs a technician's attention.
Hydraulic temperature: You can view your hydraulic system's temperature in the top-right gauge. Like the coolant gauge, this meter will show excessive temperatures in the red area.
RPM: Check the bottom-right gauge to see your RPM during operation. This gauge has a meter and an exact number.
Hours and voltage: In the center of the screen, you'll discover your machine's hours and voltage under an hourglass icon.
Creep Control
When you have creep control on, the main menu will show a snail in the top-left corner. You can change your creep control right on the home screen. Set your creep control level by pressing the buttons below the up and down arrows at the bottom of the screen.
Backup Camera
You'll find the backup camera icon in the lower-left corner of the main menu screen. If you need the backup camera on at all times, you can press the button below the icon to switch the display. The backup camera will also automatically appear when you set the joystick to reverse.
Additional ADS Features
The ADS has plenty of extra features for better operation, including the following.
Operator Codes
Individual operator codes serve as a defining feature of the ADS. Each ADS system can hold up to 50 codes with different settings and permissions. This feature offers two primary benefits:
Security: Operator codes act like passwords for machine operation. They add a layer of protection against random theft during off-hours. Since you can set different parameters for each code, they also control each operator's permissions.
Customization: Each operator code has its own working parameters and preferences. You can tailor settings to every user's ideal working conditions, application and experience.
Implement and Hydrostatic Drive Response
Customize your controls to the application at hand by adjusting the implement response and hydrostatic drive response.
Ride Control Activation Speed
Speed-sensitive ride controls will let you automatically engage the system above a preset activation speed.
Language Preference
Operators can set the ADS to their preferred language for easier and more confident operation. You can set the language for an operator code so that your team members can display their language right away.
Learn More About Your Equipment From NMC CAT
If you have any questions about your ADS or another part of your Cat machine, ask the experts at NMC CAT. We help businesses in Nebraska and Pottawattamie County, Iowa, keep their fleets running.
Get professional assistance or Cat equipment by contacting a location near you.