>
>
>
A Guide to Genuine Cat® Engine Air Filters and Their Uses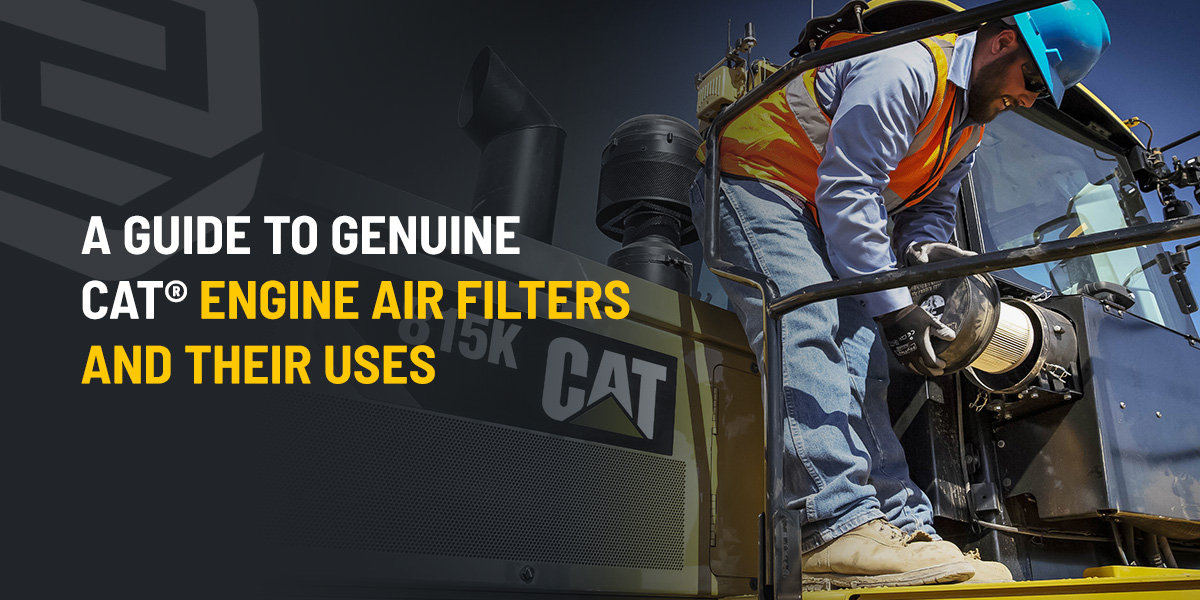 A Guide to Genuine Cat® Engine Air Filters and Their Uses
Category: Equipment and Solutions
Your heavy equipment works in some challenging environments. The job site is often dusty and dirty, yet the engines in your machines need clean air to operate at peak performance. Rely on genuine Cat® engine air filters to stand up to these conditions and prevent costly repairs.
What Is an Engine Air Filter?
The engine air filter is critical for protecting delicate and hardworking engine parts from dust. These tiny particles interact with oxygen to create silica, which becomes abrasive when it finds its way into your equipment's engine.
It's important to note the differences between cabin versus engine air filters. Cat cab air filters keep heating and cooling systems running well and impact the cabin's air quality. They don't affect your machine's engine performance.
What Does It Do for the Machine?
Cat machinery contains a two-stage filtering system. The outer or primary filter is the first line of defense and tends to get dirtier sooner than the inner or safety filter.
Both engine air filters share a common goal — to stop dust and debris from entering the motor and its parts. Blocking these particles reduces wear and tear on crucial components.
Types of Engine Air Filters
Cat primary filters come in two general varieties — standard efficiency and ultra-high efficiency. Secondary filters come in standard efficiency only.
Standard efficiency filters are ideal for normal- and light-duty machinery. They consistently provide engine protection and keep equipment in the field running at its best.
Consider using an ultra-high efficiency filter in more demanding applications or when you need a higher filtration degree.
What Can Happen If You Don't Take Care of Yours
When an engine air filter is dirty or clogged, it can adversely affect your engine's power. Your machine may not accelerate properly or may operate sluggishly. Additionally, you may experience:
Misfires.
Odd noises.
Excess or black exhaust.
Premature engine wear.
Increased oil consumption.
Because engine air filters are essential to performance, plan to monitor them regularly. We recommend replacing the filter at 500 hours of work or less based on the operating environment.
NMC Cat inspects engine air filters as part of our preventative maintenance program. Our Nebraska and Iowa locations can also test oil samples to ensure your fluids are contaminant free.
Browse NMC Cat Engine Air Filters Now
Get the engine protection you need with a genuine Cat engine air filter. Our inventory includes standard and ultra-high efficiency varieties. Order at your convenience 24/7 and have your parts in hand as soon as 24 hours later! NMC Cat representatives can also help you find the right filter for your equipment. Place a request with our online form, visit our Nebraska or Iowa locations or call us at 800-628-6025 for assistance.