>
>
>
Quick Tip Video — How to Lift a Cat® E Series Skid Steer Loader Cab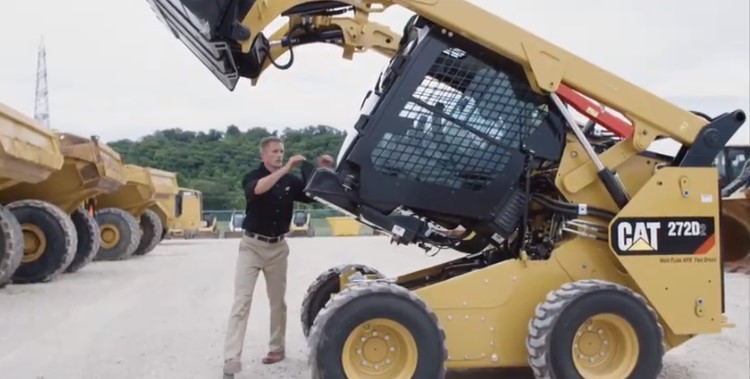 Quick Tip Video — How to Lift a Cat® E Series Skid Steer Loader Cab
Category: Quick Tip Videos
Taking care of your skid steer loader involves checking the components underneath the cab. Caterpillar® engineers designed the E Series with your needs in mind. As a result, each of these skid steer loaders has an easy-to-lift cab for your convenience.
Let Colin from Caterpillar explain how to lift your machine's cab in today's quick tip video:
How to Lift Your E Series Skid Steer Loader's Cab
Lifting and lowering your skid steer loader's cab takes three simple steps:
Remove the two bolts found on the cab's front.
Lift the cab and unlatch the safety bar.
To lower the cab, unlatch the safety bar by lifting up, then lower the cab and replace the bolts.
Parts of Your Skid Steer Loader Cab to Inspect
Once you have your hood lifted up and latched, you can perform a thorough inspection. Pay close attention to the following parts of your cab.
Outside of the Cab
When you lift the machine's cab, check it for dents and cracks. Look at the roll-over protection structure (ROPS) to see if it has any bends or damage. This part of the cab will protect you during a roll-over or accident, so you need to address any issues right away. Check the entire cab's integrity to make sure it will provide safe operation.
Hydraulics System
Now that you have a good idea of the cab structure's condition, you can move on to the hydraulic components. Look for leaks and excessive moisture on the auxiliary hydraulics. Check the hoses for scuff marks and other forms of damage.
Underneath the Cab
The area underneath the cab can also show signs of your machine's condition. Look below your skid steer loader for signs of leaks or embedded debris. Checking this part of the machine will help you determine its condition in ways that you could miss with other methods.
Reasons to Regularly Perform Cab Inspections
Making cab inspections part of your routine will provide all the advantages associated with proactive preventive maintenance. These benefits include:
Early problem detection: Regular cab checks will help you find issues as they form. As a result, you can get them addressed before the equipment requires more costly repairs.
Better machine performance: Cleaning your cab and checking for issues will let you operate your skid steer loader at top performance. These actions contribute to a preventive maintenance strategy that effectively manages equipment condition.
Improved return on investment: A proactive approach to your skid steer loader's service will lengthen the machine's lifespan, leading to a higher return on investment. Taking the time to pay attention to your equipment's condition will help you get the most out of your investment.
Service and Equipment From NMC CAT
If you have a fleet in Nebraska or Pottawattamie County, Iowa, count on NMC CAT for equipment sales, rentals and service. We work with Cat and non-Cat equipment to keep them running in top condition. Our experts can also provide tips on inspecting and maintaining your fleet outside of the shop.
Give your equipment a cutting edge by finding an NMC CAT near you.