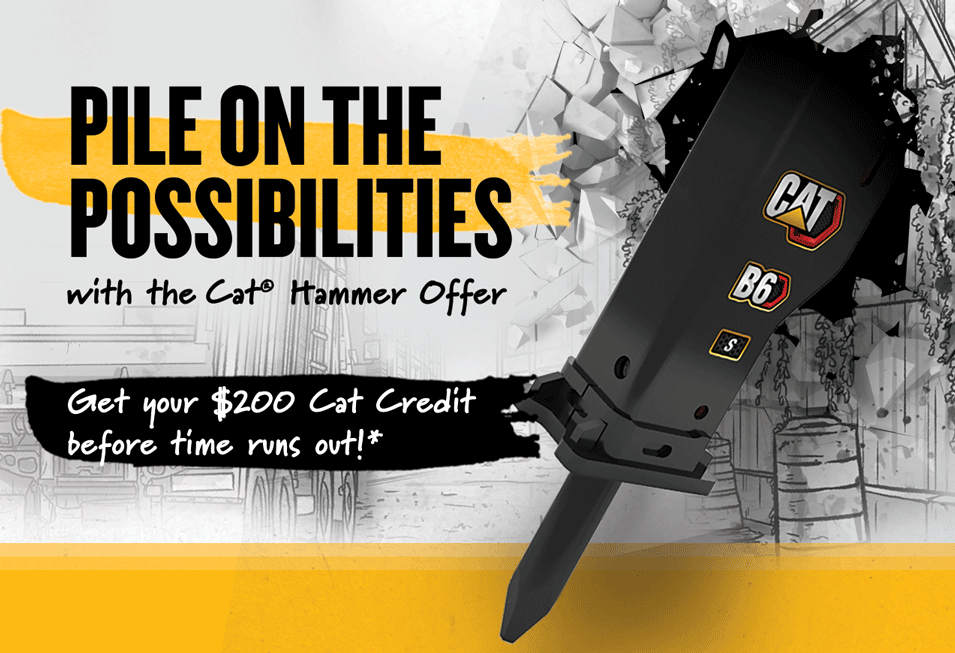 BREAKER BREAKER. It's a Hammer Offer!
Time to hammer out the details. What do you get when you combine the performance and durability of a Cat® hammer attachment with $200 Cat Credit, a 2-year warranty, 2 hammer bits and a charge kit for easier maintenance? Well, aside from the breakthrough capabilities of the hammer itself, you get a whole bunch of possibilities.
With a multitude of sizes and capabilities, it pays to know you get options when it comes to Cat hammers. And now, it pays to know you have this, too: The Cat Hammer Offer.
Cash in on this offer before it's too late.*
• 1 Cat Hammer Attachment
• 2-Year Warranty
• 2 Hammer Bits
• 1 Charge Kit
• + $200 Cat Credit
Take Advantage of This Special Offer
Terms & Conditions:
Visit Cat.com/Hammer-Offer for complete offer details.
© 2023 Caterpillar. All Rights Reserved. CAT, CATERPILLAR, LET'S DO THE WORK, their respective logos, "Caterpillar Corporate Yellow," the "Power Edge" and Cat "Modern Hex" trade dress, as well as corporate and product identity used herein, are trademarks of Caterpillar and may not be used without permission.