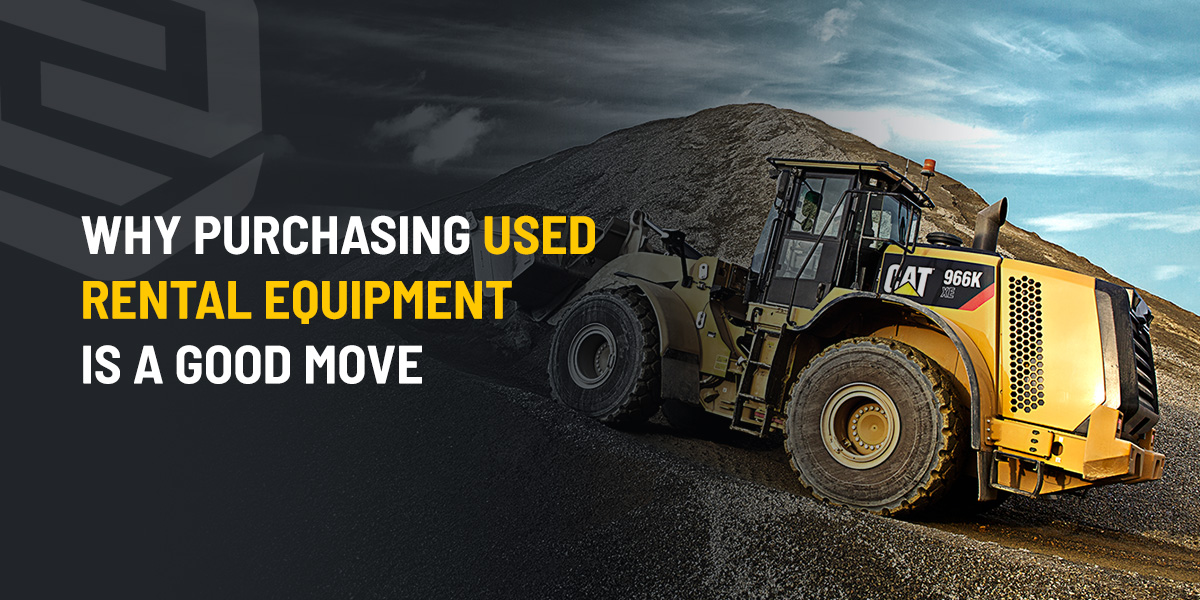 Why Purchasing Used Rental Equipment Is a Good Move
Category: Rental
When you find you're using rental equipment more than you expected, purchasing used rental machinery can be a beneficial decision for your company. Instead of continuing to rent equipment you use on an everyday basis, you can save money by choosing to invest in owning the equipment. There are many more advantages to buying rental equipment your company should consider to ensure you're setting your business up for future success.
Find out more about when buying construction equipment that was previously a rental is a good idea and the benefits you can receive from purchasing reliable used equipment.
When Should You Purchase Used Rental Equipment?
It's normal for companies to rent equipment when they're not planning on using the machinery more than 40% of the time. The basic idea is if your company isn't using equipment very often, it doesn't make sense to make a big purchase and incur the long-term payments and costs associated with owning a machine. In situations where you're not using a piece of equipment regularly, the short-term commitment and lower costs that rental equipment provides make it a more attractive option.
There are times when companies start renting equipment because they don't know how often they'll use it or if they'll have future projects that rely on the equipment. As time passes, they may find that they're using the rental equipment much more than they originally expected. If the equipment is being used more than 40% of the time and a company is expecting to continue to use it regularly, then it's usually time to purchase the used rental equipment.
Why Is Buying Used Rental Machines a Good Idea?
If you've ever wondered if it is OK to buy a used skid steer that was a rental, the answer is likely yes. Rental equipment, from skid steers to excavators, can be an excellent investment for your company. Buying rentals come with many advantages like saving money on the costs of purchasing and the peace of mind that you're purchasing a high-quality piece of equipment. You can also enjoy benefits from operator familiarity with the machines, a wide variety of equipment to choose from and a history of maintenance.
Learn more about the many advantages you can receive by purchasing rental equipment: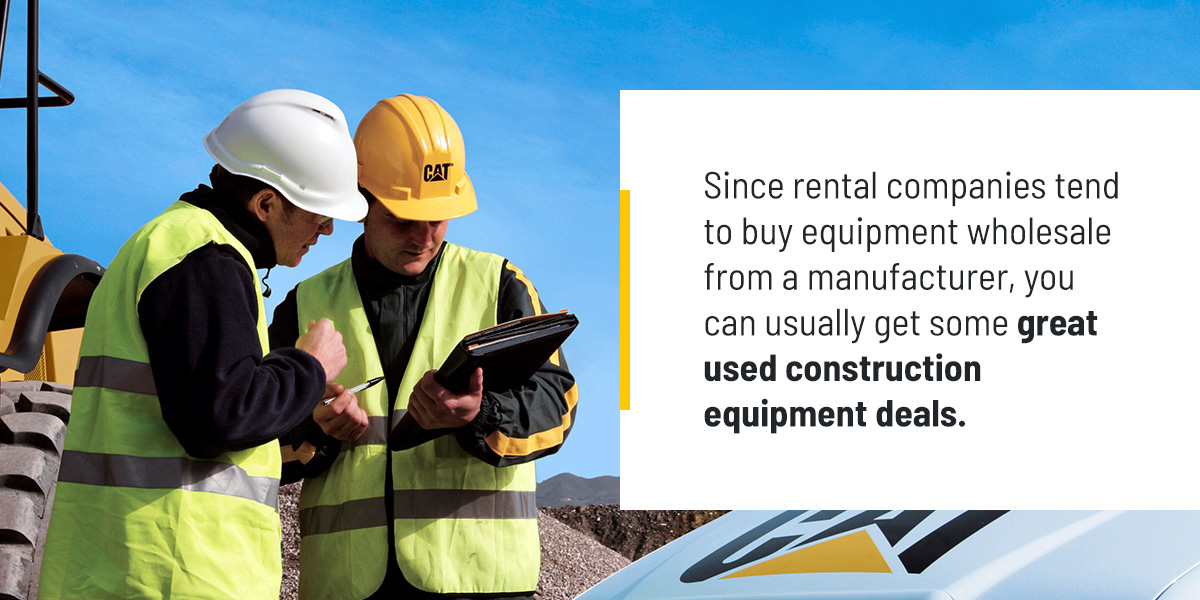 1. Savings
If you're using rental equipment more than 40% of the time, you may want to consider moving from renting to buying. Over time, you may notice you're relying on a piece of rental equipment more than you planned. It's important to remember that the longer you rent, the more money you may pay overall. Over time, you could end up paying more in rental costs than if you simply bought the piece of equipment early on.
By buying the equipment, you can recoup your money in the long term and sell the equipment once you're ready to upgrade or replace it. Instead of having an expense in the form of rental costs, you'll receive an asset that can be resold or customized at your leisure.
Alongside the money you can save by buying, you can also save money on the costs of purchasing by going with a former rental. Since rental companies tend to buy equipment wholesale from a manufacturer, you can usually get some great used construction equipment deals. By buying wholesale, they'll often have purchased the equipment for less money than the market price. These cost savings can be passed on to the client, helping you find excellent used construction equipment for a lower cost.
2. No Guesswork About Quality
Buying rental equipment you previously used at your work site as a rental has another great advantage. Since you've used the equipment in the past, you'll be aware of its quality and the performance it regularly provides. Even if you haven't directly used the equipment, a reliable rental equipment dealer has performed all the needed upkeep on the equipment to ensure it's still operating at a high level at the point of sale.
It's also common practice for rental companies to retire their machinery while it's still at a young age. This practice of early retirement means you can still receive fairly recent equipment that's been well cared for during its use. You can also find equipment with advanced technologies and features that improve the efficiency and productivity of a machine if you'd prefer.
3. Wide Selection of Rental Equipment
Part of a rental company's appeal is its huge selection of equipment for clients to choose from. Just like the wide variety of rentals, you can also expect to receive a similar-sized inventory you can select from when buying. The broad selection you get when purchasing rental equipment means you can find a machine that matches the needs of your company and the types of jobs you plan to use it for.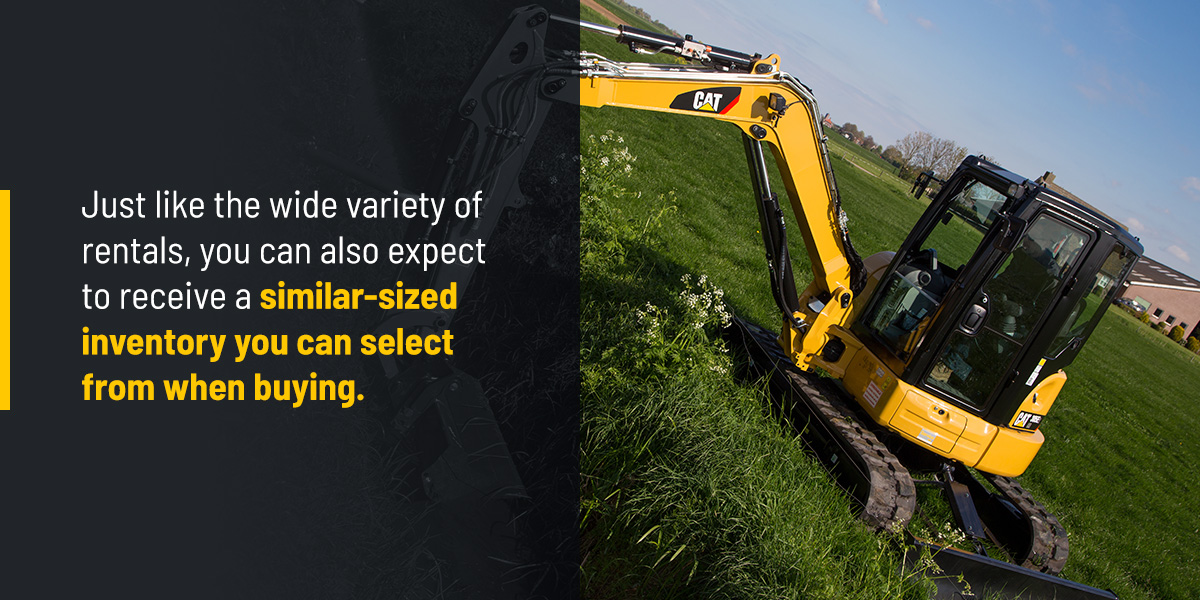 4. History of Service and Repairs
Rental companies want their equipment to run at its best ability. Their clients rely on high-quality equipment that delivers on its promises and is reliable. A rental company that can't deliver equipment that meets these expectations is destined to fail.
Because rental companies need to provide clients with well-maintained and high-performing equipment, a reputable dealer will have a long history of preparing and servicing their equipment. Buying a piece of rental equipment offers the advantage of an increased likelihood that the machine has been maintained properly. Additionally, a good dealer will provide you with service records as proof of regular inspections, oil changes, hours of use and any other repairs.
5. Greater Familiarity With the Machinery
When you buy a piece of rental equipment your company has already been using, your operators will already know how to use the machinery. This familiarity with the equipment can save time, as you don't have to schedule training for operators on how to use it. As such, you can instantly deploy the equipment to a work site.
What to Consider When Purchasing Previously Rented Equipment
When you buy used equipment for your business, you need to choose machinery that will perform well for a long time. The following tips can help you determine whether a previously rented machine is worth the investment.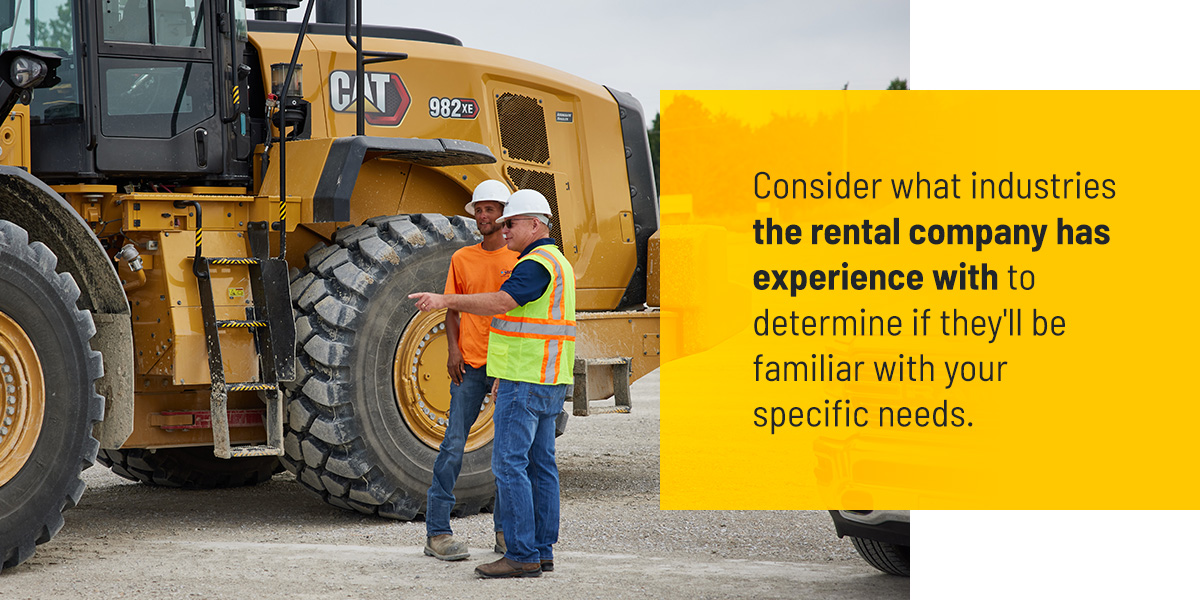 Choose a Trustworthy Seller
Going to a reputable dealer or rental equipment company is crucial when you buy used rental equipment. A reliable dealer can help you avoid the risk of accidentally buying damaged units. They can also advise you on which machine might be right for you.
Reading testimonials is a good way to gauge whether a seller is reliable or not. Try to find information about past customers and their experiences if it's available. Consider what industries the rental company has experience with to determine if they'll be familiar with your specific needs.
Examine the Equipment's History
Looking into a machine's past can reveal whether a purchase is worth the cost. First, make sure it's not stolen equipment by taking the PIN and product ID number to your local police department. You can also use an online service like the National Equipment Register.
If the equipment has any liens against it, you're likely to experience ownership complications down the line. You can check if a machine has active liens by finding the financing statement from the Uniform Commercial Code. The equipment may have a history of liens, but you want to pay attention to any that are currently active.
Make sure the equipment was not seized — equipment seizure usually happens because the buyer was unable to pay in full, which can also indicate that they did not perform proper maintenance on the machine.
You should also ask for the machine's maintenance history. A used machine that has been well-maintained is likely to deliver higher performance than one that received spotty maintenance, even if it has more hours logged.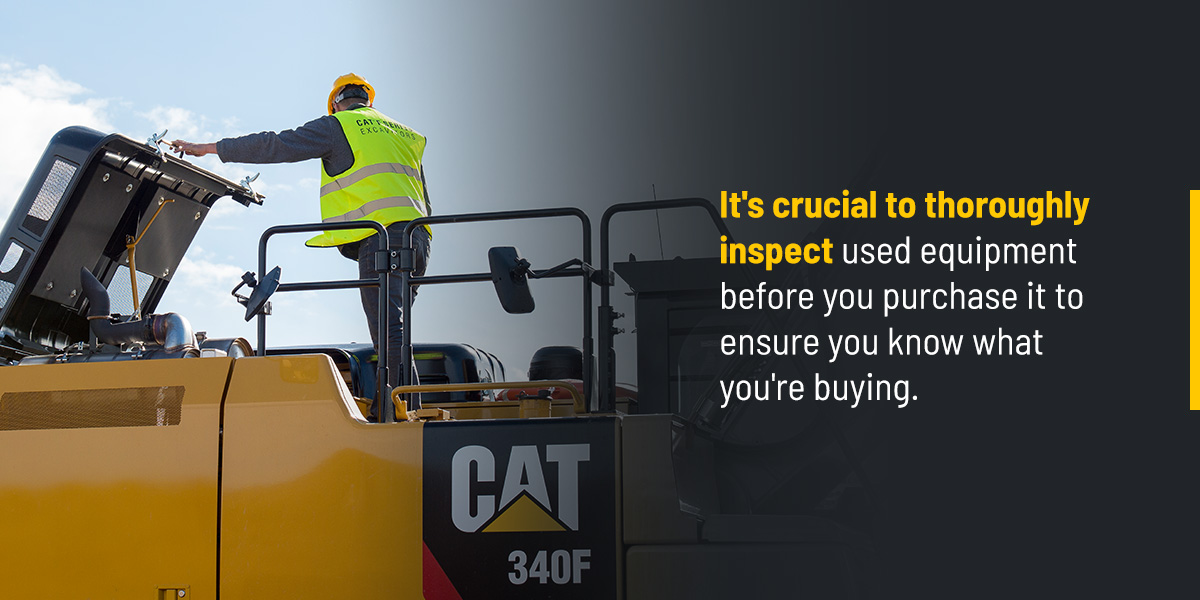 Conduct an In-Person Inspection
It's crucial to thoroughly inspect used equipment before you purchase it to ensure you know what you're buying.
Make sure the equipment's condition matches its description in the sale listing. If you notice signs of wear that the seller did not mention in the listing, skip the purchase. Minor wear is not a problem in itself, but discrepancies can indicate an untrustworthy seller, which could spell trouble further down the line.
Be sure to check the following systems and components for damage, abnormal wear or contamination:
Hydraulic hose
Tracks or tires
Fluid levels
Air filter
Engine filter
Undercarriage
Brakes
Take the equipment for a test drive if you're able. Doing so will give you the best idea of how it will function when on your site. Check that the engine runs smoothly without making any abnormal noises or producing exhaust, and make sure the machine starts and stops as expected.
If you feel uncertain about your ability to judge the condition of a piece of equipment, bring a trusted technician or other expert with you. They can help you determine whether it's good used construction equipment or if you should explore other options.
If you've already been renting the equipment yourself, you'll have this familiarity already. Before deciding to purchase machinery you've been renting, discuss its condition with any workers who have been operating it. If they report any problems, consider testing and purchasing a different piece of previously rented equipment.
Browse Heavy Equipment Rentals for Sale at NMC The Cat® Rental Store
When you want reliable used equipment, NMC The Cat® Rental Store is here to help. We have many used construction equipment deals for buyers to explore and find the best machine for their needs. After purchasing a piece of equipment, you'll also receive reliable support from your dealer. You can expect to receive comprehensive repairs and maintenance as long as you own the equipment.
Browse our selection of rental construction equipment for sale today. If you have any questions, reach out to your local dealer.