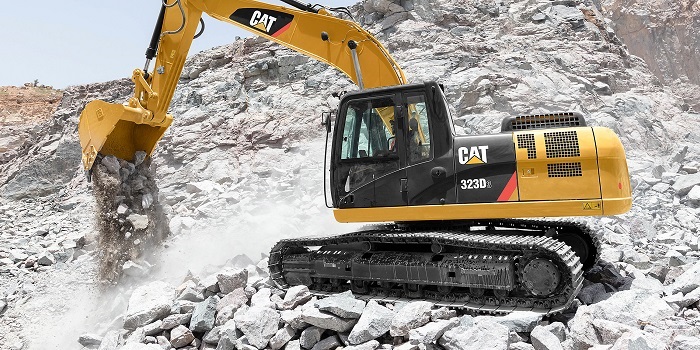 Top Five Benefits of Renting Construction Equipment
Category: Rental
To succeed in the construction industry, you need equipment that enables you to complete jobs accurately and efficiently. Purchasing outright is not the only option for procuring construction equipment, however. Rental services allow you to borrow equipment for a reasonable price and return it once you have completed the work.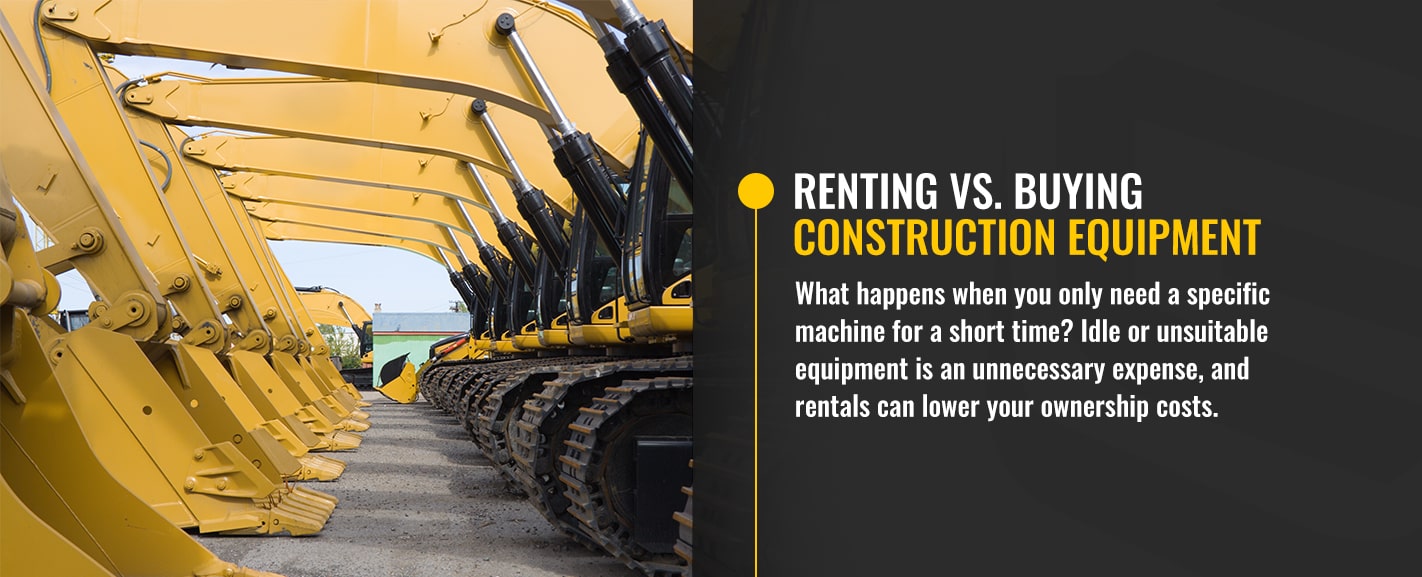 Renting vs. Buying Construction Equipment
Your construction company will need various kinds of heavy equipment during your years of operation, including forklifts, storage tanks, air compressors and generators. What happens when you only need a specific machine for a short time? Idle or unsuitable equipment is an unnecessary expense, and rentals can lower your ownership costs.
View All Rental Equipment. Click here.
Deciding between renting and buying can be challenging. Before committing to a machine long-term, consider whether the job you need the machine for is permanent or if you have the qualified personnel to operate it. For example, it might be unwise to purchase a scissor lift if you only plan to use it sporadically during a short-term job.
Here are a few things to think about when faced with the decision to rent or buy:
What can the equipment do, and how often do you need that capability for your operations?
What is the cost of the new machine vs. your existing budget?
How much money would each alternative save you in the short term and the long term?
Do you have access to the required means to transport the machine?
Do you have trained personnel to operate, test and service the new equipment?
Will there be costs for accessories, attachments, service or other recurring maintenance expenses?
How soon does your company need to complete the job?
Benefits of Renting Equipment vs. Buying Used
Another option to consider is buying a used machine instead of a new one. Sometimes a new machine takes weeks or months to arrive after buying it from the dealer, A used piece of equipment might be available for same-day delivery. Additionally, parts or accessories for some used, obsolete equipment could be unavailable.
However, if you decide to rent a high-quality, used machine from a trusted brand like Caterpillar, you can rest easy knowing that your choice is a wise one. Our team takes care of maintenance on rental equipment, so you can enjoy reduced service costs and downtime.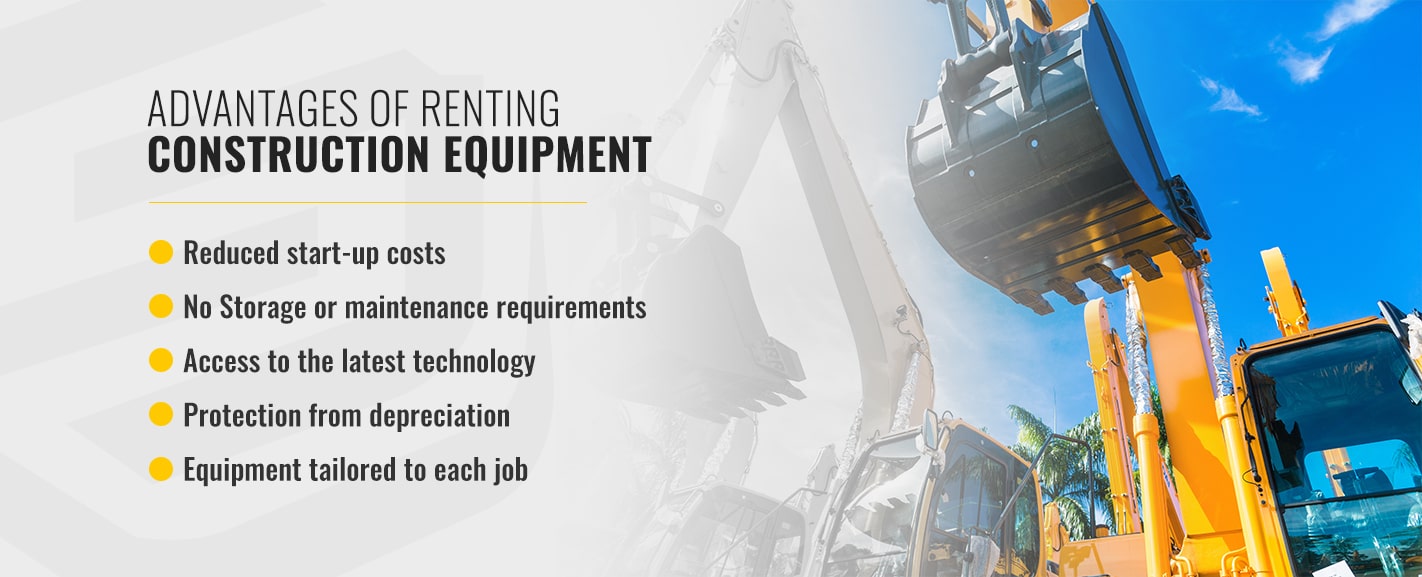 Advantages of Renting Construction Equipment
In recent years, equipment rental options have grown in popularity with both contractors and large construction companies, due in part to the rising cost of new machinery. When you rent from a trusted provider like NMC The Cat® Rental Store, you can access any equipment you need for as little or as much time as you need it without taking on the risks associated with buying construction equipment. If you're wondering whether rental could be the right solution for your business, consider these five advantages of renting equipment.
1. Reduced Start-Up Costs
One of the main reasons why companies rent construction equipment is to keep expenses low. Renting a piece of construction equipment costs significantly less than buying that equipment outright. What's more, when you rent equipment, you won't need to pay for upkeep, insurance or any of the other factors that make ownership costs so high.
The reduced cost of equipment rental means you can get the machinery you need without compromising on the features that matter to you. The relatively low start-up cost also frees up resources and makes it possible for more people to enter the industry — with the right rental equipment, you can start earning contracts and completing jobs before you have the money to buy your own fleet.
2. No Storage or Maintenance Requirements
Storage and maintenance also factor into the overall cost of equipment ownership. Most rental providers will take care of maintenance, repairs and long-term storage on behalf of their customers, which means you can focus your time and resources on other business endeavors.
If a rented machine breaks down on the job site, your rental service provider may also offer emergency service free of charge. At NMC The Cat Rental Store, for example, we offer emergency field service 24 hours a day. This availability helps minimize downtime and ensures you have what you need to meet your project deadlines.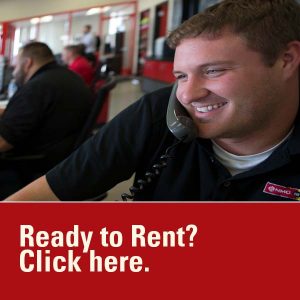 3. Access to the Latest Technology
New construction equipment often features built-in technology to improve safety, performance and efficiency. This technology helps operators complete tasks faster and with less effort. The high price of new machinery pushes these improvements out of reach for many construction teams and contractors. However, rental companies increase the accessibility of the latest construction technology by making it available on a temporary, affordable basis.
If you're interested in testing out new equipment, consider renting a machine for the day or week. You may discover a helpful feature or system that you want to look for when you eventually buy your own equipment.
4. Protection From Depreciation
The value of the equipment you own depreciates over time. Some machines hold their value better than others, but all used machines eventually become worth less than what you initially paid for them. As a result, you will typically lose money on the sale of construction equipment. When you decide to sell the equipment in your fleet and purchase a newer machine, you may also incur costs related to advertising or working with an equipment broker.
Rental equipment depreciates in value just like any other asset — however, that depreciation will not affect your business because you won't be responsible for selling the equipment when you're done using it. Rental payments can be much more beneficial than a huge upfront payment come tax time. These expenses are even deductible for some businesses, while a new purchase represents a depreciating asset.
5. Equipment Tailored to Each Job
Renting equipment for your business gives you the opportunity to select a machine tailored to every project you take on. For example, you could choose earthmoving equipment large enough to move high volumes of material or small enough to fit on a compact job site. Since project demands are subject to change, this is an excellent reason why you should consider renting your construction solutions.
Having equipment tailored to the job at hand allows you to complete work more quickly and accept more varied contracts. Not sure which machine will best help you tackle your next project? The experts at NMC The Cat Rental Store can recommend equipment based on your needs.
Why Rent Construction Equipment From NMC The Cat Rental Store
At NMC The Cat Rental Store, we work hard to support customers in Nebraska and Pottawattamie County, Iowa, by providing rental construction equipment from a range of trusted brands. When you rent equipment from us, you can expect to benefit from:
Daily, weekly and monthly rental options
Expertly maintained equipment
Fast and convenient delivery to job sites
Helpful and responsive customer service
We offer one of the most extensive and diverse inventories of construction equipment for rent in the region. Some examples of the rental equipment we furnish include:
Earthmoving equipment.
Power systems.
Booms, scissor lifts and telehandlers.
Temperature control units.
Trench safety and shoring.
Portable and non-portable air compressors.
Submersible, towable and trash pumps.
To learn more about the rental equipment and other services we have available, please visit us in person or contact us online today.