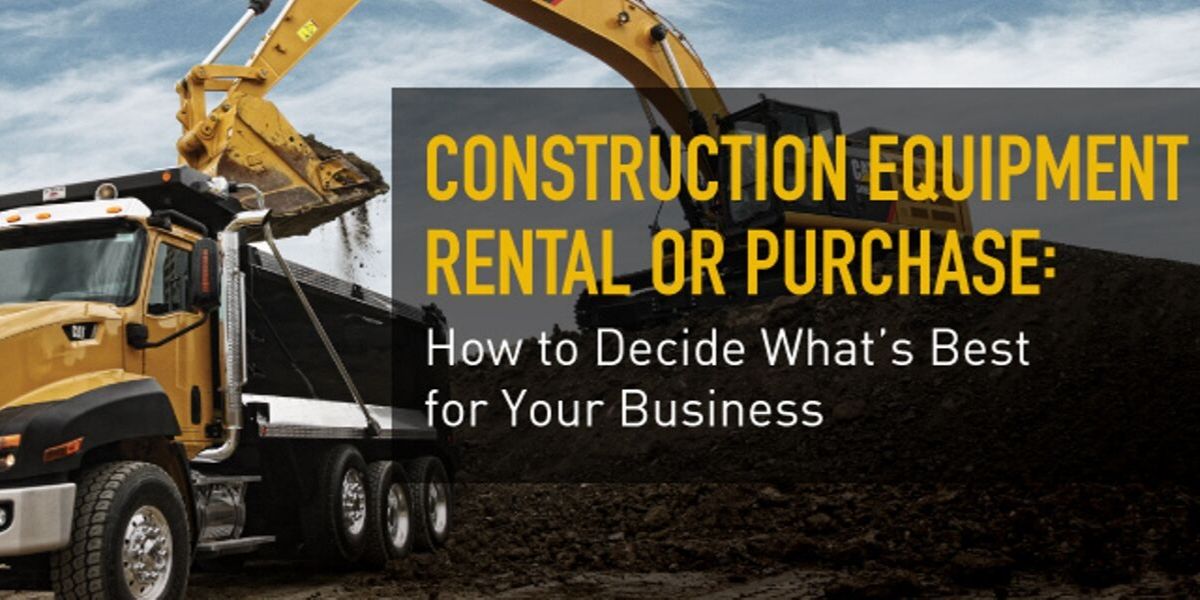 Construction Equipment Rental or Purchase: How to decide what's best for your business
Category: Rental
A business that is dependent on the use of heavy equipment has a few decisions to make about how they'll acquire the equipment that is vital to completing a project properly, efficiently and on time. Your specific situation will be different than another construction or excavating business so it's not easy to just get the needed insights from a fellow business owner on what they do. You need to take into account a few different factors that will contribute to making the right choice for the vitality and management of your company.
Consider the main factors that will help you decide to buy or rent your construction equipment.
Your current financial state
The resources and skills available within your company for inventory control and fleet management
The costs associated with buying and how they compare to renting
Your need to have equipment that's available at a moment's notice
If the owned or rented equipment will be used for the appropriate length of time
HOW YOUR BUSINESS USES CONSTRUCTION EQUIPMENT
The biggest deciding factor behind renting or buying is how often and in what manner the heavy equipment is used. Undoubtedly there will be some specialty equipment that will only be used for occasional projects and is an easy renting choice. With the various uses for the multitude of construction equipment products there will likely be a few machines where it's not as clear whether renting is the best option financially or buying will give you better returns in the long run.
By doing a few simple calculations, you can have a pretty good idea of whether it's best to rent construction equipment or if you'll gain the most benefit from purchasing your equipment.
DETERMINING YOUR UTILIZATION RATE
Ultimately the amount of use a certain machine gets will determine whether to rent or buy your construction equipment. There are a number of other factors to consider that will come into play, but if your business uses a certain piece of equipment most days and for the long-term, then it's likely easy to determine that a purchase is your best way to go. While the nature of future projects may change you can calculate a best guess on your utilization rate from recent use and projected projects.

Here's a basic way to figure out what your utilization rate would be for a specific piece of equipment. We'll talk about a telehandler for this example:
Look at the use of the telehandler for the past 3 months and get the number of full days the telehandler has been used (if it just ended up getting used part of a day, then add the parts up to make the equivalent of a full day) — for our example we'll say it was used 45 days.
Divide that number by the industry-standard calculation of possible operating days of 66 (22 days a month).
The utilization rate is 68% (45 divided by 66 equals 0.6818 multiplied by 100 to get a percentage of 68).
There's nothing wrong with forecasting usage in the future to have a best guess at your future utilization rate, especially if you have some bid prospects that you have a good chance of getting or have projected projects. Either of these cases could lead you to seriously consider buying some of that equipment that has only made sense to rent in the past.
If your utilization rate is 60% or over, buying is generally the best choice.
If your utilization rate is between 40% and 60%, then you'll want to consider how the other factors relate to your business and look at all the pros and cons of owning and renting.
If your utilization rate is below 40%, renting is generally the best choice.

TOP 5 BENEFITS TO BUYING YOUR HEAVY EQUIPMENT
Here are some of the advantages to consider for purchasing your construction equipment:
You can control the costs to save on maintenance and repair expenses, as well as looking at quality used construction equipment for sale that will greatly reduce the initial financial impact of buying your own equipment.
You'll always have the equipment at your disposal which will be ideal for current jobs and also allow you to confidently bid on projects without the concern of securing the equipment needed for the job.
You will be able to take advantage of the substantial tax deductions from the initial purchase and the yearly costs related to insurance, depreciation, loan interest payments, repairs and maintenance costs and all the additional tax paid on all these associated costs. You may even be able to avoid paying tax on capital gains when selling if you're planning to purchase additional equipment.
You can count on a resale value for your equipment, especially if your company likes to cycle in new equipment with updated technology. When considering the resale value, take into account the brands and models that hold their value better than others, such as the reliable line of Cat® equipment, so you can realize the highest resale value possible.
Expansion opportunities in fleet management can be realized through the purchase of more equipment. If you are considering avenues that could grow your business then focusing on fleet management would be a logical way to go. Since it involves a different set of business skills to manage a fleet, like transportation, storage, service and maintenance, and other facets of inventory control, you could follow the trend of creating a separate division or a separate corporation just for your equipment management.
DRAWBACKS OF MAKING THE BIG PURCHASE
There are always two sides to every decision and the decision to buy heavy equipment does have its drawbacks. The obvious is having the appropriate capital to purchase and this is probably the top concern of every business owner.
Even if there is capital or credit available to make a major purchase, no one wants to be buying equipment that is underutilized. Unpredictability tends to be the norm in the construction industry and it's difficult to really make an informed decision about possible projects two to five years in the future, which is what you need to consider when making a purchase that should still be benefiting your bottom line five years down the road.
In fact, we can look at every one of the benefits listed above and talk about the risk associated with it:
You can control the costs related with fleet management instead of paying for it in a rental price, but this will take a skill set that may not be available within your organization now, which will require new employees and a new aspect to your business. It may be a good way to expand your business, but you also need the ongoing business to expand.
You'll have the purchased equipment for the sole use of your business, but there is downtime to deal with whether it is for maintenance, repairs or the inevitable end-of-life for a piece of equipment. Renting puts all this uncertainty on the shoulders of the rental company.
While there are a number of tax deductions from the purchase of new equipment, rental expenses are also an accounting deduction which can often be passed on directly to the customer or as a general business expense. They provide a clear number to help estimate the exact cost of equipment use for a job.
There will always be a market for selling used construction equipment so, as long as it's in good working order, you can count on being able to get a resale value for your equipment. However, you can't be certain what the market will be like when you're eager to sell. There is warranted concern that you won't get what you would have expected when you factored in the resale value to your purchase decision five or 10 years earlier.
Even if you have a small fleet of equipment, it still needs to be properly managed to get the most cost savings and keep the equipment well maintained. While this may be an excellent opportunity for expansion, it is an additional workload that needs to be taken care of. You can outsource equipment management, which is a viable option for many companies that have found purchasing to be the best choice but dislike the additional work of equipment management.

As you're considering these pros and cons of buying construction equipment, notice how they fit with the way you do business now and how you see your business five or even 10 years down the road.
The major purchase of heavy equipment isn't just about the money you have available now or even the workload you have right now. Perhaps business is booming right now and you think that you should just buy a certain piece of equipment so you don't have to deal with the limitations of renting. That is a great time to be starting to think about purchasing, but there are factors that will be directly related to your purchase decision that deal with how you envision your business in the future, so now let's look at what you should know to rent construction equipment.

5 TOP BENEFITS OF RENTING YOUR HEAVY EQUIPMENT
You pay for the use of equipment only when you need it. The lower upfront costs make renting the best choice in situations where you need equipment for certain jobs and will likely be making good use of it for the whole rental time.
You don't have to deal with maintenance and breakdowns. As a leader in construction equipment rentals, our nine locations of NMC Rental Services and The Cat Rental Store are quick to remedy any problems you may have with equipment productivity on the job site. We put our equipment through a thorough maintenance routine prior to every rental and are able to dispatch a field technician to your job site quickly, 24 hours a day, to get you working again.
You have the chance to be using the best of construction equipment technology. All equipment rental companies regularly upgrade their inventory to newer models and most recent technology so they can offer the best products to their customers. Some companies will even rent just to see how much they like the newer equipment they're looking at purchasing.
There will be less administrative work related to equipment management. Depending on when and how frequently you rent, you'll have just one invoice and be able to know the actual cost of equipment usage for a job without having to perform extensive calculations of all the costs involved with owning and paying for your own equipment. You also don't have to deal with other fleet management tasks like inspections, transportation and storage of equipment.
The option to rent some operational necessities allows for a reduced start-up capital for new ventures and also allows a company to not have so much capital tied up in equipment.
WHEN RENTING ISN'T A GOOD OPTION
Rentals can last as little or as much time as you need the piece of equipment, but there does come a point when you may want to consider a new equipment purchase or buy used construction equipment.
You may also want to consider the flexibility you'll have to take on jobs without much notice and the reputation you'll build from having your own fleet. It's not a major factor for every business but the more equipment that you have at your disposal the more easily you can adapt to project changes and less you'll have to work with the schedule of another business in order to complete a job.
Renting construction equipment is definitely the right choice in some situations. Depending on your businesses financial standings and financing options available, there may be options that allow your operation to purchase the equipment you need.
FINANCING AND LEASING FACTS
As with most major purchases, you can take advantage of financing and leasing of construction equipment. This includes low-interest equipment loans, lease-to-own programs and flexible terms. When a piece of equipment is getting an over-60% usage rate, you still have other options to consider in order to purchase the equipment without it accepting a major financial strain.
Leasing equipment also has a similar tax situation of renting where the lease payment is an operational expense and no assets are on the books. It's a popular choice to conserve capital and an appropriate alternative to buying. You will also get the flexible option of purchasing, returning or leasing new equipment when the lease term is up.
CONSIDER THE OPTIONS AND CHOOSE WHAT WORKS BEST FOR YOU
To get the clearest picture of what is best for your business you need to take into account what projects you have now and what you foresee your projects to be in the future. This is not an easy task, but projecting your future needs will help you best see what financial impact the choice of buying or renting heavy equipment will have on the health of your company.
You will likely have a mix of equipment that is rented and purchased and you'll find that some pieces of equipment will never be part of your own fleet. Remember that a utilization rate of below 40% is a good renting option and it's the construction equipment that falls between a 40-60% rate that will require a bit more consideration of all the pros and cons and how each option will affect your business. Contact NMC Rental Services today to learn more about our new equipment, used machines and rental options.