>
>
>
Quick Tip Video — Daily Walk-Around Inspections for Cat® Equipment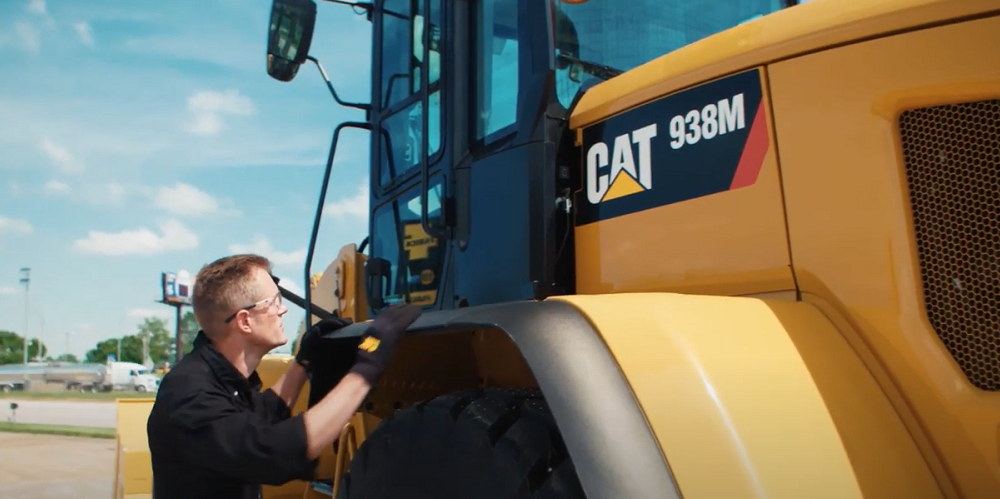 Quick Tip Video — Daily Walk-Around Inspections for Cat® Equipment
Category: Quick Tip Videos
The most important part of equipment operation happens before you get in the machine. Daily walk-around inspections help you control expenses and ensure your safety. By taking the time to inspect your Cat equipment before you use it, you can prevent major breakdowns and safety incidents in the future.
In the quick tip video below, Colin from Caterpillar® explains how to complete a walk-around inspection on a small wheel loader. You can apply these tips to just about any type of equipment by considering the important components of your machine.
Elements of an Equipment Walk-Around Inspection
Perform a walk-around inspection at the start of every shift before you start your machine. Pay attention to the following parts of the equipment during a small wheel loader inspection.
General Condition
When you begin your walk-around, start with the basic components by:
Checking your machine's transmission fluid
Inspecting hoses and couplings — remember not to check hydraulic hoses with your fingers
Looking for loose lug nuts and wear in the driveline area
Lift Arms
Next, inspect the lift arms in equipment that features them by:
Looking for wear in the pin areas and couplers
Checking for loose or leaking hose clamps, lines or fittings
Inspecting greasing tubes for damage
Bucket or Attachment
If your equipment has an attachment, inspect it by:
Making sure the bucket's cutting edge stays square with the ground and has no damage
Looking for cracked welds or unusual wear on the attachment
Examining the cylinder rod and tilt cylinder rod
Wheels and Tires
Give every wheel and tire a thorough look with these inspections:
Reviewing the tires for embedded debris, damage, tread condition and sidewall condition
Checking the tire pressure
Looking at the center articulation area
Engine Compartment
Evaluate your engine compartment with these quick checks:
Examining the radiator and fan housing for damage
Checking the engine dipstick with a white towel — a "bull's eye" appearance on the towel will indicate the presence of fuel
Looking for leaks and damage throughout the whole compartment
Operator Cab
Finally, complete these steps in your cab:
Inspecting and cleaning the external mirrors, interior mirrors, window glass, floor and interior
Testing all indicator lights for function
Checking the fuel level
Reasons to Choose NMC CAT for Equipment Services
Clients throughout Nebraska and parts of Iowa count on their local NMC CAT dealership for:
Comprehensive services: Rely on our network of NMC CAT dealerships for everything you need for your equipment. We offer sales, rentals and service to keep your fleet at maximum productivity.
Expert support from the Caterpillar network: When you buy Cat equipment from one of our dealerships, you'll get all of the amenities associated with Caterpillar. Enjoy benefits such as extended warranties, online parts catalogs and much more.
Dependable support: Call on our team when you need help with your equipment or services. We offer after-hours emergency service at select NMC CAT locations.
Contact Our Team Today
NMC Cat serves Pottawattamie County, Iowa, and all of Nebraska. Discover our products and services by browsing our website or contacting an NMC CAT location near you.