>
>
>
Quick Tip Video — Resetting Your Service Reminder Interval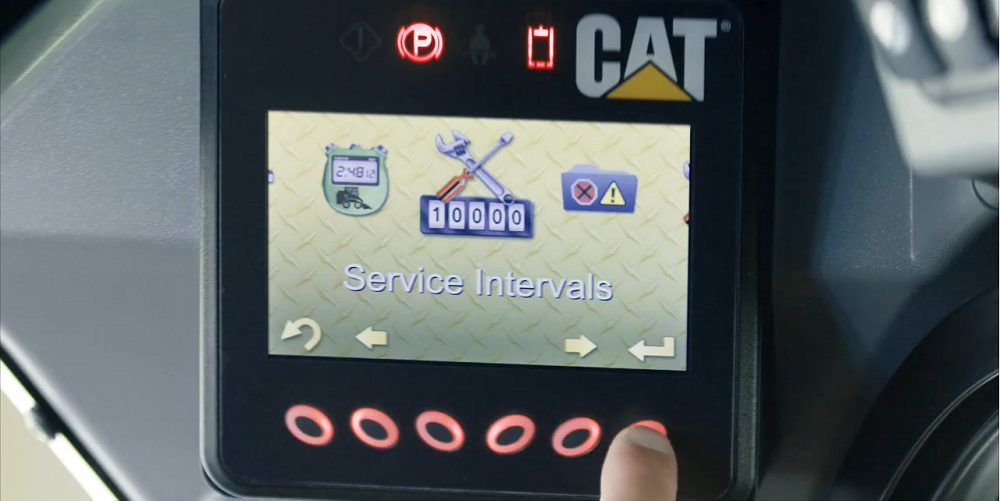 Quick Tip Video — Resetting Your Service Reminder Interval
Category: Quick Tip Videos
As part of their commitment to preventive maintenance, Caterpillar® implements features in many Cat® machines that help with the process. Models like the D Series skid steer loaders come with lights that turn on at recommended service times. This feature will help you get regular preventive maintenance to keep your machine in top condition.
Learn how to reset this light on your Cat D Series skid steer loader in today's quick tip video:
Resetting Your Service Maintenance Interval Light
Follow these steps to reset your D Series skid steer loader's service light:
Visit the maintenance interval screen by pushing the button right under the gear icon.
Use the buttons below the screen's up and down arrows to highlight the serviced component.
Hit the button under "Reset" to reset the service interval.
The Importance of Regular Heavy Equipment Service
Preventive maintenance and regular service will help you extend your equipment's lifespan and improve your return on investment. When you make inspections and maintenance a habit, your fleet benefits from:
Increased safety: When you get regular preventive maintenance on your machines, you create a safer job site for your team members. Properly working equipment will maximize your operators' safety on the job. With a safer working environment, you'll experience the benefits of compliant equipment and healthy employees.
Cost savings: Many expensive repairs begin with small issues. Preventive maintenance involves regular repairs and inspections that catch minor problems before they get bigger. As a result, you'll get to save money on repairs, which you can invest in other ways.
Higher productivity: You can maximize your fleet's productivity with regular preventive maintenance. In exchange for a short period of downtime, you can save the time it would take to perform extensive repairs. Preventive maintenance will also keep your equipment in the best condition possible for better function.
Other Tips for Machine Maintenance
Keep up with your equipment's preventive maintenance recommendations with the following strategies.
Establish a Preventive Maintenance Program
Partner with your service shop to create a preventive maintenance program for every machine in your fleet. A preventive maintenance program can involve inspections, fluid monitoring, remote monitoring and many other services. With the right preventive maintenance schedule, you can minimize downtime for maximum productivity.
Document Your Equipment's Service History
When you get equipment service, make sure to document it as a part of the machine's service history. Many warranties will require you to maintain your equipment in accordance with the manufacturer's recommendations. Keeping a detailed record will ensure that you get the most out of your coverage.
Make Inspections Part of Your Routine
Your team can also take steps on their end to monitor your equipment's condition. Teach your staff how to do daily walk-around inspections so that they can catch any emerging issues early.
Depend on NMC CAT for Equipment Service
Leave your regular maintenance and repairs to the team at NMC CAT. In addition to sales and rentals, we provide shop service for Cat and non-Cat equipment. We serve hardworking businesses in Nebraska and Pottawattamie County, Iowa.
Schedule a maintenance appointment today by contacting an NMC CAT shop near you.