>
>
>
Quick Tip Video — Taking a Fluid Sample From Your Cat® Equipment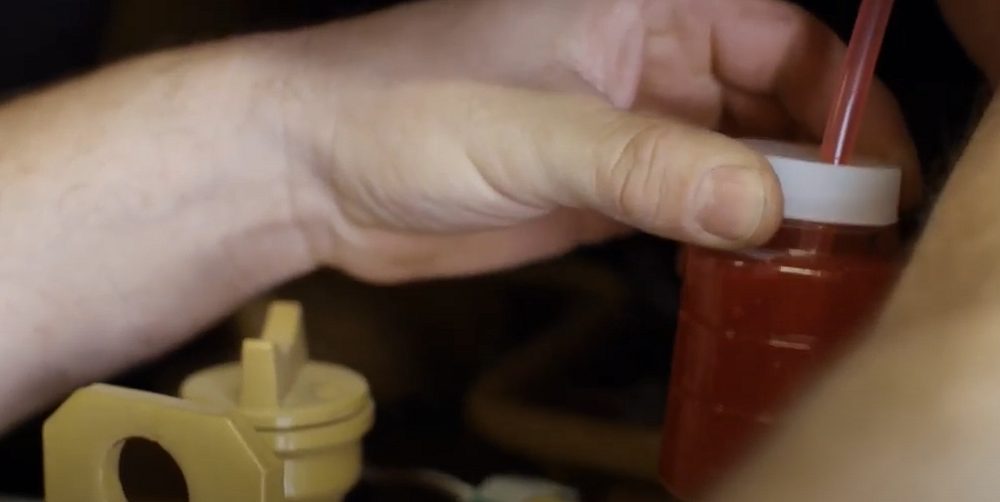 Quick Tip Video — Taking a Fluid Sample From Your Cat® Equipment
Category: Quick Tip Videos
Experts recommend regular fluid sampling as part of a comprehensive preventive maintenance plan. You can ask your sampling service to take the samples, or you can get them yourself. Many operators and owners complete their own sampling for the sake of convenience. By mastering this simple process, you can enjoy more flexibility with your fluid sampling routine.
Get a step-by-step breakdown of the fluid sampling process in this quick tip video:
How to Take a Fluid Sample
As shown in the video, follow these steps to sample fluid from your equipment:
Take off the cap for the fluid compartment you plan to sample
Clean dirt and debris away from the valve
Prepare two sample bottles — keep your last cap in the bag to avoid contamination
Start the machine
Begin with a "clean-out" sample to ensure clear results
Use your second bottle to take the official sample for analysis
Put the clean cap on the second bottle, and label it with your machine number and hours
Send your sample to your fluid analysis lab
Cat S·O·SSM Services
S•O•S Services from Caterpillar® provide an in-depth look at your machine fluid's chemical composition. Our scientists, engineers and product experts will use this data to provide recommendations for maintenance and service. You can request three types of fluid sampling through S·O·S Services.
1. Oil Sampling
Regular oil testing can help you spot small problems that could develop into expensive ones. The S•O•S Services Team can perform oil sampling to evaluate the following aspects of oil condition:
Presence of damaging wear metals
Common contaminants like fuel, water, dirt and glycol
Particle analysis
Moisture and pH
Overall oil condition
2. Coolant Sampling
With almost half of all engine downtime linked to the cooling system, coolant testing becomes more critical than ever. Problems that begin with your coolant can spread to other parts of your system. Let our experts test your machine's coolant for:
Chemical balance
Glycol level and pH
Odor, color and appearance
Presence of magnetic solids
Freeze and boil points
Water quality
Presence of contaminants
3. Diesel Fuel Sampling
Your equipment's fuel quality indicates your system's overall health and impacts its performance. Good fuel quality also contributes to emissions compliance requirements. Our lab performs four types of fuel tests:
Basic fuel check: A basic analysis looks for contaminants and common fuel issues, such as microbe growth.
Fuel monitoring: The fuel monitoring test includes all tests from the basic tier and analyses for color, density and viscosity.
Fuel storage: In addition to including the basic and monitoring analyses, the fuel storage test evaluates stored fuel's condition.
Cold test: During the winter, you can request the cold test to get the first two testing tiers and an analysis of the cold's effect on your fuel.
Fluid Sampling Services From NMC CAT
At NMC CAT, we offer fluid sampling and analysis as part of our preventive maintenance services. Ask us to get a sample or take your own, and we'll send it to our lab. We'll provide detailed data and recommendations to guide your next step in maintenance. Hardworking businesses in Nebraska and Pottawattamie County, Iowa, can get our expert assistance.
Take advantage of these services and more by locating an NMC CAT near you.