>
>
>
Quick Tip Video — Cat® Equipment Engine Compartment Inspection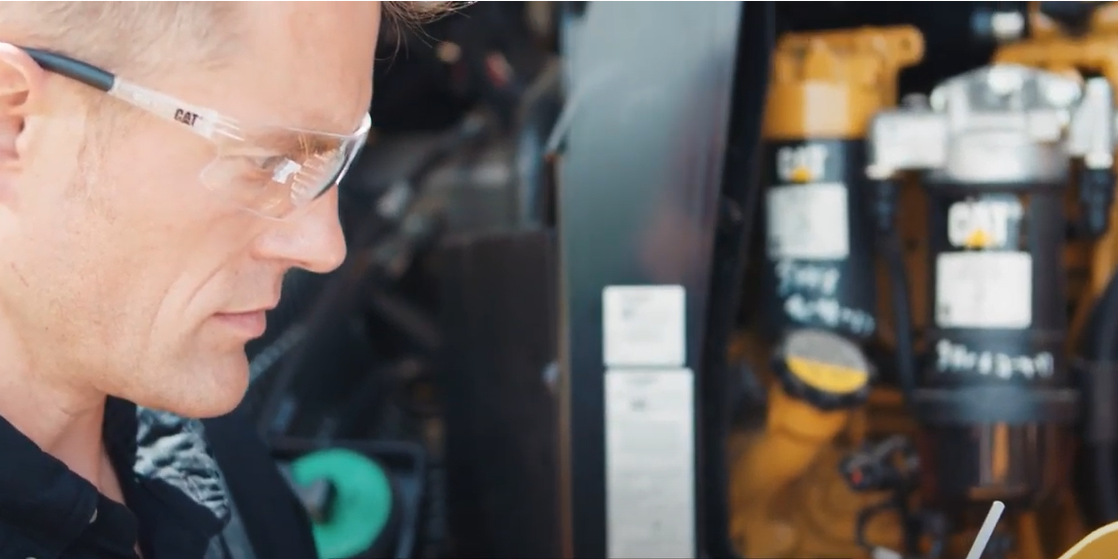 Quick Tip Video — Cat® Equipment Engine Compartment Inspection
Category: Quick Tip Videos
Daily walk-arounds are a critical part of your preventive maintenance routine. During this inspection, you should pay careful attention to your equipment's engine compartment. Use a detailed checklist to examine your machine and its engine component to complete the most thorough walk-around possible.
In the video below, Colin from Caterpillar demonstrates how to perform an engine compartment inspection for a small wheel loader:
Steps for Inspecting Your Machine's Engine Compartment
Make sure your daily walk-around checklist includes a detailed section for your engine compartment. This vital component of your inspection should have steps like the ones below.
Overall Condition Check
Debris, leaks and other engine issues can impact the entire engine compartment. Check your compartment's overall condition with the following steps:
Before opening the compartment, look at the enclosure screens for debris or damage.
Check the entire engine compartment for leaks and debris.
Look under your machine for additional leaks or issues.
Oil Inspection
Just like your car, your heavy equipment needs regular oil checks to stay running in top condition. You can check the engine's oil dipstick by wiping it with a white towel or rag. Many common oil issues come from fuel entering the oil. If your engine's oil contains fuel, it will leave a "bull's eye" pattern on the towel when you wipe the dipstick.
We also recommend sending samples of oil and other engine fluids to a certified testing lab. These facilities will analyze the chemical content of your engine fluids to look for any issues or emerging problems. Clients in Nebraska can send their samples to the NMC Fluid Analysis Lab, the only facility of its kind in the state.
Component Check
Every part in your engine compartment should receive an inspection as you perform your daily walk-around. Examine these components for damage, leaks and wear:
Fuel cooler, charge air cooler and hydraulic oil cooler
Heat exchanger fins
Radiator and fuel cap
Fan enclosure, motor and blades
Hydraulic oil filter
V-belt integrity and tension
Air intake hoses and connections
Turbo and exhaust manifold
Benefits of Engine Preventive Maintenance
Taking care of your engine with preventive maintenance walk-arounds has plenty of perks for your business. You'll get the most out of your equipment investment by:
Increasing job site safety: Properly functioning equipment offers the best safety for your team members. By checking your engine regularly, you can protect your employees from any dangerous issues.
Reselling your equipment for a better value: Daily walk-arounds will help you keep your machine in the best condition possible. As a result, you can get a higher resale value out of it if you decide to sell it.
Preventing small problems from turning into bigger ones: Many times, a major equipment issue starts with a smaller one. Addressing leaks, cracks and other small problems will help you avoid expensive fixes for larger issues.
Contact NMC CAT Today
At NMC Cat, we offer equipment purchases, rentals and service to give your fleet maximum productivity. Learn more about our products and services by contacting a location near you.