>
>
>
Quick Tip Video — Creating a Daily Cab Routine for Your Cat® Machine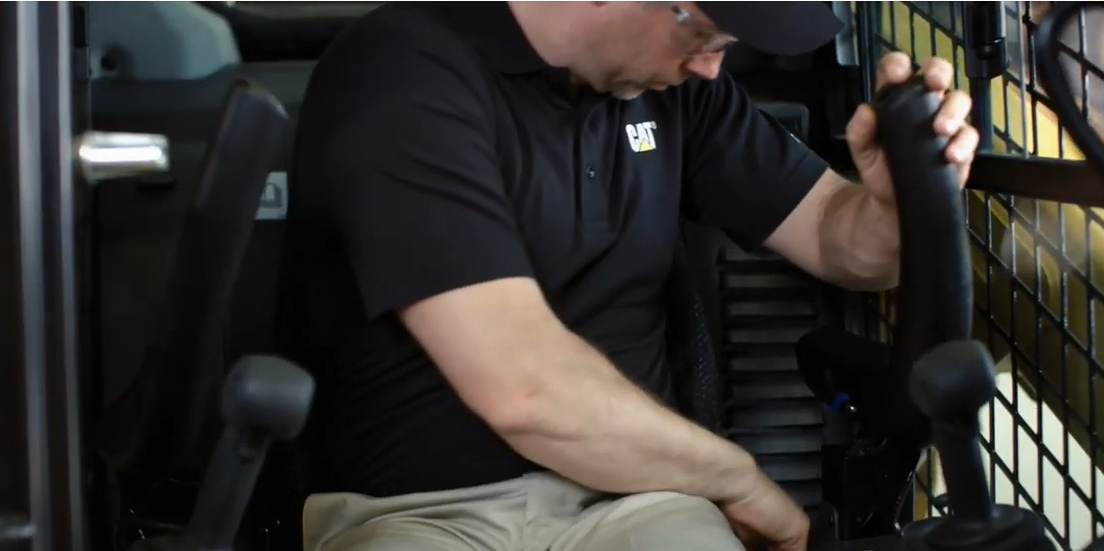 Quick Tip Video — Creating a Daily Cab Routine for Your Cat® Machine
Category: Quick Tip Videos
One of the most important steps of preventive maintenance happens before you even start your equipment. Daily inspection routines help you assess your machine's condition and catch emerging problems. They also improve security on your job site by ensuring safe operation.
Today's quick tip video will show you how to perform a daily cab check as part of your routine:
Your Daily Cab Routine Checklist
Following a detailed inspection checklist before every shift improves operator safety and machine performance. Consider adding these in-cab checks to your daily routine checklist:
Backup camera: Before getting in the cab, check your backup camera. Debris and water droplets can block the picture, so make sure the camera has a clear view. While you complete your in-cab routine, switch to the backup camera on your in-cab display to ensure that it works properly.
Overall cab interior: As you inspect your cab, take note of its general cleanliness. Dirt and debris can build up over time and block certain controls. Check the controls for dirt as well — dirty controls can stop functioning properly.
Seat: Sit down in the operator's chair and make sure you feel comfortable. Adjust the seat so that you can reach the pedals and have a direct line of sight to your attachment and rear-view mirror.
Seat belt and mounting: When you sit down, fasten your seat belt and lower your lap bar. While you secure your seat belt, check it for wear and any damage that could compromise it.
Fire extinguisher: If your cab has a fire extinguisher, make sure it will work during an emergency. Check the charge, and ensure that it has a current inspection tag. Look it over for any signs of damage.
Windows and mirrors: Remember to adjust all of the windows and mirrors in the cab to give you a clear view of your surroundings. Check them for signs of damage as you complete this step.
Horn, backup alarm and lights: Make sure the horn, backup alarm and lights work for safe operation.
In-cab switches, gauges and controls: Ensure that all of the cab's switches, gauges and controls work, and check them for dirt or damage. Adjust your control pods by putting your arms at your sides and raising the pods to their level.
Floor pedals and controls: Test the floor pedals and controls, clearing them of any debris.
Cab air filter: Look for dirt or dust in your cab's air filter. An excess amount or a blockage may mean that you need repairs or a replacement.
Roll-over protection system (ROPS): Inspect the roll-over protection system (ROPS) for structural damage and loose mounting bolts.
Get Help From the Experts at NMC CAT
For more professional advice on Cat equipment, count on the team at NMC CAT. We provide businesses in Nebraska and Pottawattamie County, Iowa, with Cat sales, rentals and service. Our experts can help you develop a daily routine or meet another equipment need.
Get Cat solutions from the best by contacting a location near you.