>
>
>
Quick Tips for Buying New vs. Used Heavy Equipment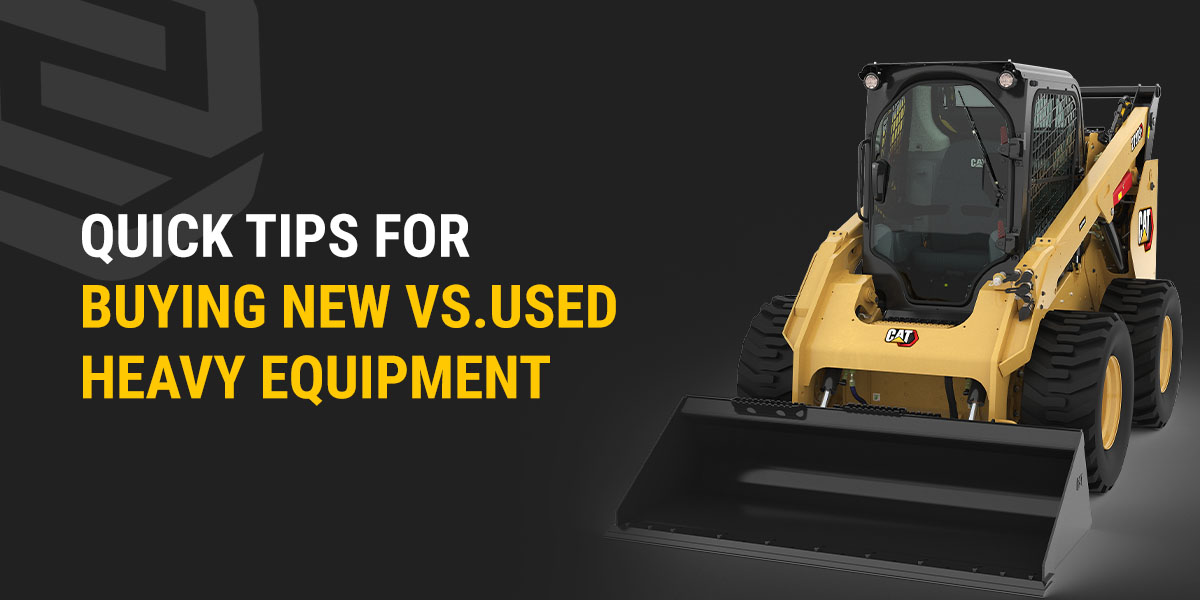 Quick Tips for Buying New vs. Used Heavy Equipment
Category: Equipment and Solutions
Is it time to add a bulldozer, compact track loader, excavator or another type of machine to your equipment fleet? Besides selecting the right model for your needs and budget, you'll need to determine if a new or used product is the better solution.
At NMC Cat, we recognize that there are several factors to consider when choosing between a brand-new or pre-owned model. The following tips can help you decide with more confidence.
What Are the Pros of Purchasing New Equipment?
Buying a brand-new machine fresh off the assembly line or the dealer's lot offers several benefits:
Longevity: Do you plan to use the equipment for many years before selling or replacing it? A top-quality new product should provide long-term service, particularly if you maintain it well and upgrade worn or broken parts as needed.
Reliability: A new product has no wear and tear that could lead to mechanical issues. You'll likely experience worry-free operation with a reduced breakdown risk, especially in the early years of ownership. Your maintenance and repair costs will also be lower.
Advanced technologies: The heavy equipment industry continues to integrate more innovations into its product designs. These features can boost performance, productivity and fuel efficiency while helping you create a safer work environment.
Warranty coverage: Most equipment manufacturers offer comprehensive warranties with their products. You'll have more peace of mind knowing that if something goes wrong, you probably won't have to pay for it out of your pocket.
Employee satisfaction: Equipment operators typically prefer to use the newest and most capable models on the market. These releases contain features that make them more comfortable and the machine easier to maneuver. Workers also appreciate that you're providing the most advanced products that allow them to do their jobs more safely and effectively.
What Are the Cons of Purchasing New Equipment?
Buying new machines does have some disadvantages:
Higher price: A brand-new model will cost more than a similar used product. For many companies, the extra expense could place the model beyond their budget. Financing can make the purchase more affordable, assuming the business is willing to take on the debt.
Depreciation: Just like a brand-new car, a new piece of heavy equipment begins to depreciate the moment it leaves the dealer's lot. The resale value will drop quickly in the first few years of ownership, making it harder to maximize your return on investment if you decide to sell early.
Potential wait: The new product you desire may not be available when you're ready to buy. Backlogs at the factory can occur, and if you want a lot of options, you might have to wait until the manufacturer can add them. Shipping and supply chain delays can also prevent you from getting the model when you want it.
Longer learning curve: Although your operators may enjoy using the latest equipment, all the extra features and technology can require additional time and training to get familiar and comfortable with it. You may experience decreased productivity and higher accident risks in the short term.
What Are the Pros of Purchasing Used Equipment?
Do the drawbacks of buying new equipment outweigh the benefits for your business? A used machine could provide a suitable alternative in several ways:
Lower upfront cost: The reduced price can make a used machine attractive to buyers with limited funds. Even a late-model piece of equipment could cost thousands of dollars less than a comparable new product. You can use the money you'll save to invest in other areas of your business.
Reduced depreciation hit: While heavy equipment continues to depreciate as it ages, the most significant loss in value occurs in the early years. You can purchase a relatively new machine after the previous owner absorbs the bulk of the value drop.
More extensive selection: Most heavy equipment manufacturers may only introduce a handful of new models each year. Depending on your needs, finding what you're looking for in this limited selection might be challenging. On the other hand, you can find a heavier volume of all types of used models, ranging from almost new to more seasoned equipment, making it easier to locate the perfect match.
Immediate availability: If you need a bulldozer, motor grader or skid steer loader quickly, used equipment is typically ready to purchase and use right away. You won't have to wait for it to arrive at the dealership or for the manufacturer to make modifications.
What Are the Cons of Purchasing Used Equipment?
Used equipment can also present some disadvantages:
Uncertain condition: You don't always know what you're getting when purchasing a used machine, especially if it's an older model with several previous owners. It's important to obtain a detailed service and maintenance history and, if possible, have an experienced technician conduct a thorough inspection. If you're buying online, research the seller to ensure it's a reputable business.
Lengthy search process: Although used equipment is ready to buy, it could take some time to find the right machine. You may need to contact several dealers or conduct an extensive online search process.
Antiquated technology: If you prefer equipment with the latest features and technological innovations, used products might not be the best fit. Older models with limited features could minimize job site productivity and efficiency, putting your business at a competitive disadvantage.
Limited or no warranty coverage: Used equipment may have an expired manufacturer's warranty, which means you're on the hook for all repairs. If this protection is essential to your business, you'll need to find a dealer that offers certified used equipment with warranty coverage.
Get Help Deciding Between New and Used Equipment
If you're in Nebraska or Pottawattamie County, Iowa, the experts at NMC Cat can help you determine if new or used equipment is the better option for your business. We also offer an extensive selection of brand-new and high-quality used Cat® products to meet your needs and fit your budget.
Contact us to learn more today.