>
>
>
Benefits of Regular Battery Maintenance and Replacement for Heavy Equipment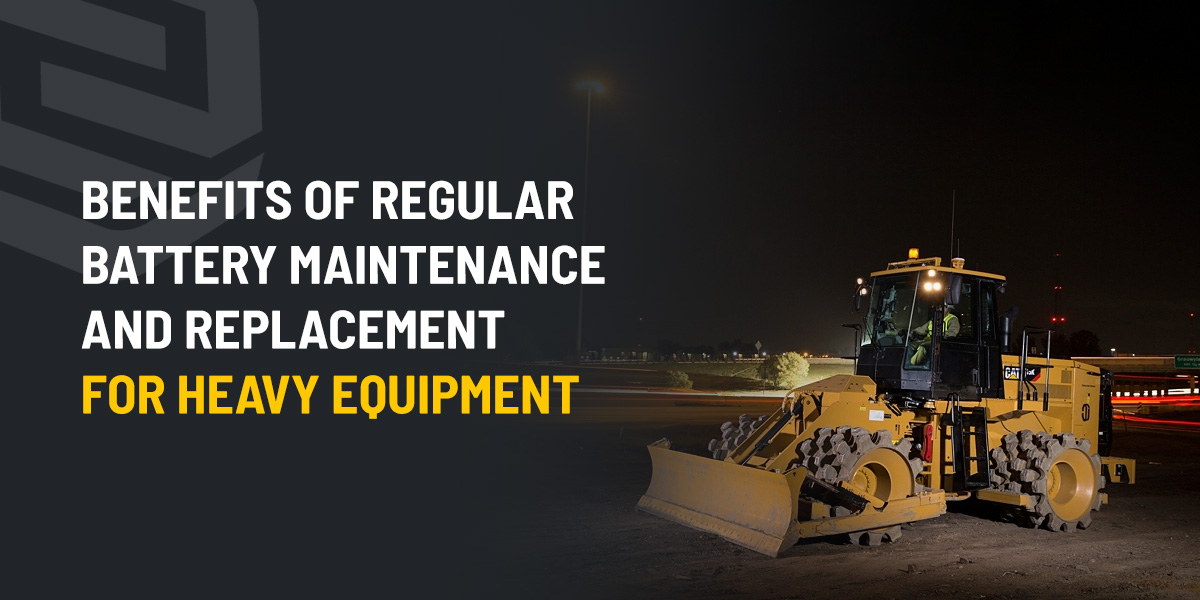 Benefits of Regular Battery Maintenance and Replacement for Heavy Equipment
Category: Equipment and Solutions
Cat® heavy equipment is legendary for its reliability, and with the right maintenance measures, it's an investment that can last for decades. Maintaining and replacing batteries when necessary is essential to reaching that level of longevity.
With a few simple maintenance protocols, you can keep your genuine Cat batteries in good condition and ensure your equipment always has the power it needs.
How Batteries Are Used in Your Cat® Equipment
The battery is what starts your Cat equipment's engine and powers its electrical systems by converting chemical energy into electrical energy.
A battery keeps your machinery reliable — if you take care of it. Since the battery is what allows your equipment to burn fuel for power, you'll want to perform regular maintenance or replacement to ensure it's always ready to fire up your engine.
What Can Happen if You Don't Maintain Your Heavy Equipment Batteries?
If you don't maintain your batteries, you might go to start up your equipment one day and find that nothing happens. This common scenario can cost you a great deal of downtime and expense. Uptime and productivity are essential to your business operations, making it extremely important to take care of your heavy equipment batteries.
Basics for Taking Care of Your Batteries
In establishing a maintenance routine, start by inspecting the battery box frequently. When you open it up, take time to clean up any corrosion, tighten terminals that have come loose, and clear away dust or dirt from the battery. You may also need to tighten the hold-downs.
Cleaning the battery is simple, done with either baking soda and water or ammonia and water. Remove the solution and rinse the battery with clean water when you're done. You might also consider hiring a professional to perform a battery inspection along with other routine maintenance procedures.
Why Using Genuine Cat Batteries Is Important
Having genuine Cat batteries for your heavy equipment is beneficial for numerous reasons, including:
Starting output: Cat batteries are designed to give you a higher starting output for your heavy equipment.
Vibration resistance: These genuine batteries have a greater resistance to vibration than a standard battery.
Work in any weather: Cat batteries are designed to perform even in extreme conditions.
Sticking with genuine Cat batteries and maintaining them properly will help you get the best performance from your equipment.
Contact NMC Cat to Learn More About Genuine Cat Batteries
Caring for your Cat equipment's batteries will help ensure your equipment is always ready to go when you need it, letting you maintain productivity and save time and money.
For more information about our maintenance services or heavy equipment batteries from Caterpillar, contact NMC Cat today!