>
>
>
Cat® Smart Attachments Help You Work Smarter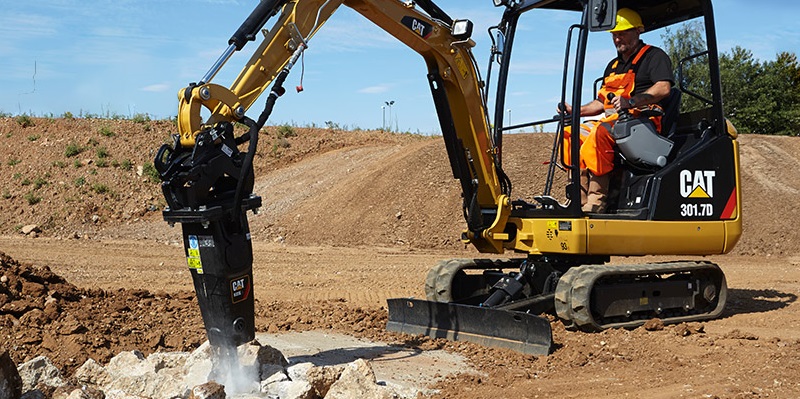 Cat® Smart Attachments Help You Work Smarter
Category: Equipment and Solutions
Cat® Smart attachments are an innovative new way to add more versatility to your D3-Series skid steer or compact track loader.
How Cat Smart Attachments Work
These tools feature a plug-and-play design, meaning the D3 recognizes and pairs with the attachment once you connect it. The technology automatically reconfigures your existing joystick, allowing full functionality from the familiar in-cab controls. Plus, it unlocks new display screens for controlling and setting attachment features.
3 Cat Smart Attachments for Working Smarter
Caterpillar has introduced three intelligent attachments to make your workhorses more valuable to your construction projects.
1. Smart Dozer Blade
The Cat Smart Dozer blade simplifies moving, cutting and grading base materials. Once connected, the operator chooses machine (standard operation) or attachment control modes on the display screen. Switching to attachment control mode adapts the right joystick to tilt and angle the blade to achieve greater precision.
Blade slope and main fall assist features help operators create flat slopes and smoother grades in fewer passes. Plus, memory recall and return-to-zero commands reduce setup and attachment changing times for increased productivity.
2. Smart Grader Blade
Grade, cut and move your base material with the cross-slope action available in the Cat Smart grader blade. Three separate push-button modes make it easy to achieve precise positioning, including mirror, memory and recall. You can also return to the zero position with a simple click.
Once the blade is engaged, the operator uses the in-cab right joystick to manipulate it and activate the blade assist. This innovative feature helps maintain the setting on slopes for confident operation and consistent results. Optional side wings increase the unit's versatility by giving you extra edge control and material-carrying capabilities similar to box blades.
3. Smart Backhoe
The Cat Smart Backhoe brings safer cab-friendly operation to your D3-series equipment — no more sitting outside or removing the door to accommodate an attachment. With a 10 ½-foot digging depth and protected hydraulics system, you're prepared to take on demanding tasks with confidence in your equipment's reliability. Control panel choices let you set the right mode with backhoe or excavator operation patterns.
Best of all, the Cat Smart Backhoe integrates with numerous mini excavator tools to help you make the most of your investments. Pair it with your hammers, augers, buckets and others to do more in less time.
Upgrade Your Fleet With Cat Smart and NMC Cat
Our team has been Nebraska and western Iowa's choice for Cat equipment and expertise for over 80 years. If you're ready to take the next step with a Cat Smart attachment, we're here to help you do it.
Visit our convenient locations, browse our inventory of new, used and rental equipment online, or reach out for more information.