>
>
>
A Guide to Compact Equipment Attachments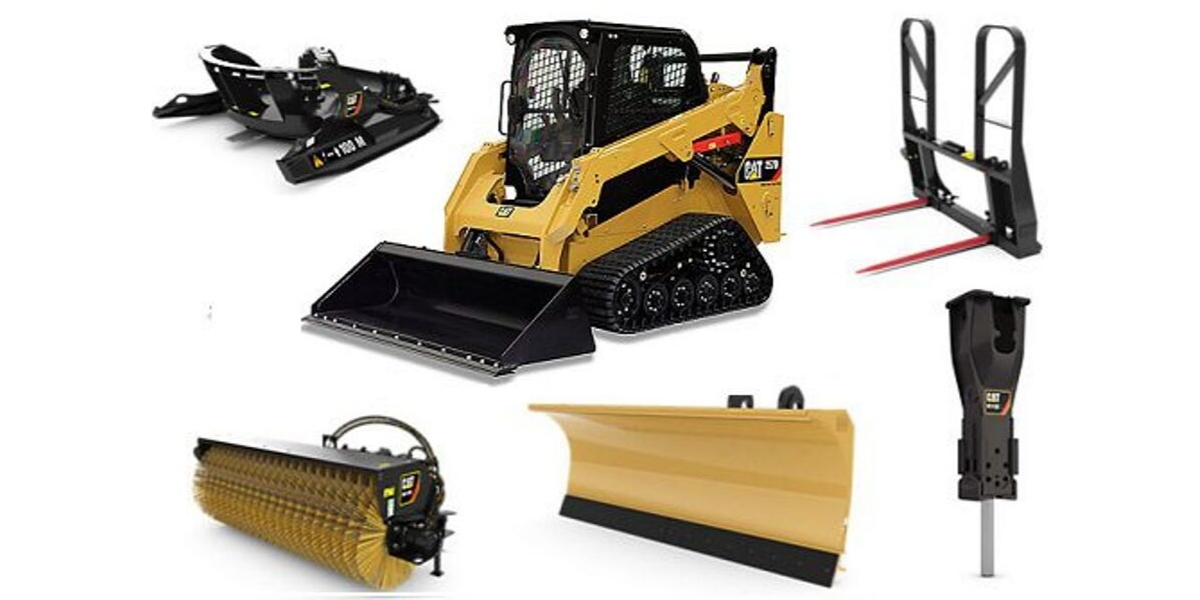 A Guide to Compact Equipment Attachments
Category: Equipment and Solutions
The key component of succeeding with any fleet of heavy equipment is to get the most out of your machines.
Whether you have a mixture of telehandlers, skid steer loaders and dozers or a single type of engine, implementing various tools and attachments can expand your resources from one-dimensional pieces into multipurpose and adaptable machines.
Cat® equipment attachment solutions often eliminate the need to purchase additional machines. Tools and attachments can make your fleet more versatile, as you can adjust each piece to accommodate changing applications on many different sites. If you are digging with a backhoe one day and transporting materials via a fork the next, you can diversify one machine to perform the task of many.
What We Offer at NMC CAT
Equipment with attachments can enhance your business' productivity. The solutions NMC CAT provides also boost the utility of your Caterpillar® machines by delivering total system solutions. Attachments even create opportunities for winter work you may otherwise overlook.
At NMC CAT, we serve a range of industries that rely on work tools and attachments, including:
Agriculture
Construction
Landscaping
Mining
Power plants
Waste
We also supply accessories for many pieces of equipment, such as:
Backhoe loaders
Dozers
Excavators
Skid steer loaders
Multi-terrain and compact track loaders
Motor graders
Telehandlers
Track and wheel loaders
As an example, an excavator isn't only for digging. You can apply a grapple attachment for clearing debris, a breaker for demolishing material, an auger for utility installations or a trenching bucket for digging a foundation. Instead of using it for a single task, you can accommodate more projects. By installing tools for specific tasks at hand, you can increase productivity and save time and money, versus adding other machines to your fleet.
NMC CAT has an inventory of attachments such as:
Blades
Buckets
Couplers
Forks
Grapples
Saws
Tillers
Truss booms
Trenchers
Brroms
Brushcutters
Expert engineers at Cat balance and test their equipment add-ons to parallel Cat models. Their products yield optimal performance and minimal stress on machines allowing for increased versatility and overall lifecycle of your machines.
Examples of Attachments by Equipment Type
For each piece of machinery you have in your fleet, you can apply a variety of tool attachments to fit your job requirements.  Equipment examples, as well as attachments you can use for each include skid steer loaders, backhoes and telehandlers.

Caterpillar Skid Steer Attachment Uses
A skid steer loader is one of the handiest and most flexible pieces of machinery that uses a series of mechanical and hydraulic powered parts. The compact engines are maneuverable, but the wheels don't have the same steering devices as other equipment. Instead, skid steer wheels are fixed in a straight line that is relative to the machine's body. When an operator turns the right and left wheels at alternating speeds, the skid steer loader skids across the ground.
With a range of operating capacities, skid steers' rigid frame and sturdy wheel bearings prevent the skidding motion from damaging the engine and other crucial parts. Skid steer attachments from Cat generate maximum safety and performance features and deliver an increase in productivity. Accessories permit flexibility and efficiency, and workers can change out tools fast with a Cat quick coupler method.
The structure has physical engagement and disengagement components by using two handles. As another option, if an operator uses an electric quick coupler, they can adjust their skid steer attachments without exiting the cab.
At NMC CAT, we have an inventory of skid steer loader attachments such as:
Backhoes
Brooms
Stump grinders
An auger is a tool that can drill holes in different materials such as wood, dirt or gravel. If you apply a mulcher, it can help you cut and clear away brush and other vegetation. Attaching a trencher will equip your skid steer loader to dig trenches if you're laying pipes or installing a drainage system. These examples show you how diverse skid steer loaders can be with the proper work tools.
Cat Backhoe Attachments
Equipped with a boom, stick and bucket, backhoes pull materials back toward the machine and can rotate 200 degrees. With a digging bucket at the rear, backhoes can also perform with attachments such as:
Brooms
Augers
Compactors
Hammers
Couplers
Rippers
Thumbs
Snow plows
Snow pushers
The hammer attachment installed on a backhoe can break up material with ease for any quarry, demolition or construction project. If you choose to apply a ripper to your equipment, it can tear through the earth — especially frozen ground.
Attachments and tools from NMC CAT give you the ability to be more productive at each jobsite and allow for higher efficiency and flexibility. Built for superior performance and safety, Cat add-ons can improve the workability of your backhoes.

Caterpillar Telehandler Attachments
Telehandlers  have a telescopic boom that acts more like crane than a forklift. The machine can extend materials forward and upward. NMC CAT supplies buckets and material handling arms for telehandlers. Our buckets include:
General purpose
Light material
Multi-purpose
Attaching a grapple bucket to your telehandler can allow for picking up logs, debris and other hard-to-lift items if you want to move them away from your construction site. A multi-purpose bucket is a tool that can help with clamping, leveling, material handling and even grading for whatever project you have.
Material handling arms come in compact products or loaders, and all attachments provide excellent performance standards and maximum safety measures. Add-ons create machines that are more productive and enhance your operators' options and proficiency on the job.
Can You Use Cat Attachments on Different Models and Makes?
While Caterpillar designs and manufactures attachments for Cat machines, you can use their add-ons with competitive brand equipment. Whether your engine has a powered quick coupler or manual coupler, you can attach various tools to different makes and models. Equipped for a variety of tasks and operating requirements, Cat equipment attachment solutions reach far beyond the brand name.
How your machine attaches tools determines whether something is compatible. It's also vital to be aware of the size of your equipment versus the dimensions of your attachments. For example, compact machines will require smaller work tools compared to full-sized ones.
How to Safely Attach and Detach Your Compact Equipment Add-Ons
Safety in the workplace is critical, no matter the industry. Before handling any heavy equipment operations, make sure you adhere to proper safety measures and to check your machine's operation and maintenance manual. Having full knowledge about your engine will keep you and your co-workers safe on any job.
Attaching and detaching your Cat equipment add-ons is a simple task, especially if it's equipped with a powered quick coupler. An electric quick coupler is a device that offers the simple connection of attachments, often while an operator remains in the cab. The hydraulic mechanism connects accessories to your heavy machinery, which results in quicker switch-out times and can accommodate various manufacturers' attachments.
You will no longer need to use hammers to drive in attachment pins physically. While a powered quick coupler sits on the outer end of your equipment for rapid exchange, they don't perform any digging themselves, but are part of the system. Operators can mount them using the same pins they use for buckets and other add-ons.
Refer to the following steps on how to safely attach your construction equipment add-ons from Cat.
Tilt your powered quick coupler forward and drive into your preferred work tool slowly.
Lift and tilt the coupler and work tool back to seat the device into position.
Press and hold the quick coupler button inside the cab of your machine to engage the pins.
If you have a manual quick coupler, you will need to exit the machine and manually engage the bolts by hand.
To make sure your work tool add-on is secure, tilt the tool down and put pressure on it until the machine lifts about six inches off the ground.
Drag it across the surface to make sure no movement is present between the coupler and work tool.
You can also visually check to make sure the pins are in place.
If you are engaging a hydro-mechanical work tool, you will need to connect the hydraulic lines from the work tool attachment to the auxiliary hydraulic connectors. Follow the next few steps for proper installation.
Clean the connectors before hooking them up to get rid of any dirt, debris or other contaminants.
Round the standard flow lines through the hose guide, which is often located on the left lift arm.
Check your operation and maintenance manual to see the proper routing for each type of equipment attachment.
Connect and release the system's pressure stored in the hydraulic lines.
If your machine has connected under pressure-style couplings, make sure to push the connections on the work tool together.
Disconnecting a hydro-mechanical attachment adheres to the following procedure.
Release any pressure stored in hydraulic lines.
For machines that connect under pressure-style couplings, push the coupling in for about five seconds to release tension.
Take the hydraulic lines out of the hose guide and connect your work tool lines to each other to reduce the risk of contamination and unnecessary pressure buildup.
Disengage the coupler pins manually, or use the switch in your cab.
As the final step, back your machine away from the attachment by tilting the coupler assembly forward. Do so until the top of the coupler clears the angled work tool plate.

How To Store and Maintain Your Equipment Attachments
Storing and maintaining your heavy equipment attachments is similar to the process you take with your machines. To begin, you will want to form a regular maintenance schedule program like you would for your construction equipment. Maintenance programs help protect the investment on your attachments and enable you to avoid significant and costly repairs in the future.
Having a schedule set in place is also vital to ensure you receive the most on your return on investment and increase production in the long run. Unsuspected breakdowns can cause downtime, delay projects and cost your company money, so it's crucial to check your equipment and attachments daily as well.
You and your workers can look for issues like fluid levels, tire inflation and leaks in fluid lines. But particularly for machine attachments, keep an eye out for loose or cracked teeth, worn-out bushings, blades and pins, unusable zerk fittings, bad hoses and leaking hydraulic cylinders.
If you notice any irregularities, be sure to schedule all your repairs in advance. That way you can work around the machine's downtime and avoid lost productivity. If your equipment also experiences harsh environments, checking for specific malfunctions more often can prevent more severe problems. When you observe each machine at the end of the day, clean your attachments and machines to make sure they are free of dirt and debris. Inspections will help extend your equipment's life and prevent corrosion.
Are you wondering how to store your heavy equipment attachments? Again, similar to taking care of your engine, you will want to place your add-ons in a secure and dry location. Keeping your Cat attachments protected from the elements will help reduce the risk of corrosion, rust and degradation. Keep your parts covered and keep them away from moisture and direct sunlight.

Why Cat Attachments Are Superior Compared to Other Brand Names
As a machinery manufacturer for almost 100 years, Caterpillar upholds a reputation like no other. They are an industry leader in heavy equipment performance, and are the preferred brand for professionals across dozens of industries.
Cat helps you enhance every aspect of your operation, and it shows even more so with their line of heavy equipment attachments. While the value and quality are evident with every piece of machinery they manufacture, it's primarily illustrated throughout time and ownership. Cat attachments tailor your Cat machines to specific requirements, and you can rely on their designs to last long-term through rigorous tasks.
Several benefits of implementing Cat compact construction attachments include:
Harnessing your equipment's hydraulic capability
Improving productivity
Increasing ROI
Leveraging your machine's maximum performance
Maintaining safe operations
Reducing downtime
Working faster and more efficiently
Cat attachments give you an incredible competitive advantage because your one type of machine now performs dozens of tasks without you having to buy a new engine for each job. Caterpillar machines and add-ons retain their value and are always in high demand, so you can receive more when you sell, which also lowers your cost of ownership.
Reliable and economical to run, each Cat machine and attachment is backed by the Global Dealer Network, which is recognized as the best in the world for services, parts and equipment. Cat develops and refines advanced technologies to improve safety in the workplace and boost operator performance. Engineered with full capacities proportionate to construction equipment, Cat attachments offer greater balance and efficiency. They help keep your projects on time and within budget.
NMC CAT Has All Your Attachment Solutions
If you are looking to take full advantage of your fleet by employing construction equipment attachments, NMC CAT experts are here to help throughout the process. With our extensive knowledge and trained professionals, we can assist you in determining the machine add-ons that best suit your industry and projects.
Contact an NMC representative if you have further questions or if you need support in finding the ideal solution. You can also request a free estimate if you know what you're looking for or call us at 800-628-6025.