>
>
>
The Benefits of the Cat® App and How to Register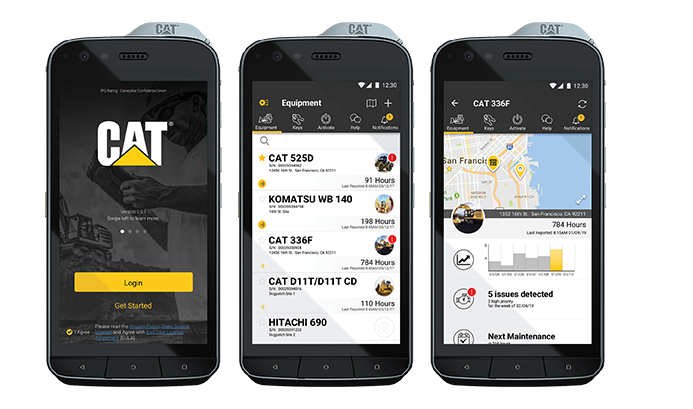 The Benefits of the Cat® App and How to Register
Category: Equipment and Solutions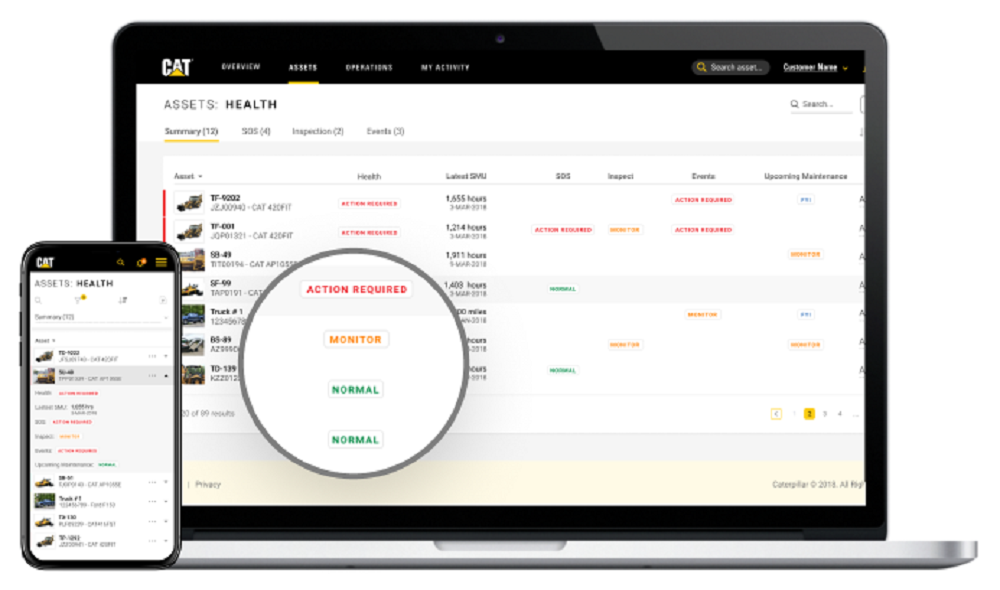 The Cat® App helps you stay on top of all your Cat equipment information, right from your iOS and Android devices. Whether you need to track your fleet information, manage rental machinery or organize contract, warranty and invoice details, this easy-to-use app does it all.
With the Cat App, you can react to machine alerts faster and maximize your uptime. The app provides live access to data and actionable insights about your fleet. Learn more about the app's additional benefits and how to register so you can get started using it today.
What the Cat App Does for You
The Cat App is a convenient tool for the navigation and optimization of your account information, equipment and services. Once you download the app on your device, you'll have access to a range of information and capabilities that make your job easier. Designed to be a simple, easy-to-use telematics tool, the app allows you to:
Track your fleet, asset hours and fuel levels
Request service from your Cat dealer
Review the health of equipment
Monitor fleet maintenance
These are some of the main functions of the My.Cat.Com online platform, but it can be hard to access that information when you're in the field. The Cat App is a mobile-friendly solution that you can access from any location, whenever you're on the go.
Additional Benefits of the Cat App
The Cat App was designed to be your on-the-go service partner. Whatever you need, the Cat App can help you or make it easy to get in touch with your local Cat dealer. If you're renting equipment, you can easily manage your rental fleet from the app and review important information like contract invoice details. You can also request call-offs on maintenance, extensions on rentals, work tools and more.
Another exciting feature is the Secure Start tool. No need to go out in the cold and start your machine up. Whenever you need to start your Next Generation Cat equipment, open the Cat App and use your Operator ID to turn the machine on. You also have access to other productivity tools and resources, like the Operation & Maintenance Manuals.
Take advantage of the many other benefits of the Cat App, including:
Health and maintenance alerts
Access to equipment and Equipment Protection Plan (EPP) history
Request ProductLink™ to self-install
Analyze current work orders and efficiency of machinery
How to Register for the Cat App
To register for the Cat App, you first need to have an account with My.Cat.Com (MCC). MCC is an online client portal that gives you access to your equipment information and resources to keep operations running smoothly. This account also gives you access to Cat.com, Parts.Cat.com, Service Information System (SIS) and VisionLink®. If you don't have an account, register on the My.Cat.Com website. It's free, and your MCC account lets you begin organizing services with your dealer.
To qualify for an MCC account, you must fill out some information about your company and equipment. Once your local Cat dealer verifies your account, you can access data and start handling your equipment's maintenance as well as other details. After account verification, you can download the Cat App for free from the Google Play Store or the App Store.
Download the Cat App Today and Connect With NMC Cat
While the MCC client portal organizes your fleet maintenance information, documents and other services, you need easy access to this data and information when you're on the go. The Cat App helps you save money and keep your equipment up and running, right from your device. This convenient app includes many of the MCC tools while making it easier to track your fleet and get real-time access to data and insights.
Whether you need to delay maintenance on a machine, review your warranty or EPP or want to order parts, the Cat App helps you get the job done. Get access to all the resources and services you need at any moment, whether you're in the office or at a job site. Simply download the app for free on your phone, tablet or computer.
If you want more information about the Cat App and how you can use it to optimize your fleet management processes, contact NMC Cat. Call us at (800) 628-6025 or reach out online today.