>
>
>
A Guide to Construction Site Safety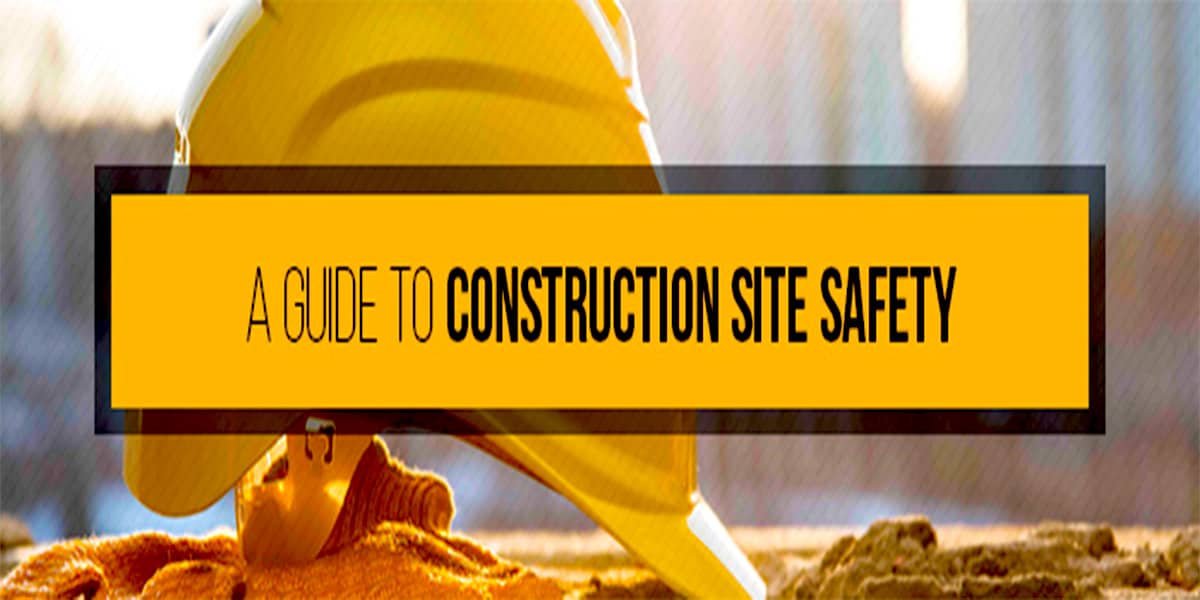 A Guide to Construction Site Safety
Category: Equipment and Solutions
Spring and summer are the busiest times of year for construction contractors and laborers. With packed schedules and project deadlines to meet, safety might not always be at the forefront of workers' minds. Although construction work can be a lucrative business, the industry also involves some of the most dangerous occupations out there.
If you own a construction business or work in the field, you know the value of safety on construction sites. According to the Occupational Safety and Health Administration (OSHA), one in five worker fatalities were in construction in 2016, with falls being the leading cause of death. A list of the most common causes of death in the construction industry, known as the "fatal four" include:
Falls
Struck by an object
Electrocutions
Caught in or caught between equipment, structures or other objects
According to OSHA, eliminating the fatal four would save 631 lives every year. For this reason alone, safety should always be a number one priority in the construction site.
Safety is not just about saving lives or preventing injuries. When workers feel safe, they also feel appreciated. There are many benefits to promoting a safe work environment, including:
Improved morale
Better image and reputation
Higher employee retention rate
Increased production and quality
Higher profits
With fewer work-related injuries, you'll spend less money replacing injured workers and training new employees. You'll also save potentially thousands of dollars you'd otherwise lose with downtime. For workers' health and happiness, and business success as a whole, safety should always be the prime concern.
What can you do as a leader to keep yourself and your workers safe? Fortunately, safe practices mostly require common sense. However, it's still important to make sure all employees are aware of potential hazards, know the rules and are properly trained. You should never assume your workers know how to act in emergency situations. Safety training needs to be an ongoing occurrence for all employees, including management.
In this guide, we'll look at construction site safety tips as well as some construction safety rules to help you gain control of your fleet and reach your goals with peace of mind.
1. Know the Rules
Make sure all supervisors and workers know construction site safety rules and regulations set by OSHA and have access to safety materials at all times.

Employees might take OSHA for granted, but OSHA exists to protect them and you from harm and liability lawsuits. Since 1971, OSHA has drastically improved the health and safety of American workers. OSHA estimates about 14,000 workers died on the job in 1970. That number dropped to around 4,340 in 2009. Under the OSH law, employers are required to:
Provide a workplace free from serious hazards
Comply with standards, rules and regulations issued under the OSH Act
Inspect workplace conditions to make sure they are OSHA-compliant
Ensure employees have safe and properly-maintained equipment and tools to use
Establish or update operating procedures and communicate them to employees
Provide safety training in a language employees can understand
Inform employees of their rights and responsibilities according to OSHA
Keep a record of all work-related injuries and illnesses
Not discriminate against employees who use their rights
To avoid a lawsuit or fines and keep workers safe, employers need to follow OSHA rules and regulations.
OSHA established safety rules to decrease fatal-four-incidents and other serious injuries. For example, to help workers avoid potentially fatal falls, OSHA developed the following rules for any worker working on any surface, whether that be a ladder, scaffold or roof:
Any employee working on a surface with an unprotected side or edge and which is six feet or more above a lower level must be protected from a fall by a guardrail, safety net or personal fall arrest system.
Employees must be protected from falling into holes that are six feet or more deep with the use of guardrails, covers or fall arrest systems.
OSHA has also set excavation requirements — important for bulldozer operators and surrounding laborers to consider. For example:
Employees are not permitted underneath loads handled by digging or lifting equipment.
Employees must not stand near any equipment being loaded or unloaded to avoid being struck by an object.
A competent person must perform a daily inspection of the excavation site.
All employees need to aware of OSHA's construction site regulations, not only for their own safety but the safety of others. For a complete list of OSHA construction regulations, visit their site at osha.gov.
2. Ensure Proper Training
Imagine hiring a grocery store clerk to dig a trench with an excavator without training them first — there are endless things that could go wrong. Proper training is critical when it comes to safety. All employees, no matter how much experience they have, should undergo periodic safety training.
New employees, in particular, require special attention. It is hard to tell how much a new employee knows without seeing them in action first. To avoid the risk of injury, make sure they have proper guidance until they can perform tasks safely on their own. The Associated General Contractors (AGC) of America recommends taking the following steps for new employees:
Establish a buddy system: New employees should be assigned a buddy to guide them through orientation and the first 30 days of employment. After 30 days, you should evaluate the new hire for their understanding of the job and related safety measures. If the new employee can safely perform the tasks, then they are ready to work alone. If not, the safety buddy will need to continue to work with them until they are ready.
Have a safety orientation for all new employees: All new employees, whether temporary or permanent, should be required to complete a safety orientation before working on the site. The safety orientation should be separate from the general orientation. During the safety orientation, new hires should learn how to identify potential hazards. They should also learn safety rules, regulations and company procedures.
All employees, including supervisors, should be required to participate in ongoing safety training. The AGC of America provides the following tips:
Ensure proper leadership skills: Managers play a vital role in making sure workers follow safety rules and procedures. They also influence an employee's decision to speak up. Supervisors should encourage workers to let them know of any potential hazards. Employees should never feel afraid to point something out that puts their safety at risk. All management should be trained in effective communication and leadership skills from the get-go. Also, it's important they know their responsibilities under OSHA.
Teach hazard analysis: Supervisors should be separately trained to identify pre-task hazards and learn how to help workers operate equipment safely.
Hold monthly safety training programs: Safety training needs to be a part of the company culture for all employees. Hold 30-minute safety "lunch and learns" monthly, where workers and supervisors listen to an expert craftsperson discuss construction site safety topics. Hearing real-life stories is more effective than watching a video or reading a pamphlet.
Consider language: Make sure safety training materials are in a language all employees can understand. If not, create new manuals in other languages to ensure all workers are on the same page.
Train your trainers: Being a trainer requires strong communication skills. Teach trainers how to be effective teachers. Great trainers ensure employees do not just memorize safety rules but fully understand safety. Trainers should know they set the example and should behave in ways that do not contradict what they teach.
3. Perform Regular Maintenance and Inspection
Heavy equipment undergoes a lot of wear and tear from both regular use and weather conditions. It's important to stay on top of maintenance schedules and inspect equipment before use every day. The entire work site needs to be inspected daily for safety hazards.
To develop a maintenance and inspection plan, follow these steps:
Choose an inspector: Designate a competent person to conduct regular inspection of the job site and equipment. Encourage workers to discuss potential hazards or any equipment malfunction or damage.
Regularly inspect all equipment: Every day before using equipment, inspectors should check brakes, tires, fluids and more on all pieces of construction equipment and transportation vehicles to ensure things are running properly and lower the risk of accidents or equipment failure. Any equipment that needs repairs or maintenance should be off limits until the repair is made.
Look for common hazards: Inspectors should use a checklist to look for common worksite hazards such as slip or fall hazards, electrical hazards, equipment operation hazards and fire hazards. Inspectors and supervisors need to also consider lack of staff and lack of emergency procedures as these could also lead to unsafe practices.
Equipment inspection and maintenance might seem like a tedious task at times, but it's well worth the effort. According to the Center for Construction Research and Training, vehicles and heavy equipment were a significant source of deaths in the construction industry, causing 7,681 deaths from 1992 to 2010. Most of the deaths involved workers who were struck by heavy equipment or vehicles. A simple inspection of mirrors or backup alarms could potentially save someone's life.

To properly inspect a piece of heavy equipment, use a checklist to make sure you don't overlook anything. Some items to check the condition of include:
Rollover protection system (ROPS)
Seatbelts
Gauges and lights
Battery
Sweeps and deflectors
Steering components
Brakes
Exhaust system
Fuel system
Cooling system
Fans and fan belts
Engine support
Transmission and differential
Sprocket and idlers
Tracks and rollers
Dozer and assembly
Rear hitch
Body and cab condition
Hydraulic attachments
Backup alarms
Oil levels
Mirrors
Tires
Any leaks, cracks or loose components require immediate attention.
4. Encourage Communication
Workers should always have a clear vision of their job duties and should only be assigned tasks they are qualified to do. If workers are unclear about expectations, they might feel too overwhelmed or stressed to make safety a priority. Good communication helps relieve any job-related confusion and invites workers to ask questions. As a result, there is more room to focus on safety.
Making open communication part of the company culture is essential. Equip employees with headsets or other communication devices, so they are always within reach. Most importantly, encourage employees to speak up about potential hazards.
A lot of workers hesitate to inform their supervisor about a safety concern or if they notice a coworker disobeying the rules. They fear they'll lose their job or respect. Sometimes workers do not want to be thought of as a whistleblower. When employees are afraid to bring dangerous situations to a supervisor's attention, people get hurt. You can prevent unnecessary injuries by encouraging open communication.
Let employees know that they are respected for communicating possible dangers, and also let them know you expect them to come to you with concerns. They should never be reprimanded for having safety concerns.

Make it simple for workers to report health or safety concerns and respond as soon as possible. Consider offering anonymous reporting, so employees don't worry about what others think. Get workers involved in finding solutions, and they'll learn to take safety precautions in construction seriously. To establish communication that works:
Determine who will implement safety programs
Communicate with staff members the measures that have been implemented to prevent or control worksite hazards
Make sure employees and staffing agencies are required to report any injuries, illnesses, hazards or concerns
Other Safety Tips
Heavy equipment operators use powerful tools that can knock down buildings and dig giant holes into the earth. Think of the magnificent structures that have been built throughout history thanks to America's skilled workers. The AGC of America provides operating procedure tips to help heavy equipment operators stay safe while on the job. Some of these include:
Create pocket safety guides: Each worker should be given a safety guide for every task they are assigned. They should be required to keep the guides on them throughout their shift and be able to explain how to perform their job safely.
Create safety mentoring programs: Schedule monthly meetings between workers and mentors to discuss safety procedures and lessons learned. Mentors can discuss areas that need improvement with management after meetings.
Allow workers to use stop work cards: Give every worker a "stop work" card. The purpose of a stop work card is to temporarily put work to a halt to address a safety hazard. Let workers know that they will not be punished for using their cards for legitimate safety concerns.

Making safety a priority for yourself and your crew is not an option if you want success. Key factors to remember for optimum safety in construction sites include:
Proper training
Regular maintenance
Open communication
Effective leadership
By taking the right safety precautions, you and your workers will enjoy an efficient work environment, get projects done on time and be able to make the most of work you love.
Contact NMC for More Information
At NMC Cat, we value customer safety and understand the importance of high-quality equipment. Since 1938, NMC Cat has provided customers with the best names in the industry including Cat® equipment and other top brands. We strive to help you get the job done and enjoy success with equipment and service you can depend on.
Construction work can be challenging, but at NMC Cat we believe in solutions. Whether you need heavy equipment transported to your site fast, or emergency maintenance at any hour of the day, NMC Cat offers the tools, knowledge and support to keep your operation running smoothly. To learn more about NMC Cat and our products and services, contact us today!