Undercarriage and Track Rebuilds
The undercarriage serves as the supporting framework for bulldozers, excavators and other types of heavy equipment. It also takes quite a beating. Approximately half of all track-driven machine repair and maintenance costs result from undercarriage damage. Over time, it may become necessary to rebuild an undercarriage to keep it functioning properly.
Whether you need to maintain, repair or rebuild your equipment's undercarriages, NMC Cat is the company to call in Nebraska or Pottawattamie County, Iowa. We have the experience, expertise and resources to handle the most challenging jobs with speed and efficiency.
SCHEDULE YOUR UNDERCARRIAGE & TRACK REBUILDS SERVICE
Undercarriage Rebuilds for Cat® and Non-Cat Equipment

Caterpillar® has been a leading heavy equipment innovator for nearly 100 years and is the most recognized brand in the industry. NMC Cat has been an authorized Cat dealer since 1938. We all know about the "second life" built into Cat machines — a perfect solution when you need an undercarriage rebuild. We can restore your equipment's undercarriage to like-new condition and extend its lifespan. You'll get more out of your machines and reduce your company's long-term operating costs.
NMC technicians also service John Deere, Kobelco and Komatsu equipment. Our in-house services prolong your machine's life at a fraction of the cost compared to a full replacement.
We Also Offer Comprehensive Undercarriage Repair Service
If your machine is relatively new or has experienced minor damage, we can perform targeted undercarriage repairs to get it back on the job quickly. We have a complete inventory of parts and perform "wet" brushing turns, resulting in extend undercarriage life. Construction equipment undercarriage repairs also include reshelling rollers and track-shoe regrousering.
Other available undercarriage services include:
Pin and bushing replacement
Shoe swapping
Link assembly repairs
Idler resurfacing
Grease turns
Welding and cutting
Roller swapping
Our Shop Service for Undercarriage Rebuilds and Repairs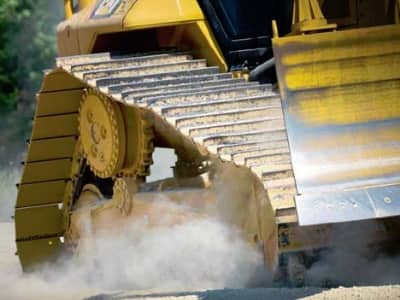 NMC Cat can conduct undercarriage rebuilds and repairs in-house at our fully equipped shops. We provide our well-trained technicians with state-of-the-art tools and equipment, including technologically advanced diagnostic machinery that allows us to detect repair issues accurately. We can also monitor and manage undercarriage performance and wear rates to assist you with planned maintenance and predict when more significant problems are likely to occur.
Undercarriage Field Service
If an undercarriage problem happens while your equipment is at the job site, NMC Cat can deliver fast on-site service. Our trucks are ready to roll at all times to handle any undercarriage or track emergency so you can keep your projects on schedule, and you won't have to worry about transporting your machine to the shop. You'll have peace of mind knowing that help is always just a quick phone call away.
Superior Service Every Step of the Way
At NMC Cat, we understand how essential your heavy equipment is to the success of your business. Whether you choose us for an undercarriage repair or rebuild, our goal is to restore your machine to its peak operating condition and minimize unproductive downtime. We're also available to answer your questions and address your concerns throughout the project. Our willingness to put our customers' needs first has been the key to our company's success for more than 80 years.
Contact Us to Learn More About Our Undercarriage Services
Whether you're looking to rebuild or repair your equipment's undercarriage, NMC Cat is ready to take on the challenge. Give us a call at 800-628-6205 for more information or to schedule a convenient service appointment today. You can also fill out and submit our online contact form.